15. Daku Bobble Singh
Image source: itshandmade.in
Don't you love movie-themed Valentine's Day gifts? Keep aside the lame coasters, and get this bobble head that has an uncanny resemblance to Gabbar Singh!
Daku Sambhar Singh Bobblehead, Rs. 650.00/- Buy it here.
16. Fries on my feet
Image source: whysoserious.co.in
When was the last time socks looked so appetizing? Your guy will have to try real hard not to eat these!
The Idiot Socks-Fries, Rs. 449.00/- Buy it here.
17. Tame the slob
Image source: whysoserious.co.in
You love the man but he's a slob? Allow Lovely Singh to help him keep things in order!
Lovely Singh Clothes Hanger, Rs. 242.00/- Buy it here.
18. Hooked on your love
Image source: ebay.in
Here's a cute way to let him know how much you're into him, and do away with dog-eared pages at the same time!
I'm hooked bookmark, Rs. 399.00/- Buy it here.
19. Stirred, not shaken
Image source: geekgoodies.in
For those days when he literally can't lift a finger, let alone a spoon! All he needs to do is push a button!
Self stirring cup, Rs. 1,199.00/- Buy it here.
20. Street food cred
Image source: happilyunmarried.com
There are thousands of graphic t shirts out there, but how many of them can make you hungry with just one glance! This one can!
Pav Chutney T shirt, Rs. 799.00/- Buy it here.
21. Slipper storage
Image source: amazon.in
Does your man take his reading material into the loo? And then struggle to find a place to keep it safe? Here's the answer!
Newspaper and Magazine Holder, Rs. 1,099/- Buy it here.
Getting your man a unique gift doesn't seem so difficult now, does it? Make him happy by appealing to his 'guy' senses with these funny and wacky gifts. And we do apologize for the overdose of the toilet theme!
Featured image source: Shutterstock
Summary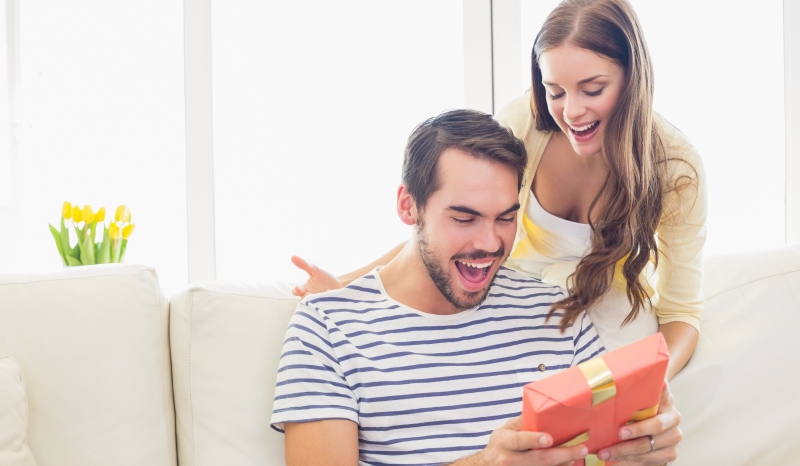 Article Name
21 wacky Valentine's Day gifts for him
Author
Description
This weekend, gift your man something wacky from among these 15 wacky Valentine's Day gifts for him to put a smile on his face.