Men think buying women Valentine's Day gifts is very difficult, but buying for men isn't easy either! And especially since they aren't good at dropping hints like women! This Valentine's Day, skip the boring shirt-belt-wallet routine and get him something that'll leave him grinning from ear to ear! Here are 21 wacky Valentine's Day gifts for him:
1. Guy Time Comforter
Image source: bedbathmore.com
There are some things that only guys will understand the value of; get this comforter that lists them out!
Happiness Is Single Comforter, Rs. 2,399.00/- Buy it here.
2. Golf in the Loo
Image source: fabfurnish.com
Sometimes, you really have no option but to multitask; help him use up valuable toilet time with Valentine's Day gifts that save time!
TGS Toilet Golf Green, Rs. 503.00/- Buy it here.
3. Be a brave 'fart' man
Image source: blissbasket.com
Speaking of toilets, there are times when one of his guy friends lets one out that is absolutely toxic. Let him be the brave one and extinguish it!
Fart Extinguisher, Rs. 599.00/- Buy it here.
4. Blast away!
Image source: ebay.in
No, we aren't done with farts yet. Let him have a blast with his friends using this fart machine that gives out fart sounds in various tones! Fart Fanfare, Rs. 900.00/- Buy it here.
5. Spongebob Square'boxers'
Image source: wahgifts.com
Every man has a little boy inside; one who secretly watches Nickelodeon! Celebrate Spongebob Squarepants with these bright boxers!
Spongebob Design Funny Boxers, Rs. 416.00/- Buy it here.
6. Go Goa
Image source: happilyunmarried.com
Goa. Bikes. Enough said.
Goa Bike Heavy Metal Sign, Rs. 350/- Buy it here.
7. E = (U +I)2
Image source: wishpicker.com
If your nerdy boyfriend is always serious, here's the perfect way to remind him to lighten up once in a while!
Einstein Back Cover for iPhone 5S, Rs. 1,499.00/- Buy it here.
Summary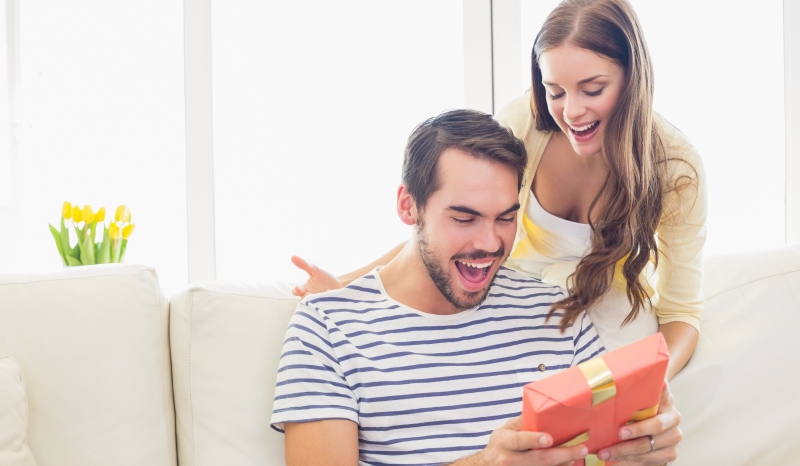 Article Name
21 wacky Valentine's Day gifts for him
Author
Description
This weekend, gift your man something wacky from among these 15 wacky Valentine's Day gifts for him to put a smile on his face.
Read the rest of the article:
Next