Whenever you feel strained and run down from work, your immune system is sure to feel tired too. During such times, you need to make a conscious effort to enrich your diet by including immunity boosting foods in it. The most powerful tool that we have to keep diseases at bay and maintain a healthy body is food. The health of your immune system depends on the food that you consume, since what you eat forms the underpinning of your health. Your immune system defends against various germs like viruses and bacteria, by maintaining homeostasis. These germs, if not fought against, can cause inflammation, infections and diseases.
---
Suggested read: 10 comfort foods that will make your periods EASY
---
Immunity boosting foods are most healing in their original state, and so, getting your daily dose of greens, veggies, fruits and fresh juices, flavored with anti-inflammatory nutrients like ginger and turmeric, are vital to help your body get the needed quality protein for its renewal every day. While you can indulge in natural fruits and veggies, here are recipes of some immunity boosting foods that can help you feel more vital and healthier. From immune-boosting smoothie and fibre-rich chicken soup to mocha custard, we have it all covered!
P.S.: Stay away from junk foods as much as you possibly can. The two main culprits that are major ingredients in junk foods are fat and sugar. While the former suppresses your immunity, the latter inhibits phagocytosis, a naturally-occurring process that helps chew up viruses and bacteria. Also, stay away from food that has artificial coloring or preservatives, since they tend to interfere with the immune system, making it weak and susceptible to illnesses.
So without much ado, let us dig into the recipes! Shall we?
1. The Immunity-boosting smoothie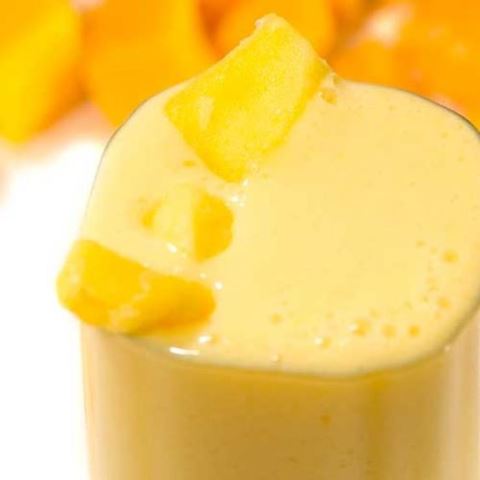 Image source: Pinterest 
Full with boosters, the immunity builder strengthens your immune system to fight the seasonal bug. The beta-carotene and Vitamin C from the pineapple, the mango slices, and the cantaloupe will enhance your body's ability to combat germs, while the almonds & the almond milk supplies the much-required defense-invigorating zinc.  This smoothie helps you prime your illness-fighting army for the battle. Here's how you can whip a glass for yourself.
Ingredients:
1 cup of peeled, cut and cubed mango
1 cup of cantaloupe, chopped
½ cup of pineapple (fresh or canned), cubed
½ cup of crushed almonds
½ cup of almond milk, unsweetened
1 cup of ice
Total Time:  5 minutes
Serves: 3
Combine all the ingredients in a mixer, and blend up until the drink is smooth.
Garnish your drink with sliced almonds once it is blended.
Nutritional info per serving: 150.3 Kilocalories, 3.9 g Protein, 6.8 g Fat, 0.5 g Saturated fat, 21.7 g Carbohydrates, 3.9 g Fibre, 16.4 g Total sugar, 0 mg Cholesterol, 40.6 mg Sodium
2. Fibre-rich chicken soup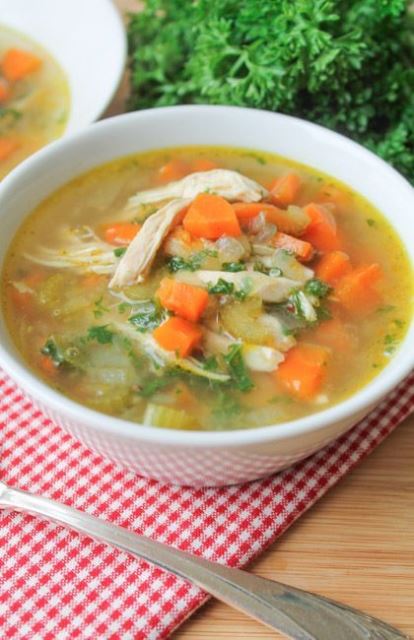 Image source: Pinterest 
Your dietitian will always commend soup if you are trying to lose weight since it is a wonder food that stuffs you up without toting up the number of calories! Soup, being high in fibre becomes an immunity boosting dish when you add ginger and garlic to it!
Ingredients:
9 cups of reduced-sodium chicken broth
2 chopped carrots
2 chopped ribs celery
1 chopped onion
2 chopped parsnips
2 teaspoons freshly grated ginger
2 minced cloves of garlic
4 tomatoes
1 cup of chicken flavoring
Ground black pepper
Total time: 50 minutes
Serves: 6
Heat the chicken broth in a saucepan. Make sure it is on medium heat.
Drop the carrots, celery onion, parsnips, ginger and garlic into the saucepan.
Cook until the veggies are tender.
Add the 4 tomatoes and the chicken seasoning.
Add salt to taste and pepper if you wish.
Nutritional info per serving: 17.5 Kilocalories, 15.5 g Protein, 3.1 g Fat, 0.8 g Saturated fat, 22.8 g Carbohydrates, 4.2 g Fibre, 8.3 g Total sugar, 16.1 mg Cholesterol, 301.6 mg Sodium
---
Suggested read: 11 foods that will help you get a good night's sleep
---
3. The wonder salad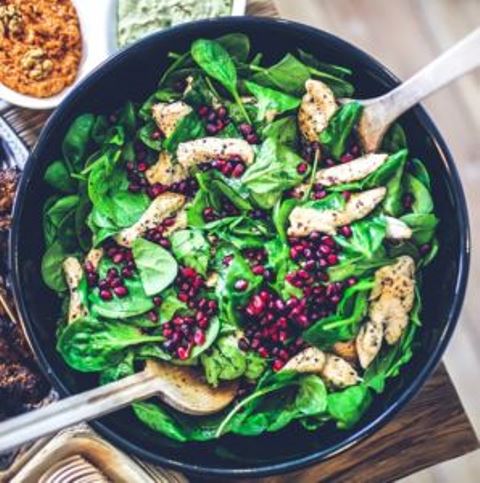 Image source: Pinterest
This rich salad with its pomegranate, chicken, spinach and oranges gives you a complete serving of the portion of veggies and fruits you need a day!
Ingredients: 
2 ½ tablespoon pomegranate juice
2 teaspoons white wine vinegar
1 teaspoon Dijon mustard
1 teaspoon extra-virgin olive oil
¼ teaspoon honey
3 cups of spinach leaves
¼ cups of orange juice, without the pulp
2 tablespoons fresh pomegranate seeds
1 tablespoon roasted almonds (They shouldn't be salted)
85 g finely-sliced chicken
Total time: 20 minutes
Serves: 1
Whisk orange juice, vinegar, honey and mustard oil in a bowl, for the vinaigrette.
In another bowl, mix the spinach, orange juice, almonds, pomegranate seeds, and toss. Spike with salt to taste.
Add the chicken slices over the salad and sprinkle the rest of the salad dressing.
Store at a low temperature or serve immediately.
Nutritional info per serving: 356 calories, 19 g Protein, 15 g Fat, 3 g Saturated fat, 34 g Carbohydrates, 5 g Fibre, 41 mg Cholesterol, 238 mg Sodium
4. Lamb stew with collard greens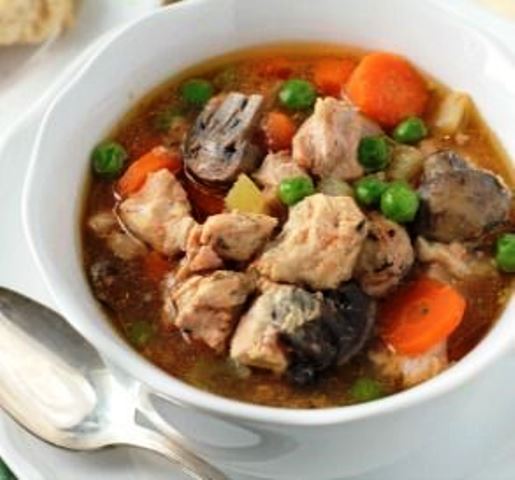 Image source: Pinterest 
Caught a cold? Well, this dish can come to your rescue! Lamb is filled with amino acid lysine that helps your body fight the cold and flu. It also strengthens your bones by supporting calcium absorption.
Ingredients:
2 tablespoon flour, flavored with a pinch of cayenne pepper
¼ teaspoon black pepper, pounded
¼ teaspoon sea salt
450 g lean lamb meat, cubed
2 tablespoons olive oil
6 cups vegetable stock
3 large carrots, cut
2 large celery stalks, cut
3 cloves of garlic, chopped
1 teaspoon dried rosemary
2 tablespoons minced parsley
5 large collard greens, cut
Total time: 1 hour 15 minutes
Serves: 4
In a bowl mix the flour, cayenne pepper, black pepper, and sea salt. In a plastic bag, put the flavored flour and the lamb cubes, and mix until thoroughly layered.
In a pot, heat oil, on medium flame. Gently brown the coated lamb pieces.
Put in the stock, chopped carrots, celery, garlic and dried rosemary.  Cover the pot. And allow it to boil.
Keep the pot on simmer for 40 minutes.
Now add the parsley and the collard greens. Let the stew cook for 10 more minutes.
Add salt and pepper to taste.
Nutritional info per serving: 294.4 Kilocalories, 16.6 g Protein, 9 g Fat, 2.4 g Saturated fat, 38.4 g Carbohydrates, 3.3 g Fibre, 3 g Total sugar, 45.4 mg Cholesterol, 653.7 mg Sodium
5. Mocha custard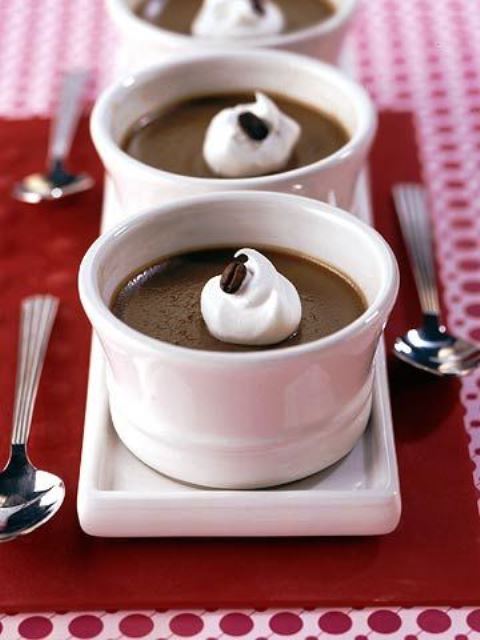 Image source: Pinterest 
The mocha custard is a must-try for a jolt of java, and a heavy dose of coconut fat. The sweet course has a healthy kind of saturated fat, called lauric acid, which helps in boosting immunity, according to studies. Here is how you can make it at home!
Ingredients:
400 ml coconut milk
2 cups of coffee, regular or decaf, but not weak
3 eggs, beat them smooth
3 scoops of chocolate whey-protein powder
4 sachets of sugar-free
A pinch of salt
Total time: 10 minutes
Serves:  4
Take a saucepan. Pour the coconut milk in it.
Add the milk, coffee, beaten eggs, and stir. Put in the whey protein, sugar-free, and salt. Beat to blend well.
Now gently cook the mixture on medium flame. Stir constantly.
When your mixture starts thickening, remove it from the stove, and pour it into a pitcher.
Let your custard col by placing it is an ice water bath, half immersed.
Recipe notes: Serve chilled for breakfast. Or you can blend in some crushed ice and give your guests a healthy and rich mocha treat!
Nutritional info per serving: 101.8 Kilocalories, 7.7 g Protein, 5.8 g Fat, 2.4 g Saturated fat, 4.8 g Carbohydrates, 0.1 g Fibre, 3.1 g Total sugar, 165 mg Cholesterol, 179.3 mg Sodium
---
Suggested read: Spicy foods may help you live longer, says Science
---
Our immunity shields us from every day illnesses like cold and cough to very serious attacks like flu. Also, the experts studying the science of longevity suggest that ageing is also associated with a weak immune system. Dr Mark Liponis, in his book, Ultra Longevity – The Seven Step Program for a Younger, Healthier You, studies the connection between immunity and long life. He says,
"The speed of ageing is determined by your immune system and nearly all diseases are now thought to be caused by an immune system breakdown. Without a strong system, you will neither look healthy nor be healthy."
According to, Dr Anoop Misra, Head of the Department, Department of Diabetes and Metabolic Diseases, Fortis Hospitals, New Delhi,
"A strong immunity is likely to protect against infections and cancers, and hence, has the potential to increase lifespan."
Well, the 5 recipes we have just handed over to you will help you take the reins of your immunity, and live a long, healthy and happy life. Apart from food, however, you also need to make sure you take good care of your mental health, because stress can be an immunity pooper that can severely suppress your immune system. Dr Anoop goes on to say,
"When stress affects the immune responses, it leads to a change in number of immune cells and causes dysregulation of cytokine. As a result, our body becomes really weak and vulnerable to germs."
So, keep yourself as happy as you can to boost your immunity, and one of the surest ways to do that would be to sign up for your daily newsletter! 😉
Liked what you just read? Rant and rave in the comments below!
Featured image source: Shutterstock
Summary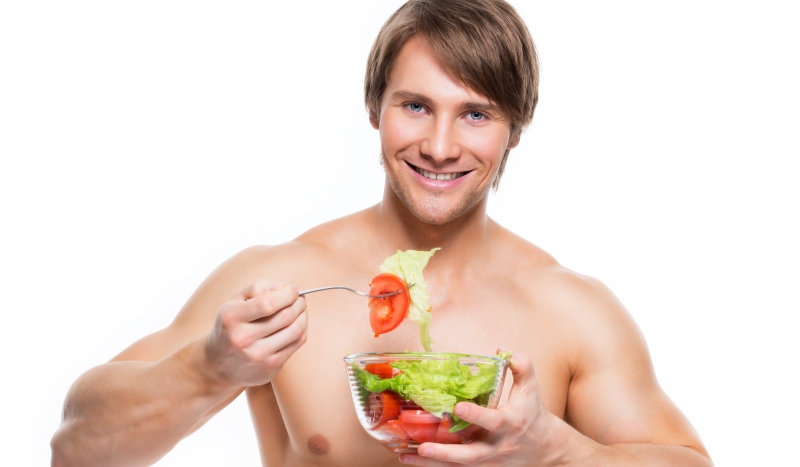 Article Name
5 Easy-To-Cook Immunity Boosting Foods You MUST Try Today!
Author
Description
Here are 5 immunity boosting foods that will help you take the reins of your immunity, and live a long, healthy and happy life.