On Monday evening, Internet comedy collective All India Bakchod or AIB as it is popularly known as, released the third in a series of their 'honest' videos – Honest Indian Weddings – in two parts. The videos are a brutally honest take on the arranged marriage setup in India. And while I have no doubt about the honest intentions of the makers, I have a bone to pick with AIB about their latest 'honest' videos.
The first two AIB videos of the series – 'Honest Diwali' and 'Honest Indian Flights' – were honest sketches of what happens on Diwali and aboard Indian Flights and really tickled your funny bone where the ticklish *feels* were most felt! However, AIB Honest Indian Weddings may have taken the parody form a tad bit too far, overstretching it into the realm of the ludicrous. The presence of the comedy was conspicuous by its absence and the execution of a 'match made in heaven' on earth was, by all means, a terrible platter of half-cooked 'delicacies,' which otherwise had the potential to be a meat-y 'delight' for the soul whilst also exhorting one to think! And if I am to be completely 'honest,' I had a hearty appetite for the AIB Roast but Honest Indian Weddings gave me an upset stomach.
Here's why.
1. The sweeping generalizations
Image source: Youtube
Oh, so the girl is a 'maal jo khareedne laayak hona chahiye,' the boy is 'blah blah MBA,' and the girl's Ph.D is something 'nobody gives a fuck about!' Now, AIB folks, we know that you couldn't really have done away with the high premium placed on the to-be groom's academic credentials and thereby imminent 'market-value.' But trust me, this whole gauging the groom's worth on 'blah blah MBA' while the girl is worth an 11, 8 or 9 score-card and can still be accepted coz well, she makes 'nice' samosas is a cliché you could have done without! And so are the others – nobody, I repeat, nobody drools over an MBA and no girl with a Ph.D cares about not hurting the ohh-so-fragile 'male ego.' What? I am making generalizations now, you say! Exactly my point – you, too, have tried to debunk a concept by making use of sweeping generalizations! Both didn't work na? Thought so.
2. The crude customary privacy of Mr-and-Ms-I-Just-Met-You-and-will-marry-you
Image source: Youtube
I think all of us have a problem with this compulsory fifteen minutes that can make or break the 'rishta.' But these 'two' reel minutes that captured the fifteen didn't quite come across as real! The REAL real would be the girl cussing, swearing or even asking the guy to eff off. What! Didn't her father just say 'aansu poncch rahi hogi kyunki boyfriend se breakup karwaya hai'? C'mon you guys, you are creative creatures! Strap on those creative capes and fly!
---
Suggested read: 10 reasons whey All India Bakchod Roast 'sucked' big time, quite literally
---
3. The not-so-zingy blows on all things 'taboo'
Image source: Youtube
Within those fifteen minutes of the 'ladka ladki ek dusre ke soulmates ban jaayein,' we have references to the girl's virginity, the boy's 'sutta daaru' habits, the girl's interests or lack thereof, and none of the remarks seem to hit the nail on its head. As I already stated, why would a rebuffed girl (educated) who has just been forced to breakup for her parents' whim fail to open up to this stranger and not recount her 'sexual sagas' that may have him darting off toward the exit? THAT would have drilled the need for a 'virgin bride' better, right? And even better would be a subsequent negotiation in terms of the 'extra dowry' needed to accommodate a non-virgin bride – for the 'blah blah MBA' prize has already rejected (or perhaps, has been rejected by) four-five potential brides! Would really have struck me!
4. The troubling trade/transaction
Image source: Youtube
'Hum bade progressive log hain, humein toh bitcoin bhi chalega!' Now I am not as ignorant as to stave off the 'dowry statistics' in the name of progress. But seriously, snatching of chains, picking off the antiques in the bride's home and more  uncouth and boorish behavior to display a 'sophisticated loot,' really AIB? What were you thinking – this isn't the village scene – it's an urban 'arranged match' – albeit 'made in heaven,' nai?
5. The sickening settlement
Image source: Youtube
'Poonam settles for Pankaj' – Now, I appreciate this stark, in-the-face reminder of how far too many girls hand out discounts on what they are worth in an arranged marriage setup. My hiccup, though, is how this 'settling' for someone 'not-so-worthy' is accepted. And more importantly, why??? Clearly, it is the societal pressure to grab the trophy 'blah blah MBA' groom – but a proud 'Transaction completed' sign-off??? Dude, four installments of the dowry were still due – maybe you could follow up with an 'honest' rendition of the 'torture' that shall follow – coz, well the parents already broke the bank and all else for this 'settlement' they forced their daughter into.
---
Suggested read: AIB takes down the roast videos, explains reason in a statement
---
6. The ridiculous responses of relatives
Image source: Youtube
This one does not even need elaboration. 'The extrovert cousin' who's forced to be the host, 'the bitchy aunt' who just has to pinpoint any flaw whatsoever or ' the overly forward and slightly embarrassing grandmother' who wants to give advice about sex or the 'bhaiya' who wants to 'khaao more bhao' to sing!! Overdone, AIB – overdone! Needless to say, not funny, not funny at all!
7. The awful array of people popping for pictures with the couple
Image source: Youtube
The most troubling among the characters who pop here – the ex-boyfriend. Still touches himself looking at her pictures???? Didn't you have enough of these in the Roast, AIB? Now, now – you better edit that bit – who knows who may get offended with it and file a PIL! 😛 Plus that aunt with loads of money, the lech boss, and other equally lame characters – why AIB why??
8. The dynamic of indifference that governs the relationship between the girl and her family
Image source: Youtube
This one's the worst part – and is definitely not so much a part of the urban arranged marriage scene. A victim of pseudo-sweeping-generalizations in the video, this one is the most repugnant of them all. From the time she is objectified (showtime??) to the time she is sent off to her 'sasuraal' there isn't one thing that shows an 'attachment' or 'connect' with one's flesh and blood. Strange? Sick? Silly? Untrue? Yep – untrue. And hence, not HONEST, AIB. Not honest, not what the title promises! Not cool, AIB, not cool!
Please note that I appreciate the fact that AIB wishes to rend the social fabric and put up the 'flimsy' threads on display. However, for a subject that had the potential for a postmortem that AIB excels at, this one fails to stand out! There is nothing hilarious about the honesty here and the desired 'social ripple' is consequently lost! I agree there are creative constraints and that many of the clichés couldn't be avoided owing to the deployment of the same script that is being deconstructed – however, it isn't like they haven't done it in the past. Could have been better, AIB! Really!!
Featured image source: Youtube
Summary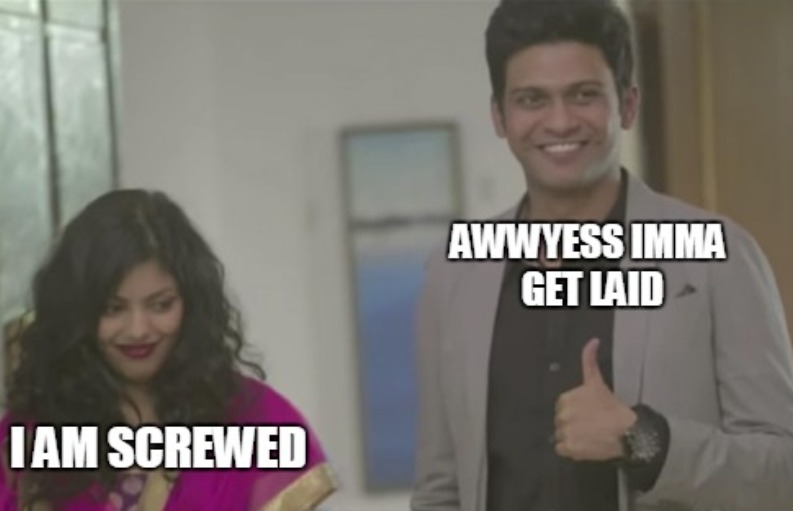 Article Name
8 Things We Hated About AIB Honest Indian Weddings
Author
Description
AIB has done it again. This time it is (All India Bakchod) AIB Honest Indian Weddings. But we don't really like the two-part video series. Here's why.