As is a scientifically proven fact: Sabyasachi is one of the world's amazing designers, renowned aesthete and connoisseur of everything beautiful. His creations are hand-crafted with love, make sense, are worn by real people, and can make those lucky real people look like Gods and Goddesses.
Apart from the fact that he is one hell of a good looking man himself, he is also the creator of some of the world's most breathtaking bridal wear, and anyone who thinks otherwise is disillusioned. Without further ado, here are 20 incredible wedding lehengas by Sabyasachi.
---
Suggested read: Bollywood Divas Show How To Work Indie Chic Fashion With The Lehenga Skirt
---
1. White concept handcrafted lehenga
This gorgeous lehenga is a masterpiece made of crepe and tulle and silk and chiffon, with incredibly detailed embroidery. A wedding lehenga would normally be big (for lack of a better word), but this one is minimalistic and makes as big a statement.
2. Magenta and gold traditional lehenga
A gorgeous traditional lehenga becomes even more appealing when made by Sabyasachi. This one is a gold embroidered magenta lehenga, with a quarter sleeves floral blouse and a sheer, embroidered veil.
3. Couture wedding lehenga
This red and gold creation is the perfect wedding attire for a bride who loves to be the centre of attention on her gorgeous wedding day (which is basically every bride). The rich golden embroidery with the wide maroon border and the matching blouse and veil are a breathtaking sight.
4. Vintage classic Indian bridal wear
This one is a classic Sabyasachi, with the ever present black inclusion in the blouse and the magical use of vintage floral print in the flared lehenga. The combination of colours, the round neck, full sleeved blouse and the minimalistic dupatta makes it #weddingoutfitgoals.
5. The Madagascar Lehenga
Trust Sabyasachi to make hand-painted wildlife prints look gorgeous on a traditional Indian wedding lehenga. Herein lies the genius of Sabyasachi. This stunning piece is a mixture of different shades of red, with subtle dull gold detailing on the border and the blouse.
6. Red on white florals
Anushka Rajan makes a beautiful bride in this stunning red and white lehenga, which just screams Sabyasachi's mastery. This is the kind of wedding dress people would have on their bucket list.
7. "A whimsical modern heirloom"
That is how Sabyasachi describes this miraculous pale pink and sequinned creation that doesn't deserve to belong among mortals, and we couldn't agree more. It is impossible to determine how beautiful this one is, with all the embroidered exotic flowers and sequinned details.
8. Velvet and gold ethereal piece
I can't even begin to describe how beautiful this one is. The bold designs, the use of gold on shiny red velvet and the creamy sheer veil all come together to create this beautiful piece of art that would put the most detailed mehendi to shame.
9. Light blue and light gold
Literally, all the lehengas from Sabyasachi's Udaipur Collection could make me cry with joy, but this one is a class apart. It is subtle and breathtaking, and the use of dull gold on dull blue to create a striking wedding lehenga is just one of the reasons Sabyasachi is a creative genius.
---
Suggested read: #WeddingMadness How To Choose The Perfect Lehenga For Your Wedding
---
10. Prussian blue princess
Prussian blue and gold is a classic combination that might be unconventional for a wedding, but is a royal, tasteful choice nonetheless. The dark, ocean-y blue makes the gold look striking, especially when the gold is crafted into detailed floral designs. Another much un-appreciated factor about Sabyasachi's lehengas is the length of the sleeves on the blouse, which are a unique half length, changing the entire look of the attire.
11. Heritage white sequinned beauty
Would you look out of this world if you wore this to your wedding or your reception? Hell yes, you would. The neck, full sleeves, belt and the pleated veil draped across an off-white body decorated with semi precious stones and dull gold and rose gold sequins is giving me heart palpitations.
12. Green, hand-painted summer couture
Green can look overwhelming on a wedding day, but nothing is overwhelming when Sabyasachi does it. This gorgeous floral number has a white based lehenga skirt, with minimalistic hand-painted floral details in green, while the blouse is a high hemmed gold on green number with a choker statement neckpiece. Also, that hemline border on the skirt is so incredibly beautiful and textured.
13. Working that red and gold
A traditional Punjabi wedding attire would normally be loud, with detailed gold embroidery and the chura and kalire as an imperative part of the attire. However, Sabyasachi's use of minimal floral patterns on the red bodice, the subtle veil and the close cropped blouse brings into focus the brightest part of the outfit- the kalira, in a master stroke of creativity.
14. White and black sequinned ghagra
For a subtle, classy, understated and minimalistic wedding, a lehenga like this would be absolutely perfect. The gorgeous detailing on the border contrasts the heavily sequinned body of the lehenga perfectly. The blouse, which is glittery like the lehenga with a deep cut neckline, also contrasts the pale embroidered veil.
15. Pretty in pink
A pale pink and gold for a wedding is classic Sabyasachi, and he makes these seemingly unassuming and sober colours look regal and festive. The wide gold on off white border leaks into the body of the skirt with pale gold trimmings and floral embroidery work, while the blouse is a simple piece, perfectly bringing together the entire outfit.
16. Embroidered masterpiece from The Udaipur Collection
Here is another piece from The Udaipur Collection, as part of the 2017 Spring Couture pieces that literally took our breath away. The carefully inserted inlay work and the gorgeous use of dark gold over a creamy white base makes this dress look like a part of Rajasthani heritage, and is guaranteed to make any bride feel like a princess.
17. Bright multi-hued flared lehenga
Sabyasachi does loud like no one else, because it isn't easy to make loud and bold colours in contrasting shades on the same lehenga look classy AF at the same time. The skirt in itself looks like a carnival, with panels of red, pink, orange and yellow decorated with hand-stitched gold embroidery. Add to that a bright orange wedding veil and a pink and gold blouse and you have the happiest bride in the whole entire world.
18. Dark red signature Sabyasachi
This kind of classic, signature, red wedding lehengas by Sabyasachi are actual goals. Legit, the design on the skirt and the blouse and the veil is exactly the same, yet it manages to make the wearer look nothing less than a princess in the true sense of the term. The gorgeous neckline and the length of the sleeves and the trailing veil all add to the beauty of this ensemble.
19. Heavily embroidered red and gold lehenga
If you are all for looking like a Goddess, and the most beautiful person ever on your wedding day, then it is wedding dresses like these that help you achieve your dream. The stunning skirt is laden with unique, hand crafted details in gold lining and sequins. The veil comes in a surprisingly pale shade of pink that brings the whole outfit to life.
20. Full gold sequinned lehenga
A full gold sequinned lehenga might be an odd choice for a wedding, but one look at this lehenga, and you are bound to question your choices, because of the sheer beauty that it radiate. Despite lack of intricate details, this one still manages to stun, because of the underwhelming shade of the glitter as well as the uniformity and sobriety of the shade.
21. White and gold peplum lehenga
A gorgeous, uni-cultural peplum lehenga is a sight for sore eyes if you are tired of midriff cut blouses. It is a stunning amalgamation of gold on white embroidery work, with a shimmer-base gold veil that gives you a royal feel. The drop waist and flared hemline of the top, along with the full-sleeves makes it a unique and breathtaking specimen of Sabyasachi's mastery.
---
Sugested read: 11 Floral Lehengas For The Experimental Bride
---
22. The most perfect lehenga ever for a summer wedding
Words fail me when I try to describe this masterpiece. This lehenga incorporates the most ingenious use of primary colours in panels, from the bright green blouse, which reflects in the hemline of the pure silk skirt. The condensed body of the skirt is in a pastel shade of yellow, while the red border on the skirt contrasts the red of the veil so beautifully that the entire attire looks like the stuff of dreams.
If you are looking for more stunning, mind-boggling and breathtaking artwork in the form of outfits, you can check out Sabyasachi's official Instagram page, replete withmore  wedding lehengas by Sabyasachi-  which is even more evidence of his creative genius.
Summary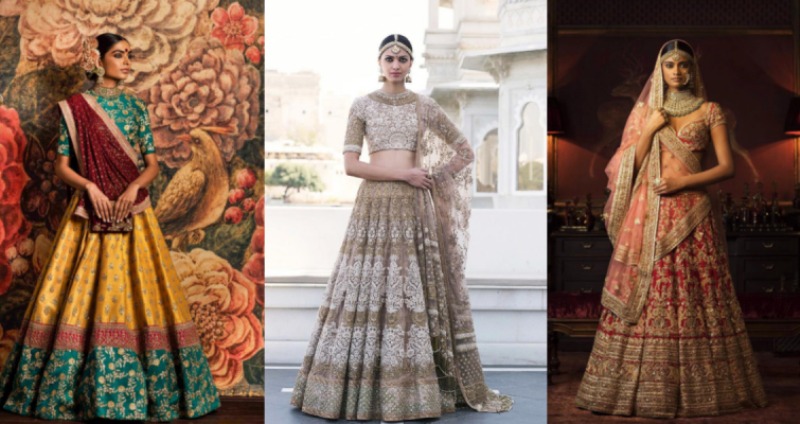 Article Name
22 Breathtaking Wedding Lehengas By Sabyasachi
Author
Description
Sabyasachi is one of the most sought after designers in the country. Here are some breathtaking wedding lehengas by Sabyasachi that are #WeddingGoals!