A 'roast' is a comedic form where a specific person (roastee) is subjected to jokes at their expense for the entertainment of the audience. This was started a mock to the 'toast,' referring to the toastmasters club. In reference to that, the host of such an event is called 'roastmaster,' while the 'roasters' can take turns poking fun at the roastee.
About a thousand people recently gathered at the NCSI Worli recently, paying INR 4000/- bucks a pop to watch Bollywood stars Arjun Kapoor and Ranveer Singh getting roasted by a panel of comics and film industry folks. Karan Johar sportingly played the roastmaster. The panel of roasters included the All India Bakchod team (Tanmay Bhat, Ashish Shakya, Rohan Joshi, Abish Mathew, Gursimran Khamba), Raghu Ram of Roadies show, the film critic Rajeev Masand, and comic Aditi Mittal.
The rumored girlfriends of the two roastees, Deepika Padukone and Sonakshi Sinha were in attendance, as were some members of their families, Karan Johar's mother Hiroo Johar and Alia Bhatt.
The objective was to raise funds for charity while bringing this comic form to India. The evening is said to have raised INR 40 lakhs for the four charities – Vogue Empower, Give India, Tata Memorial Center, and Being Human.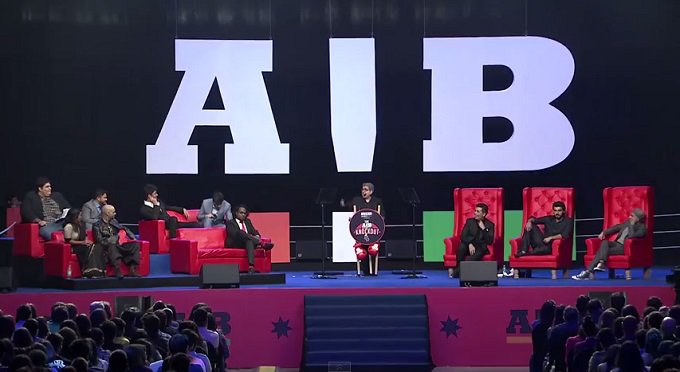 Image source: All India Bakchod, from YouTube
All India Bakchod is a talented group with immense creativity. It was also very sporting of Bollywood to turn out to watch the show and it was quite commendable of Ranveer, Arjun, and Karan to sit there listening to insults.
Having said that, there was an uncanny, fleeting feeling that a sense of decorum, dignity, and respect for women was breached during the show. Somewhere in those 60 minutes, I believe we were a little desensitized to the act of making love; our beliefs on what we thought could and more importantly would be performed on stage were changed; there was a longing for crystal clear, razor sharp wit that did not need the crutches of expletives; and there was wishful thinking for beautifully crafted humor that brought forth an unstoppable innocent laugh gurgling up from us.

In a way, it is not a reflection on All India Bakchod at all. It is a reflection on what we, as a society, have come to find joy in. Make no mistake, this article is about us.
Here is what we thought of the whole event, in 'roast' language, so to speak.
1. Name-calling was taken to such ginormous proportions that it makes a convict rapper's angst-ridden, drug-addled venting against the world seem like a Karan Johar film's mandatory bhajan
The people on stage were called everything from a**hole, pervert, coke addict, slut, fat, ugly, elephant, bastard, human go*nad, ch**t, an*s … you get the point.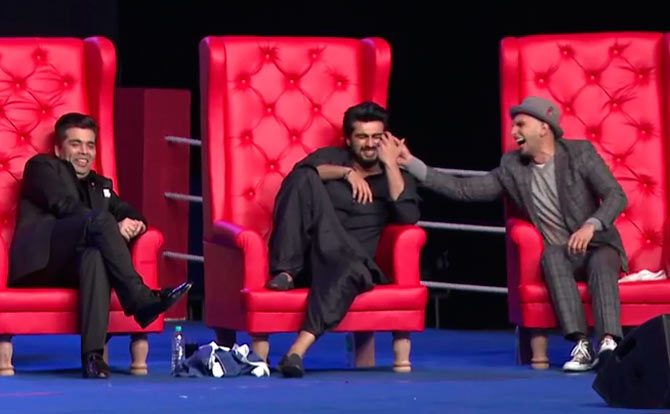 Image source: All India Bakchod, from YouTube
2. The women in the audience and on stage were shown so little respect that a Malayalam b-grade movie (yes, the shady kind) seemed in comparison to be worshiping the female form with all piety
Deepika Padukone, she of the famed "battle of the cleavage" with Times of India, sat laughing as Ranveer Singh's playboy image inevitably spilled over in reference to her.

Image source: All India Bakchod, from YouTube
3. Expletives were being dropped faster than a Delhi wannabe politician's illegitimate son drops names at a trendy nightclub he wants to get into, so he can get piss-drunk and puke all over his latest 'Merkades' car
F**k, Sh*t, Ch*tiya, Ch**t, Bh**dike, A**holes, M**therf*cker
Seriously, Ranveer, you're such a slut; if you f*cked a chick with Ebola, she would die of AIDS first!

Image source: All India Bakchod, from YouTube
4. Unwitting parents, girlfriends, wives, siblings, producers, and costars were dragged into the 'roast' faster than Ranveer Singh changes his condoms and girls, in that order
"In 2 States, Arjun Kapoor played a Punjabi boy who falls for a hot south Indian chick. Basically he plays Boney Kapoor."

Image source: All India Bakchod, from YouTube
5. If gay jokes about Karan Johar 'casting-couching' debutants got any more crass and disgusting, there might not actually be a line of men outside his studios. Yes, even gay men would give it a miss
"Karan johar is here because we told him he'd get f*cked by 10 dudes in front of 4000 people."

Image source: All India Bakchod, from YouTube
6. If there were any more jokes about child abuse, they'd have to start handing out motion sickness bags to the audience so they could expel their last 3 meals out of all orifices
"Abish Mathew was an altar boy for 7 years and no priest molested him."
The fact that even a sensitive topic such as child abuse by clergy was not left untouched was a downer. The boundaries have to be drawn somewhere.

Image source: All India Bakchod, from YouTube
7. After all the crap above, the fat jokes actually seemed quite reasonable to us 'normal' folks
"When Tanmay Bhat is lonely he doesn't go on Tinder. He goes on Zomato."
"Karan, in Kabhi Khushi Kabhi Gham, a fat boy magically grows up into Hrithik Roshan. You b*stard, you ruined Tanmay's life."
"Tanmay Bhat's idea of going down on a woman is bending down and asking 'Mausi, yeh potato kitne ka hai mausi?'"

Image source: All India Bakchod, from YouTube
8. The black jokes were so dark that we wouldn't be surprised if Russell Peters was sitting incognito in the audience, taking detailed notes for his next gig
"Ashish Shakya is so black that his girlfriend gives him a bl***ob every time she craves a Kaala Ghatta."
"Ashish Shakya is the hottest guy in AIB because black absorbs more heat."

Image source: All India Bakchod, from YouTube
9. There were so many 'role models for the Indian youth' in one place that Chetan Bhagat was conspicuous by his absence. Rhetorically speaking, of course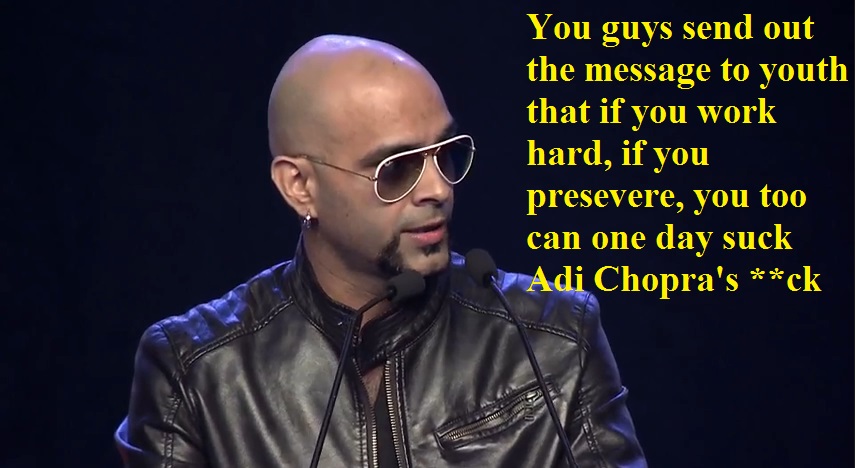 Image source: All India Bakchod, from YouTube
10. The only bodily fluid and action that was missing in this stellar show was Abhishek Bachchan puking and licking his own puke like he did in Happy New Year
Everything from oral sex to gay sex to bodily fluids was depicted on stage with the eagerness of a kid in a candy store. Actually, strike that, we don't want kids mentioned in the same article as this roast.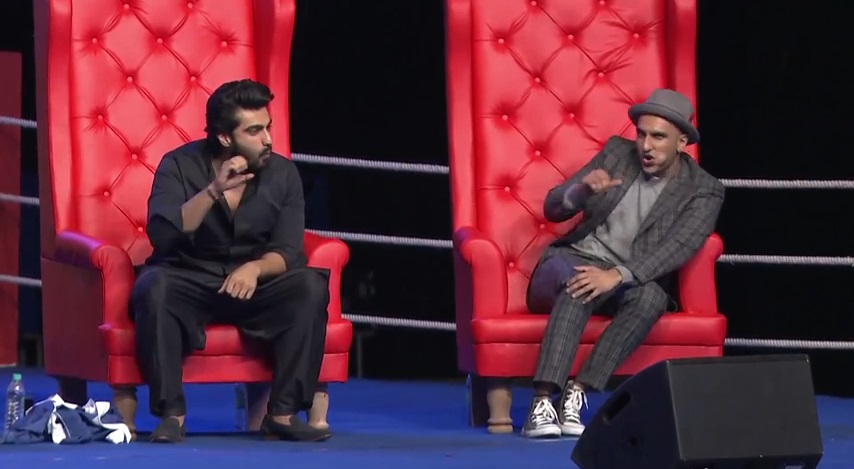 Image source: All India Bakchod, from YouTube
Anyway, the roast only served to elevate our resident Bollywood pervert Shakti Kapoor to cult, non-playing, non-executive chairman level. Move over, Balllllma, there are other creeps out there. And I'm not referring to the people on stage.

Story update on 3rd February, 2015
Seems that the roast that AIB did with Karan Johar, Ranveer Singh, and Arjun Kapoor, isn't quite ready to die down from public consciousness. While viewers of the roast have been divided into three distinct categories – a) who 'loved' it, b) who 'hated' it, and c) who just don't care enough to watch it; new players have entered the AIB roast fray – our very own netas. The President of Brahman Ekta Seva Sanstha in Mumbai, Akhilesh Tiwari, has apparently lodged a complaint at the Sakinaka police station yesterday against Karan Johar, Arjun Kapoor, and Ranveer Singh for hurling abusive and vulgar comments against each other on a public platform.
After filing the complaint, Akhilesh said,
"I sought action against the event organizers and other performers as well, who passed dirty comments with such audacity. The police action would be a deterrent to them so that they would not dare to do such acts publicly in future."
Meanwhile, taking note of Akhilesh's complaint, the Maharashtra government has ordered an inquiry into the show. The Minister for Cultural Affairs in the Maharashtra cabinet said,
"Officials of the Culture Department will examine the (AIB show) videos for the content. If found vulgar, an action will be initiated."
While these netas are going full-on against AIB, Censor Board's Ashok Pandit has tweeted a very vulgar comment on Karan Johar, which, in my opinion, negates his rant self-righteous anger against AIB. Here's the tweet:
Karan Johar could have easily shown his position while performing sex to his mom at home instead of making it public.#AIB Porn Show.

— Ashoke Pandit (@ashokepandit) February 3, 2015

However angry he might have been with the actors and the producer/director who participated in the roast, he didn't have the right to tweet something this vulgar. He should have chosen a more dignified response to the whole event if he did want to express his anger at AIB. This is surely not the way to comment on a social media platform like Twitter.
Story update on 10 February, 2015:
Bollywood actor Aamir Khan has said in an interview that he found the whole event 'violent' and had a hard time viewing even a couple of 2-3 minute clips of the event. He said he was 'deeply affected' by what he saw and that he scolded his friends Karan Johar and Arjun Kapoor. Here is the full video of what he has said:
Summary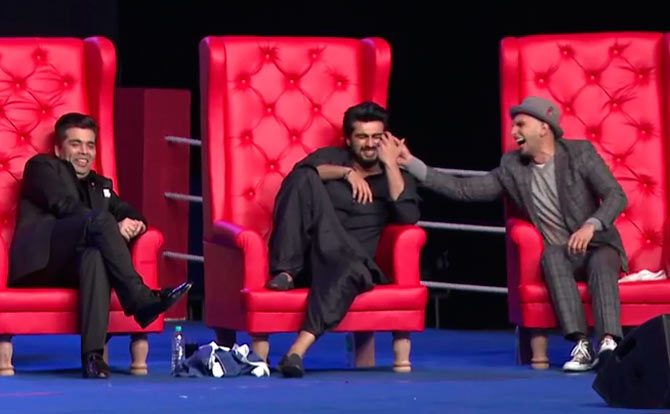 Article Name
Why All India Bakchod Roast 'sucked' big time, quite literally
Author
Description
The All India Bakchod Roast of actors Arjun Kapoor and Ranveer Singh was offensive. We've roasted their roast in 10 simple lines for your entertainment.