For people who are obsessed with weddings like I am, it is always wedding season. If there isn't a wedding happening already, then someone somewhere is planning a wedding, which is why you need to be thorough with what is trending and what is not at all times.
---
Suggested read: 16 Manish Malhotra Wedding Dresses Which Are Drop Dead Gorgeous
---
So what if the year has just started? 2018 wedding trends is already a thing, and we have been on top of our game to bring you the things which are trending in the wedding circuit this year, and the things that are likely to become the most sought after wedding trends later this year. Here is everything you need to know about the biggest 2018 wedding trends.
Unplugged weddings
More and more brides and bridegrooms have become fed up of their ceremony being interrupted by nosy relatives and overenthusiastic friends taking pictures of them on their own devices. Even though unplugged wedding have been a thing for a while now, this year, people are likely to go all out with their emphasis on staying unplugged and enjoying the wedding as it is.
Anyway the wedding photography business is booming, and there are a lot of wonderful professionals now who will take wonderful candids of all the guests at the wedding, so that everyone can enjoy the ceremony fully.
Big, over-the-top weddings
As for wedding planning, all these minimalism was the norm. Lots of people chose to keep their weddings small and intimate, but since the end of last year, we have seen a hike in the number of people who have chosen to go all out with their wedding planning.
Expensive locales, large number of guests, over the top decorations and a quintessentially extra wedding are what is likely to trend this year. A lot of high profile people have been getting married this year, and they haven't been holding back when it comes to wedding planning, and everyone is else is likely to follow suit as well.
Vibes over themes and palettes
In 2016 and 2017, themes and palettes were an important trend that was seen in almost all weddings. The décor, dresses, gifts, flowers and lights all corresponded to the designated theme, whether it was rustic, or traditional or any other specific theme, or it corresponded to a color palette chosen by the brief and groom.
This year, more couples are choosing to wing it, rather than stick to a strict color bound rule or theme bound wedding. They are going by the general; vibe of the wedding, and choosing their décor and arrangements accordingly. For example, a rustic outdoor wedding with fairy lights but also over the top table décor gives off a traditional romantic vibe in a natural setting, and the colors are all muted and neutral instead of sticking to a color palette, giving a more personal and intimate feel to the setting.
Destination weddings
Contrary to popular belief, destination weddings are not as expensive on the arranging party as you think. This is something that people have perhaps started to realize, because more and more couples are choosing to fly out of their home town and even their country and get married in a scenic locale, surrounded by their close friends and family.
Travelling is now easier and cheaper than ever, and apart from the cost of the arrangements, most of the costs are taken care of by the place where you are staying, as it is included in the room fee. Your guests pay for their own travel and entertainment, and you get to have a wonderful wedding in an exotic place, which definitely makes for great memories.
---
Suggested read: 22 Stunning Vera Wang Dresses That Will Make You Want A Wedding ASAP
---
Wedding hash tags
There is no denying that social media plays a very important role now in cataloguing your memories, especially of important days such as that of your wedding. A huge trend that started sometime last year and is likely to blow up this year is the use of wedding hash tags, to make sure that all the pictures of a wedding are accessible through that one customized hash tag.
After all, you would want to see what your guests have been up to during your wedding, all which can be seen when they use that particular hash tag when they upload their pictures. It is also a cool way to get a ship name for you as a couple, which is exclusive just to you, and no one else. Remember #virushka, guys?
All natural décor
One of the biggest trends that we have been seeing this year not only for weddings, but for all sorts of party planning, is flowers. The use of flowers in all kinds of spaces, whether it is on tables, on clothes, in bars or on lights is something that is likely to take over weddings all over the world this year.
The use of the natural element is also being pushed because of the kinds of party décor we are seeing on the social media of celebs (I'm talking about the Kardashian's, ya'll) whose over the top flower arrangements are making spaces look ethereal and dreamlike, two adjectives which everyone wants to apply to their weddings as well. Living bars, living tables, living chandeliers are all now a thing, and we can't wait to see how people interpret this trend to make it special for their own weddings.
Funky bars
Apart from that side of your wedding which serves alcohol, couples are also leaning towards more fun stations, where people can have other things that they can munch on,  or get creative with, during the course of your wedding. whether it is an ice cream bar, coffee bar, as pictures above, makeup bar, or any other bar where people can customize the food they are eating.
This allows some form of interaction with the wedding organizers as well, and makes the experience much more intimate and comfortable and rewarding for the guests, who are a very important part of your wedding. The trend is also to decorate these bars in aesthetic, Pinterest-worthy ways, adorned with natural elements, lights and creative signs which makes your wedding that much more special.
Simple, fast food
Even though there are tons of people who like going all out with their menu when it comes to arranging food for their wedding, the trend is shifting slightly to more localized, finger-food this year. Since weddings are becoming more personalized and sentiment-based, the food too fits in with the general theme of nostalgia and intimacy, with couples serving up food from local restaurants and childhood classics that can be eaten with your bare hands.
Now, it is not surprising to find burgers, pizza and donuts at a wedding, and it is almost always associated with some memory that is special to the couple. Waffles, pies, popsicles, other things on sticks and simpler finger foods seem to be the culinary trend this wedding season, and we honestly hope it persists throughout the year.
Picture perfect wedding cakes
For the last few years, we have been seeing couples lean towards small, simple cakes which are minimalistic. Naked cakes were also all the rage for the last couple of years, adorned with natural fruits and flowers. However, in 2018, people seem to be going back to ostentatious, perfectly decorated cakes that are almost too pretty to eat.
Cakes which have more than three tiers also seem to be a popular choice for couples this year. Cakes with themes, designs which have a special meaning and decorated to look like they came to life from an unreal catalogue are also becoming increasingly popular for couples who are getting married this year.
---
Suggested read: 20 Of The Most Gorgeous Dip Dye Wedding Dresses You Have Ever Seen
---
Tokens of love instead of wedding favors
An interesting trend that we have noticed this year is the complete forgoing of the whole wedding favors part. Instead of making it a tradition-bound deal, couples are trying to make the experience more intimate and personal for their guests by giving them a series of presents during the course of the ceremony and celebrations.
Instead of wedding favors, couples are settling for small gifts, small tokens of appreciation, customizable takeaways, keep-sakes that will help them create memories during their wedding and welcome packages, whether it is a destination wedding or not. This is a more inclusive and thoughtful trend that we are totally digging, and it is much more convenient to arrange than a bunch of wedding favors which might not be appropriate for everyone in attendance.
We are waiting with bated breath for more such 2018 wedding trends to appear, so we can map how weddings are evolving from one year to the next with a shift in the creative perspective of couples. There is no denying that they are only getting increasingly beautiful, with people getting access to more and more resources. And with event planners and celebs abound to give you inspiration; we can hope that there will be no dearth for inspiration when we finally get to plan a wedding of our own!
Featured image source: Instagram 
Summary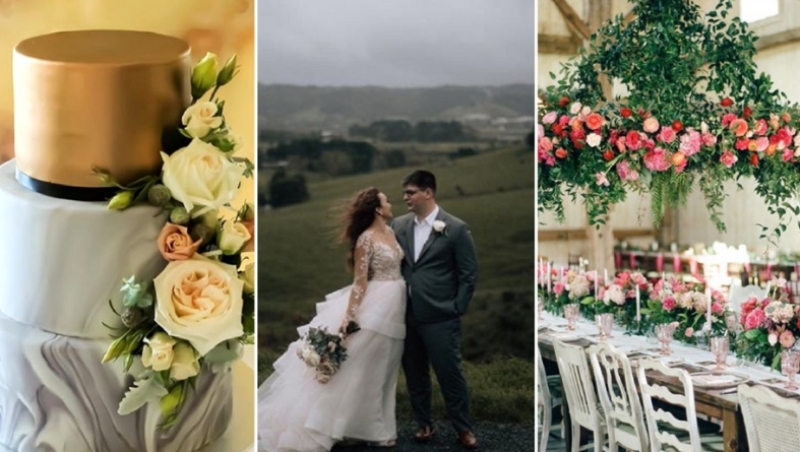 Article Name
The Biggest 2018 Wedding Trends We Are Loving
Author
Description
The new year means it's time for new wedding trends! Here are the biggest 2018 wedding trends that we are already in love with.