Letters to my daughter
A Letter to my daughter – I
I sit on the bed and watch you play! You are licking the mirror (don't do that, hon) and are…oh no, what's that…mumbling inchoate babble to Siri! You grabbed my phone again, huh, you naughty li'l bundle of cuteness? And as tempted as I am to let you be, I take away my phone from you (you licked this too, didn't you? Perhaps, Siri would someday be able to tell cutesie tiny tots like yourself that she doesn't like to be smothered such! :P) and try to replace it with some of your favorites from the toy box. You take one of the stuffed animals, a bunny whose mini versions you are wearing on your feet and turn to admire yourself in the mirror again. I give up, muttering, 'like mother, like daughter' to myself and smile at your reflection!
I remember the times when every time I'd pass a mirror, I had to pause and blow an air-kiss to myself- haha, yes, believe that! And the time when I was pregnant with you when I'd discontinued the ritual, worried my swollen misshapen feet and my oversized belly, wherein you jabbed against my ribs weren't making me feel at my best. Don't take me wrong hon, I loved you with every tiny li'l fiber in my being and actually, paused by the mirror to pull off another ring from the paper-chain I had made and hung by it, to count down to your due date. Of course, you came, as is your habit, in DelMonte fashion, fashionably late; but you know what – I didn't mind that too – the self-blown kisses ritual was replaced by something even more precious. Your dad came around and kissed us both! And I'd blow an air kiss to the happy 'baby-makes-three' picture reflected in the mirror you are now……….no sweetheart, we DON'T LICK MIRRORS!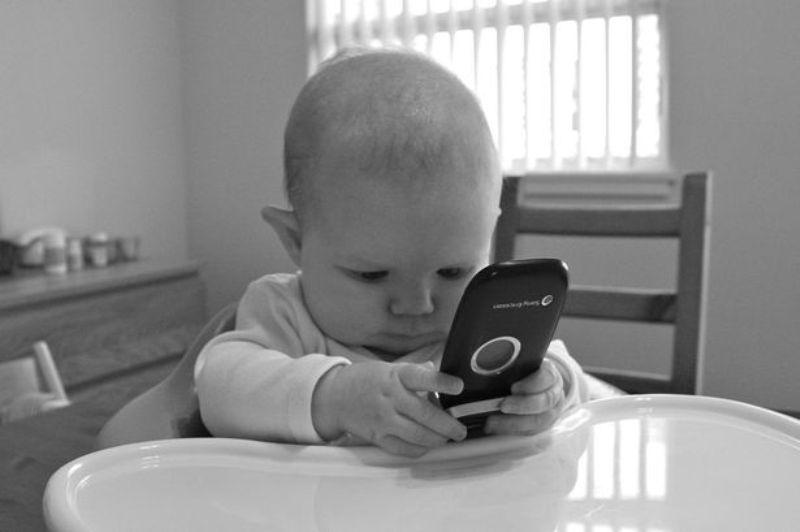 Image source: Google, copyright-free image under Creative Commons License
Before I can devise a plan that can get your fevered and frenetic self distracted, Bruno comes in and does the needful. You put the bunny on Bruno's back and turn to look at the reflection in the mirror. But your furry friend shakes it off before you can have that pleasure and grabs it in between his canines before your tiny, chubby hands can wrap themselves around it! The next thing I know, you are licking this cute trio-reflection in the mirror! And I give up! Okay, we do lick mirrors, okay! But NO REALLY, could you stop with that, little one? Daddy is going to hear of this at the dinner table today!
I remember such feelings of resignation flooding me during my first trimester of pregnancy. Waves of nausea would swirl about my insides, my stomach lurching and gurgling – all the cravings for yum food floating about in the basin, a minute later. Daddy heard about all of THIS at dinner too, sometimes with the hormones of my 'with-baby-body' making it all come out much like my vomit projectiles – through which he held me close, and loved me deeper still!
Which is why you, my love, are really LOVE, gifted to me in the purest form! You are daddy's gift to me – as much his as mine – and I want to tell you that we both love you so, so much, for now and for always! And why wouldn't we – we made you – and you ARE really darned cute, but PLEASE sweetie, don't lick the mirror PLEASE!
---
Suggested read: A father's letter to his daughter, enveloped in love
---
A Letter to my daughter – II
It has been a terribly long drawn-out potty training adventure with you princess. Not only did you make me clean after you for long after you should have bid goodbye to diapers (thank God for hardwood floors!) but you also took two whole weeks to commit to doing the deuce in the pot after you'd begun to shoot numero uno in there! Not to forget that you took so long to undergo this rather messy and to be honest torturous rite of passage that I'd already earned the name of 'the lady who lugs around the frog-faced poop receptacle for her baby,' along with the cherry-on-the-top accompaniment – the indulgent smiles! Not too awww, if you ask me!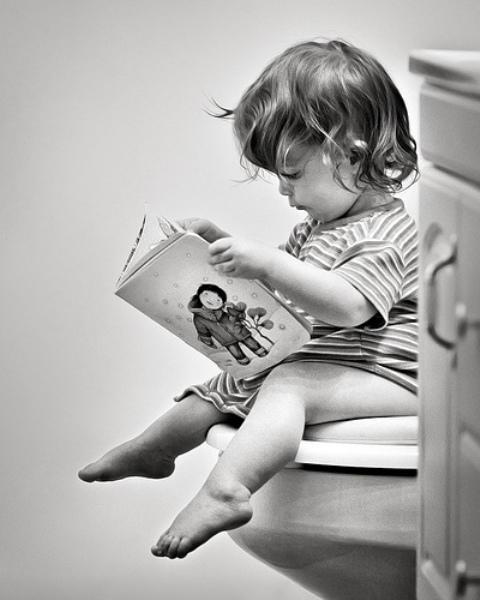 Image source: Google, copyright-free image under Creative Commons License
Nonetheless, your daddy really helped to cart around this tiny toilet in hotel lobbies and public parks – so I could take a breather – outside – sunshine, fresh air, exercise … wait, what's that – code brown situation again? And I would ask your daddy to take care of it … and he did!
Now sweetie, you must understand that your daddy and I didn't love you any less for the potty parties – in fact, you made us quite some potty training geniuses by the time we got around to teaching your li'l bro (who took a whole lot longer than you to believe that being on the pot was not linked to imminent death!), but we did mind (a little bit) the noses and butts that didn't wipe themselves! Plus, if you must know (and you do know, by now), mama likes things done the 'right way' (read: my way), and hence, it was impossible to not issue 'step-by-step instruction manuals' to your naïve 'dadda' about the perfect way to fold burping cloths, change diapers, and well, potty train you! A man who had, by then, listened to me issue endless rounds of huffy instructions to fold a towel , do the laundry, arrange dishes in the dishwasher, and even, take out the trash over a stretch of six years would have snapped under the prodigious pressure that is potty training, and told me off or worse, duct-taped my mouth – but your daddy took all my directions and learnt to do a great job of it – in fact, your bro was potty trained almost exclusively by daddy! <proud me>
Only he still doesn't quite know to fold towels right! 'How on earth would they fit in the closet, if they are folded like that,' I shout and he makes a (really) earnest attempt to learn! Seriously...
I love him … and yes, you too! Daddy loves you too!
---
Suggested read: A letter to all the men I have loved before
---
A Letter to my daughter – III
Baby, you no longer fit in my lap, but insist that you sit on it! As I scoop you in my arms, daddy gives me the 'I'd give you a good massage later' secret look and I smile! You are now in school and have learnt to take care of your things by yourself. You are always freshly washed, dressed in your impeccable uniform or those fuzzy footed pajamas you wear around the house all the time, you maintain a daily planner, and do your homework on time, with little help from us, you write in a neat, crsip hand, and are constantly filling yourself to be awake, aware, and engaged in everything you do. Always curious, always willing to learn new things, it is indeed a wonder how you danced your way out of me one moment, went from sitting to crawling to walking to running in another, and are now dancing, studying, playing, and even practicing yoga!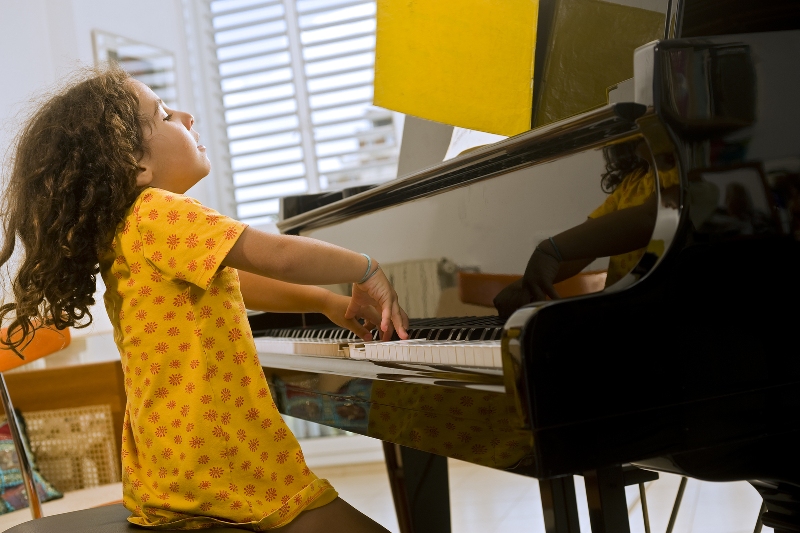 Image source: Google, copyright-free image under Creative Commons License
As you tell us about your day (our favorite part of the day), your dad and I look at each other in amazement as to how a tiny being we could carry about on an arm has grown up to be such a lovely child with X-ray intuition. In the moment, we feel overwhelming happiness as proud parents and a flickering sadness about how soon time flies! You sing to us the new song you've picked in music class, your head bobbing from side to side, and show us a painting of mommy and daddy you drew in painting class, with your legs swinging in the air! My mind toys with the idea of time and its pace, thinking how my baby girl is a big girl now, when daddy's delicious baked pecorino chicken and shrimp, leek and spinach pasta are ready!
When mommy begins to put you down from her lap so she can help daddy serve dinner, you ask for your cute character dinnerware. Your daddy and I exchange the briefest of looks and smile again – maybe, you aren't so much a big girl, hon!
A Letter to my daughter – IV
It's your high school prom night! I have taken you shopping twice this week and yet, you insist, for some unknown reason, on wearing the strapless empire waist gown I wore to my prom night – the eventful night when your daddy had asked me out! After I put to good use some of my tailoring skills, you fit into it perfectly and look drop dead gorgeous!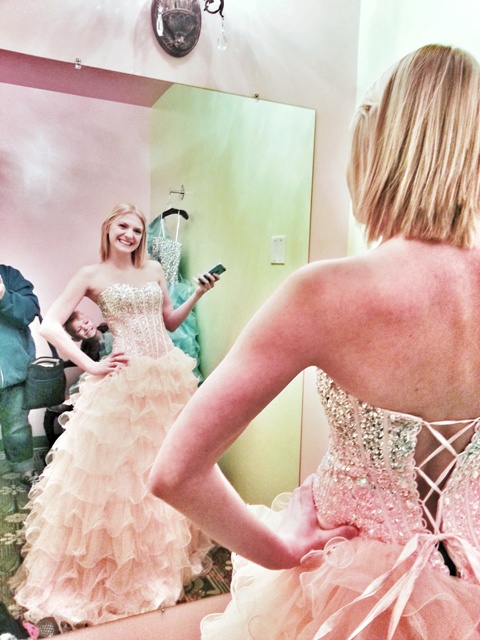 Image source: Google, copyright-free image under Creative Commons License
Downstairs, your dad is worrying himself to death about the guys who'd hit on you, whisk you off the dance floor for some stolen kisses, and in all certainty, planning the murder of any guy who so much as inches close to you with the 'wrong' intentions. Don't worry dear, he's just a dad. And the entire breed is like that – he loves you too much – more than you'd ever know! Also, I was thinking you'd do better not to tell him about the lace back dress you bought for that date with Jake this weekend!
As we bid goodbye to you at the door, your dad is beginning to mouth those words when I stop him with a kiss. 'She will be okay,' I tell him. 'She is OUR daughter.' And after ages, we sit out on the steps, sipping on tea!
---
Suggested read: Dear Future Husband, your wify needs you to know this…
---
A Letter to my daughter – V
It breaks my heart to see you go through heartbreak – like your world is no longer alive and you wake and walk through it, like an automaton, programmed to do so. I want to take away your hurt but I know I can't. I hold you through the nights you cry your eyes out and speak no words about it all being okay. I know you have a timeline – and I give you that. No broken heart was healed by an ointment that came from outside itself. That's the thing about heartbreaks – it's a wound that heals on its own, once it has bled enough! I listen to your incoherent jabber, impossible to make out the words in between the incessant sobs – something about how you cannot believe this is happening coz things were great – and on other nights, I listen to you give in to anger and swear at the jerk who broke your heart – I humor you but I know you'd soon give in to forgiveness.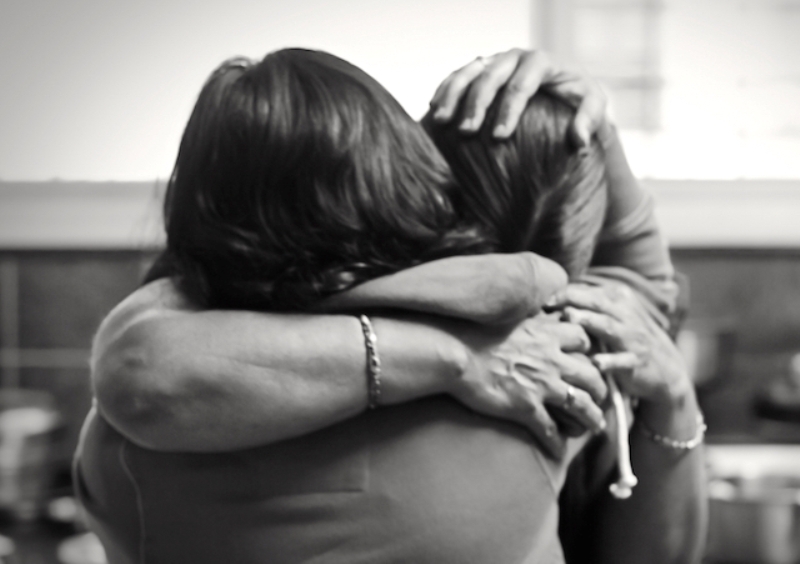 Image source: Google, copyright-free image under Creative Commons License
A month later, you sit in bed, asking me if there really is love in the world – and your dad walks in, like on all nights for the last month, to check on us and cover us with the comforter (only we aren't hugging and sleeping tonight) … I look at your dad and tell you, 'it does, hon and for real…' You smile and sleep the soundest sleep in a long time – for you finally understand that heartbreaks open a REAL possibility of love!
A Letter to my daughter – VI
Today, you asked me if you were doing the right thing- if he is, indeed, the 'right' partner for you and I knew it was time for me to hand you all these letters. Reason – I want you to know that you are loved – and will always be (but you know that already). And a more important reason – you must know a few things before you take one of the most important decisions of your life. You'd be starting a new life, with a man who you'd vow to take in sickness and in health, in any condition, until death parts you. But that commitment isn't just a commitment you'd make, once and for all, on your D-day – it would comprise a million other re-commitments you'd have to make along the journey. And so, my darling daughter, daddy's li'l princess, you must know this:
We (your father and I) have never tried to control your thoughts and actions, but merely guide them. In doing so, we have allowed you to learn by living, instead of living by learning, and that has, in turn, made you who you are – a strong, opinionated woman who is unafraid to be herself! You have learnt to thrive on life's dishes, not by gleaning knowledge of the recipes but vis-à-vis tasting the yum platters whilst swallowing the bitter pills for those spoonfuls that gave you an upset stomach. As such, we needn't give you those parent-y preachy lectures on life and love. But I do need to tell you something extremely important about the next big step you wish to take: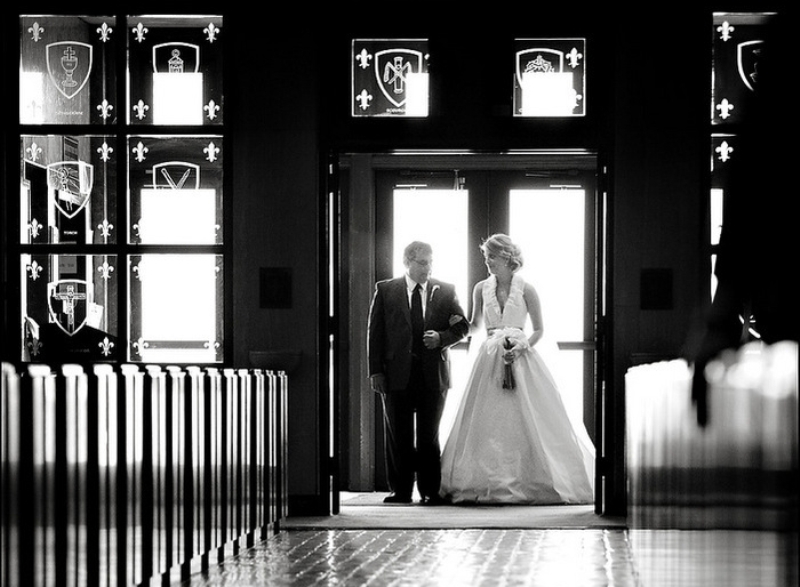 Image source: Google, copyright-free image under Creative Commons License
Baby, as you read through my letters, you'd see that there's a man whose presence, invisible or otherwise, looms large in my journey with you. That man is your daddy, dear daughter – the husband who loved me when my swollen legs ran thick with varicose veins, my belly hung loose with flab, and my eyes had bags – big, deep ones with pockets, even! He was the man who patiently waited for a year and then another and then, another half for making love to his wify coz postpartum stress and nursing are real and tiring! He was the man who loved me deeper when I'd yell and throw things at him (the reasons for which I presume were hormonal) and who'd have a dozen varicose-free, high-heeled beauties with pretty hair and perfect makeup roving about him – all of whom he'd dodge to come home to a frizzy bun-ned mother, with a child on her hip, and a baby complaint for a welcome! He'd kiss me still, and whisper words of love in my ear, who'd tell me I was beautiful and who'd prove to me that nothing for him beat the pleasure of returning home to me! He was the man who'd wait for his fair share of love but wouldn't put on a fake 'ahh-that's-okay' expression when a feverish toddler and night cries would steal his due. Instead, he'd smile and laugh and tend to the baby so a sleep deprived me could get a few hours of rest!
Not only that, but as you have seen, living with a woman who does not make her peace with 'his way' (read: wrong way) of folding towels and hasn't for twenty-five years now, couldn't have been a cakewalk. I wish I could say that my crankiness has made him wish to put me on mute, at least once, but nope … never happened! He has been with me through life's treats and the sh*t and proved that the only aches I ever needed to have were the ones on my cheek – you remember the crazy Sunday belly laughs, don't you?
---
Suggested read: 25 invaluable nuggets of relationship advice my father gave me
---
This isn't to say we haven't messed it up or haven't had our hard times. But only that whatever the storm and howmuchsoever strong the storm, we have braved it together! We have chosen each other, over and over – never once, willing to let go of our love (yes, even me – through those times too when I wanted to tear my hair coz hey, your daddy folded the towels the wrong way)!
And if that is the love you've found – this is the kind of man waiting for you – daddy will walk you to the altar, princess!
And you must know that no matter your decision, we are here for you, always, and we love you – always!
Featured image source: Google, copyright-free image under Creative Commons License
Summary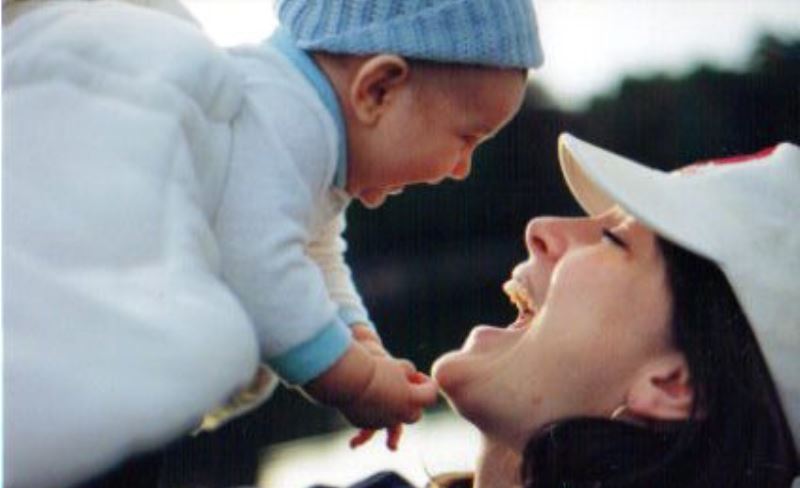 Article Name
A Letter To My Daughter On Starting A New Life
Author
Description
Being a mom is incredibly exciting & exasperating. In a letter to my daughter, I tell her about it and try not to be preachy about her next big step in life.