Ranveer Singh has always stood out as an individual, amongst his peers. His charismatic personality, charm, good look and razor sharp sense of humor makes him one of the most alluring superstars Bollywood has ever seen. One of his most attractive and envious qualities is his devil-may-care attitude.   
1. When he starred in this Rupa Frontline ad in which he beat up a shark
Yes, Ranveer Singh is known for outrageous ads, but the Rupa Frontline advertisement resonated with his eccentricities, as he beats up a shark, along with making an exquisite sandcastle sculpture in only a few seconds.
2. When he wished Sonakshi Sinha a Happy Birthday using this picture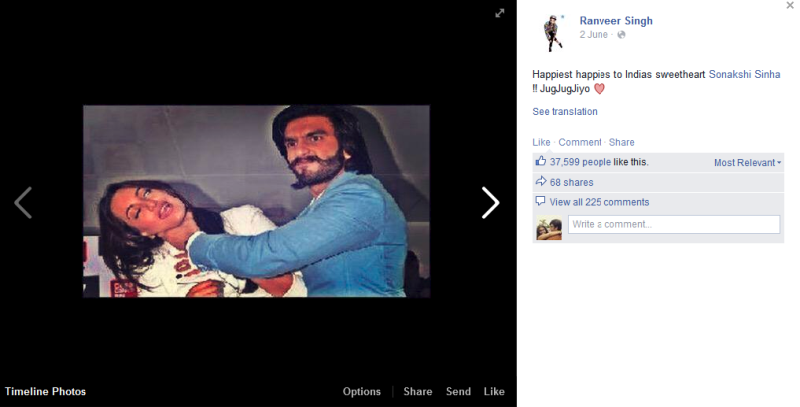 Image source: Facebook
There are crazy birthday wishes, and then there is Ranveer Singh. The actor uploaded a picture of Sonakshi Sinha being strangled by him, as a public expression of love on her birthday.
---
Suggested read: Aishwarya Rai Bachchan's gorgeous photo shoot proves who's still the queen
---
3. When he challenged Deepika Padukone for the title of "Better Pouter"
In a video by Vogue India, Ranveer brazenly challenged Deepika in a competition to see who is the better pouter. It's safe to say that he won.
4. When he used an online animator app to promote his film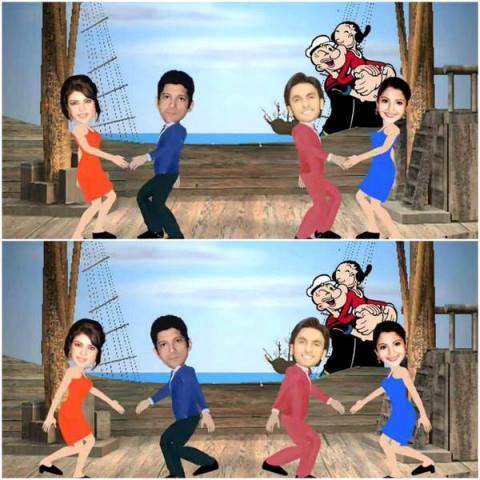 Image Source : Facebook
In order to promote his film Dil Dhadakne Do, Ranveer Singh used an app to superimpose pictures of him and his co-stars onto animated bodies. The hilarious results served as laughing stock, and also helped in promotion. Genius!
5. When he dressed up funnily and danced in front of a green screen
If there is a green screen, there is always something funny you can do in front of it. Ranveer took advantage of the situation, and showed off his hilarious dance moves.
6. When he dubsmash-ed Taher Shah's Eye to Eye to absolute perfection
---
Suggested read:What your favorite Bollywood star's dating profile looks like
---
Celebrity dubsmash videos are quite popular. But Ranveer Singh took it to new heights, with actually replicating the hairstyle, outfit and background. He even placed the pictures of himself in the background!
7. When he tried to replicate Anushka Sharma's dance steps during the shoot of Dil Dhadakne Do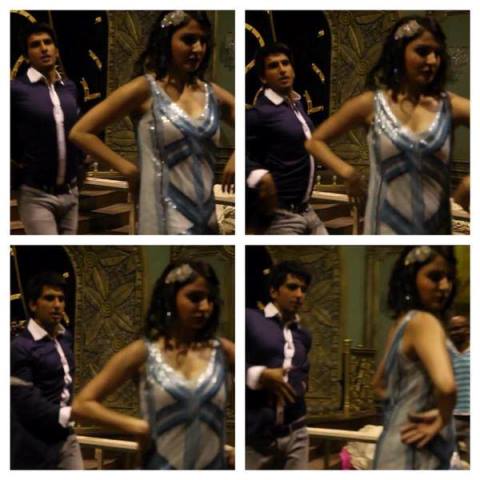 Image source : Facebook
The Ranveer Singh photos from the behind the scene footage of  Dil Dhadakne Do shows Ranveer Singh playing the fool trying to match up to Anushka Sharma's dance steps. Even though he failed miserably, it's the effort which makes him endearing.
8. When he used Dubsmash to mouth his own lines
Who would ever think about using Dubsmash to quote your own lines? On top of that, he even goes on to quote co-star Shefali Shah's lines as well. The effect is hilarious.
9. When he started dressing up as characters from movies, and posted them on Instagram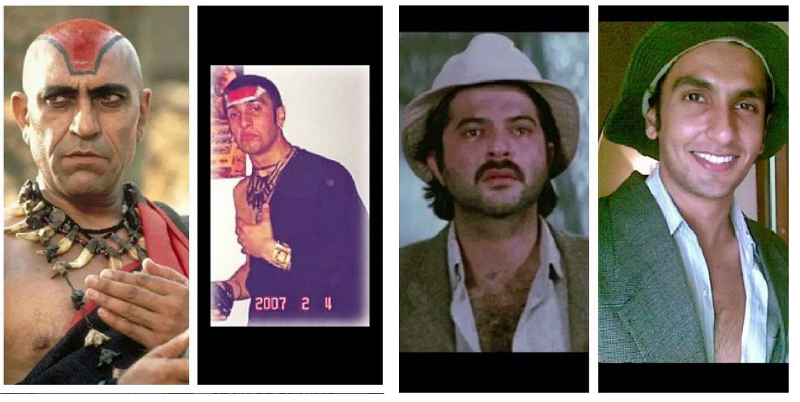 Image source: Instagram
This is Ranveer at his best. His fun-loving personality exemplified itself when he dressed up as Amrish Puri from Indiana Jones (left) and Anil Kapoor from Mr. India. Ranveer Singh's photos received great appreciation from the Internet.
10. When he let a group of professional comedians roast him, along with Arjun Kapoor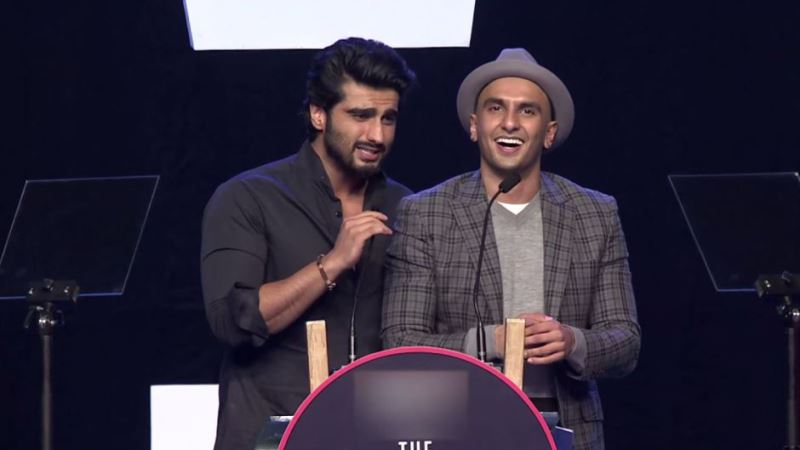 Image source: Youtube
Ranveer showed that he enjoys jokes and digs made at his expense when he was one of the two people being roasted at the AIB roast. The event was a laughter riot, with jokes being made at his promiscuity. However, Ranveer took all the jokes in good humor.
11. When he live tweeted his surgery with a big smile on his face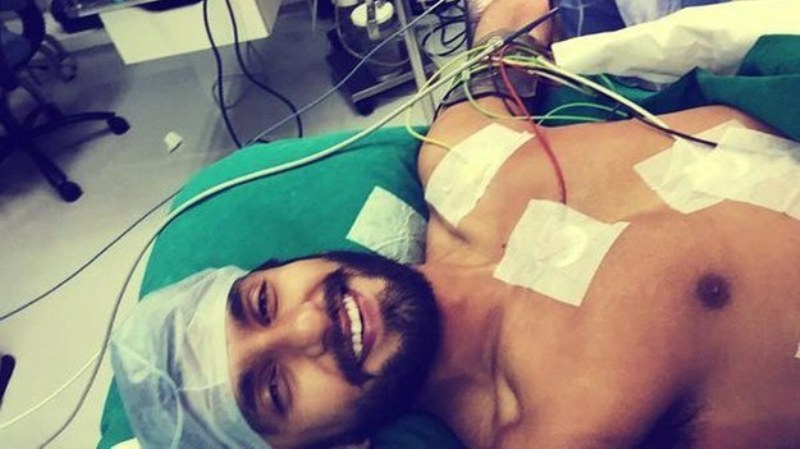 Image source: Twitter
Ranveer Singh's images on twitter show him lying on a hospital bed while he is wired and ready for surgery. What is astonishing is his big smile, which proves that he does not show fear, even before an operation on his shoulder.
12. When he made fun of Priyanka Chopra on Viber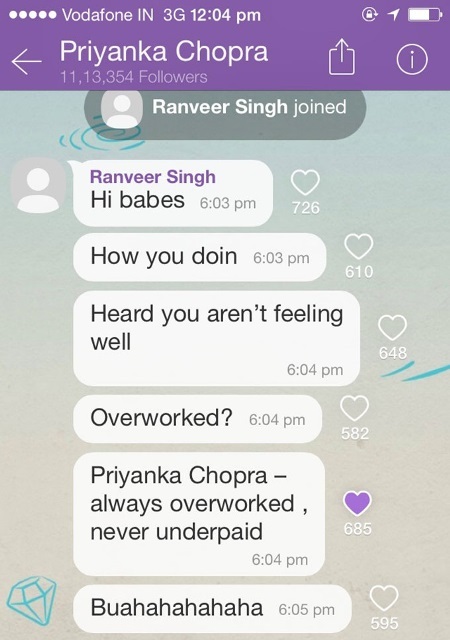 Image source: missmalini
In the pictures, we see Ranveer Singh very blatantly making fun of Priyanka Chopra, living upto his reputation as a man with a great sense of humor.
13. When he encouraged the entire country to talk about sex
Image source: MTV
Ranveer was the primary ambassador for MTV's rex talk, which was designed to strip the taboo around sex, and make people more open about the idea of talking about sex.
14. When he wished Arjun Kapoor on his birthday by posting a picture of two cats hugging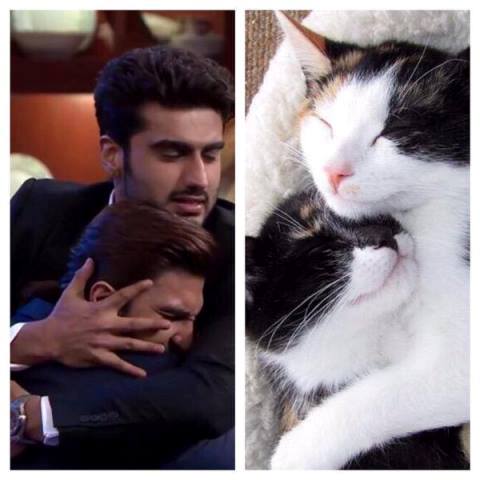 Image source: Facebook
Notorious for making strange birthday wishes, Ranveer Singh reinstated his position as Bollywood's funny man, by posting a picture of two cats hugging, alongside a picture of them hugging, on Arjun Kapoor's birthday.
---
Suggested read: Dubsmash of the year – Deepika and Ranveer, BFFs forever!
---
15. When he attempted Hrithik's Bang Bang dare, and danced in the middle of Mumbai Traffic in a Krrish suit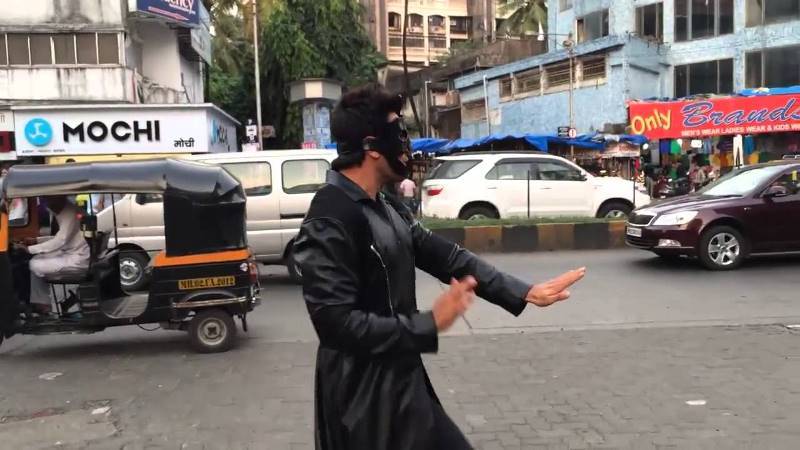 Image source: Youtube
Ranveer Singh accepted Hrithik Roshan's Bang Bang dare, which was to dance in a public place. However, Ranveer Singh decided to add his own twist to it. He donned Hrithik's Krrish look, and danced to Hrithik's iconic song: "Ek Pal Ka Jeena" in the middle of busy Mumbai Traffic, therefore showing that he gave very few f***s as to what people think.
16. When he explained how many f***s he actually gave, by putting it on his t-shirt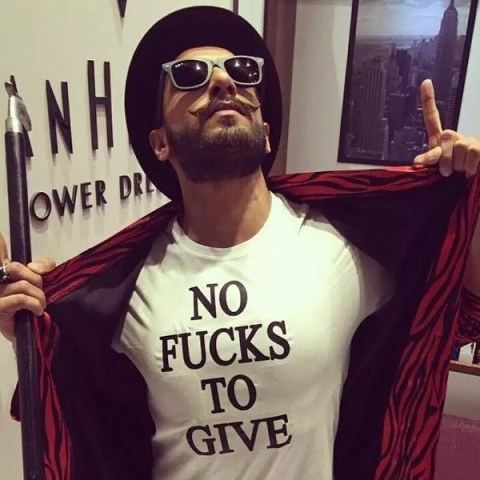 Image source: Instagram
His public behavior indicates how many f***s he gives on a daily basis, but Ranveer Singh's photos on Instagram show him wearing a t-shirt which sums up his attitude towards life.
Featured image source: Facebook
Summary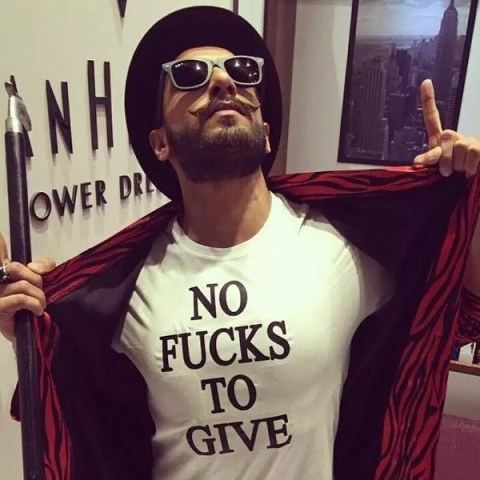 Article Name
16 Times Ranveer Singh Showed The World That He DGAF What People Think
Author
Description
Ranveer Singh is not only hot, he has a solid sense of humor too, which makes him the total package. The other side of this is his DGAF personality.