We live in cynical times, where trust is more likely to be found on an impersonal chat rather than an in-person meeting. Today, I had the privilege to see a different world view, one with simplicity and poignancy that helped me catch a glimpse of the strength and magnanimity of the human spirit.
I met with Anuj Khurana, 25, and Ishant Kumar Singh Jadaun, 22. Anuj and Ishant (Ishu, as they call him at home) are two average (or so their families thought) small town boys with a bold idea to travel across India indefinitely, with less than INR 1000/- in their bank account. These hitchhiking nomads who started their journey in July, have caught the fancy of many Indians who want to live vicariously through them.
Image source: Nitika Goel
While we are sure there will be multiple articles on the meager amount of money they are traveling with, the number of cities they have traveled to, some of the instances they encountered, we wanted to tell a more personal tale of these two individuals, and the domino effect they have had on the lives of people around them.
---
Suggested read: Meet Dhee, Bangladesh's first ever lesbian comic heroine
---
Anuj is from Aligarh and Ishu from Hasanpur, 2 small towns in Uttar Pradesh. Anuj is from a business family, and from a young age, was passionate about travel and has often taken the road less traveled. Ishu, the son of 2 teachers, was expected to become a CA and earn well to improve the lot of his family. Having failed his CA twice and a chance meeting with Anuj Khurana (who was auditioning for roadies) 3 years ago, has led him on an adventure of self-discovery and acceptance.
Image source: Ishant and Anuj
The journey that these two boys are on is compelling, but what they have lost or gained to stay on this path is even more so. One of them told us he was misunderstood and thought of as useless in his town, that people often referred to him as a Chu**ya. The other has had his choices affect his relationships with his parents and siblings, his father hasn't spoken to him in three months and his family has become indifferent to his very existence. Continuously thought of as failures, these boys have accepted indifference, disdain, anger, and followed through on their journey.
50 days into their journey, they each have a different lesson. One is still coming to terms with loss and rejection and getting more comfortable with himself, the other has realized that these are just moments in time, and food, love, need for approval, and safety are momentary and transient, and a true acceptance of yourself is the only thing needed (definitely Maslow's stage of self-actualization). Some of their life lessons include being misidentified as criminals, nearly being raped, sleeping on the side of roads, going hungry for more than 18 hours, not bathing for weeks on end, drinking from bathroom taps, eating leftovers in restaurants, having chai and food shared with them by people who barely have any for themselves, getting 200 messages inviting them to meet based on a single FB post. In this time, anger has turned into acceptance and disdain to love, ironically, not from their families but from total strangers.
Image source: Ishant and Anuj
While they themselves are evolving, they have also had a profound impact on the people they have met – managers of fast food chains, bloggers, hotel owners, policemen, truckers, auto rickshaw drivers, editors of magazines, to name a few. Each of these people have been impacted by these boys in some way, some given companionship, others hope, few others incessant laughter, and for many, a key to their altruistic side.
The reason I said Domino effect is, after meeting them, I have more faith in meeting strangers, I have more faith that people are not only driven by materialism, and that going on a road less traveled will give you acceptance… the most important kind – 'of yourself.'
While we are enamored by these travelers' guts and gumption, we are more enamored by the lack of guile, lack of ego, and the passion to experience people and their inherent goodness.
Hats off to these gentlemen who have emotionally dared to go where very few men (or women) have gone before.
You can follow their incredible journey on their Facebook page here: Move.
Featured image source: Ishant and Anuj
Summary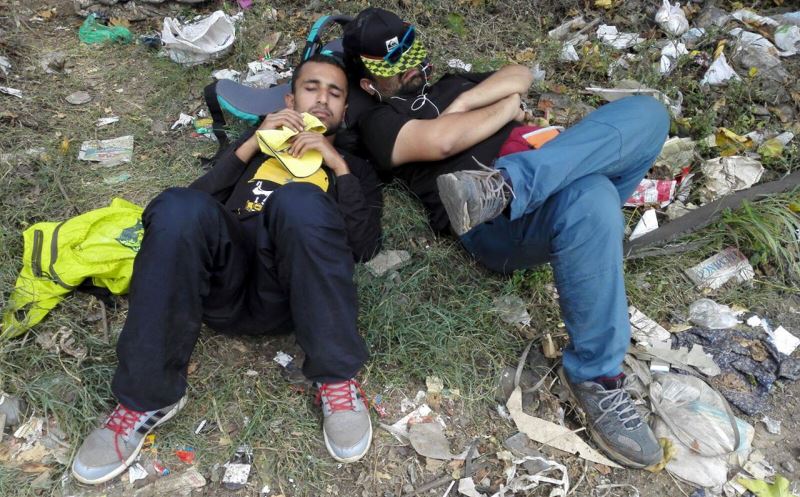 Article Name
Meet Anuj Khurana And Ishant Kumar, Who Are Hitchhiking Across India On Less Than INR 1000/-
Author
Description
Anuj Khurana and Ishant Kumar are unlike any 20-somethings I've come across so far. I came out a different person from this pleasant meeting.