India is a  patriarchal society for all intents and purposes, with women being  looked down upon by men being a common sight. In rural India and the interior regions, this is more pronounced than in urban areas. Eve teasing, stalking, rape, dowry deaths, beating up wives – are all common occurrences, over which people, especially men, don't lose much sleep over.
Although we talk about women empowerment, feminism, and the like, most eve teasing and passing of lewd comments in public, go unchecked, because they are deemed 'just' eve teasing. What harm did a man's lewd comments ever cause a woman? Other than violation of her right to just BE, you mean?!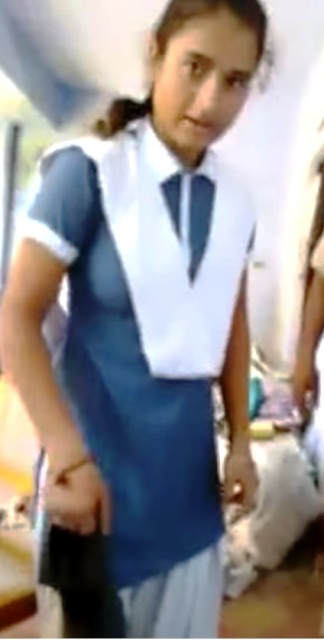 Image source: Youtube
Eve teasing, which is considered 'harmless' by most men, has become a serious issue for young girls. Some girls choose to ignore such incidents and go about their day, even if that's the last thing they want to do. This is mainly because of societal concerns. But there are even some, who do not take any such harassment lying down.
---
Suggested read: Shahid Kapoor – Mira Rajput wedding ceremony details
---
Take this girl, for example Sanjana, a high school student from the Pilibhit district of Uttar Pradesh, has set an example for women all around by thrashing her eve teaser. She has shown courage and chose to stand up to an eve teaser by bashing him, left, right, and center. In her zeal to stand up against harassment, she has taken the law into her own hands by beating up the guy responsible with her bare hands and also with her shoe.
Check out the video here:
The teenage girl in her school uniform can be seen slapping and beating her eve teaser inside the police station, and that too in front of a policeman. The video that has since gone viral over social networking sites, shows the policeman standing aside silently, while the girl thrashes the guy. The girl is seen hitting Ankit Rajput, the alleged eve teaser, with her shoe and making him touch her feet as an apology for harassing her and her friends.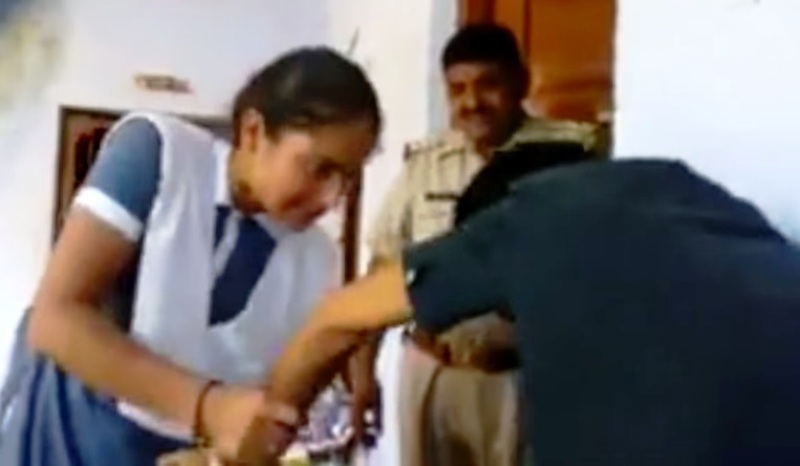 Image source: Youtube
The girl Sanjana claimed that the boy used to pass vulgar and coarse comments on her and other girls standing in front of the Saraswati Vidya Mandir Inter College and also on their way back home from school. According to Sanjana, the guy has been eve-teasing and harassing the girls from past several days, but she chose to stay tight-lipped about this before.
But being fed up over his eve teasing, the girl stopped Rajput's motorcycle by blocking the way with her bicycle in front of the Puranpur police station, and dragged him inside the police station, where she proceeded to slap and beat him up  in front of a police personnel.
The guy was not only beaten up in the police station, the video is also apparently made by some police personnel as voices could be heard from behind the camera saying, "Maar," and also asking him to explain why he abused the girls.
The alleged eve teaser was let off by the police after he offered an apology, since the girl didn't lodge any complaint against him. Also, she admits in the video that she just wanted to teach him a lesson so that he never repeats his actions and harasses any other girl.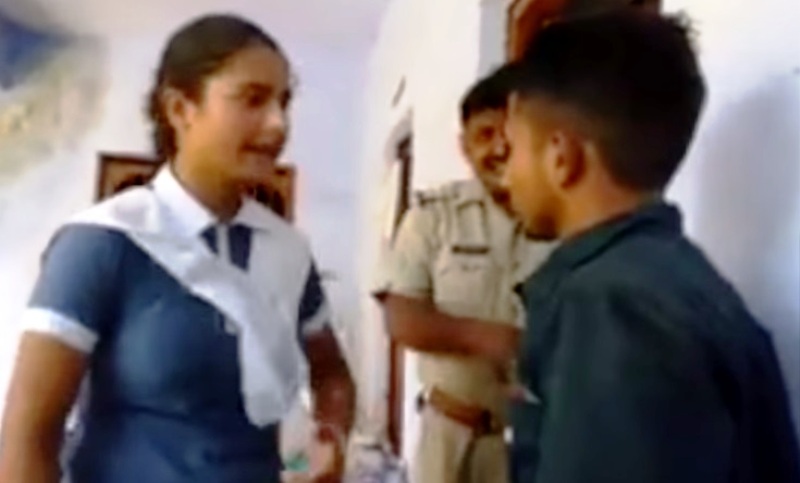 Image source: Youtube
After the video has gone viral over the internet, Pilibhit Superintendent of Police (SP) JK Shahi has ordered a direct inquiry into the issue.
Standing up for yourself and taking on an eve teaser is all well and good. But taking the law into her own hands? Beating him up, that too in front of a policeman, by being goaded to do so by another one? Vigilante justice never prevails. If you want to become a vigilante, they why elect a government? What is the point of the laws that are so carefully written and implemented?
Do you think the girl was right in her actions? Would you do the same in a similar situation? Tell us in the comments below.
Featured image source: Youtube
Summary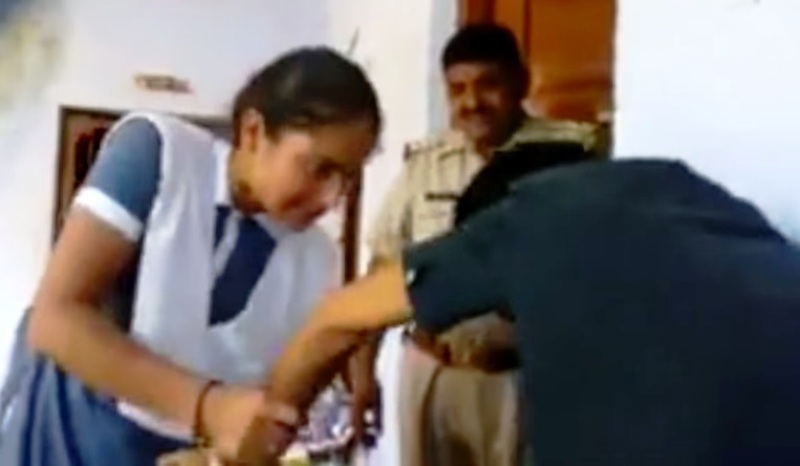 Article Name
UP Teen Teaches Her Eve Teaser A Lesson
Author
Description
UP high school girl teaches a lesson to her eve teaser by thrashing him. Check out the video here.