With every other dating/relationship portal giving advice on how and what should be your online dating profile picture, it's no wonder that people obsess over it so much. True that the current slew of dating apps/sites all focus and stress on first impression. It is also true that in order to catch the eye of a potential mate, most people tend to embellish their profile pictures, making them almost distinctly different from their real selves. And let's not forget the fact that some people, although have great, vivacious personalities, don't photograph well. They are bound to rue the day they chose to sign up for a dating app!
However hopeless the current dating scene might seem, this new dating app, at First Sight, offers a unique way to put yourself out there to catch a potential mate's eye.
---
Suggested read: 10 Apple Watch dating apps to find love on the go
---
With the tagline, 'Your Beauty is Beyond Pictures,' at First Sight, asks its users to record their bios in 60 second videos, which can be viewed by a potential match. The rationale behind these video bios is that it's a way to let the users see and hear and gauge a potential mate firsthand, and not just based solely off a picture – which might or might not have been retouched.
The at First Sight dating app was created by Chris Harrison, host of reality shows The Bachelor and its spin-off The Bachelorette, along with the show's creator Mike Fleiss and Perceptual Networks. Harrison said,
"We created at First Sight because we wanted to do something for the millions of people out there who want to find love. You can only learn so much from a photo, but video profiles really give you a sense of who someone is and whether you'd like to meet them in person. It's an easier, more natural way to connect with people and figure out if you have chemistry together."
The setup is pretty simple. As any other dating app/site worth its salt, at First Sight dating app needs you to sign up using your Facebook account. Then, you can 'seek' out people for a 60 second video chat or 'wait' for video calls. You have to create a video of your own first to favorite someone. Sharing profiles and flagging a video as off topic or offensive or inappropriate is pretty easy too. During the 60 second video chat, if the two of you hit it off, you can hit 'like' and continue chatting without any time limits. But, if you're not interested in the other person and what they have to say, once the 60 second video chat is over, you can hit 'pass,' to decline further interaction with that person. If neither user either 'likes' or 'passes,' then the app will start a brand new search.
The at First Sight team director said,
"Looking for someone special in a page full of perfect-looking profile pictures is just exhausting, especially when you know that the real person behind the profile may be startlingly different from who he says he is. This could be extremely discouraging for new users of online dating sites."
Since the interaction between two users happens over video streaming, they can gauge the other person they're speaking with, giving them a chance to see if there's real chemistry. This is infinitely more better and a lot more effective to mindlessly swiping through hundreds of profiles and making snap judgments.
The literature on the website backs this up:
"We believe in love at first sight, firmly. It's always the most beautiful and romantic thing in life. However, we find that, people in the real world have less time, less confidence or less patience to find their love at first sight. We also find that, the picture-based dating apps seem to not have the capacity to enable us to express our true selves and to make any eye contact with each other when we meet someone for the first time."
The app seems like a pretty neat thing to happen to the dating world, in which you don't have to spend hours or days to create that 'perfect' profile or shell out hundreds or thousands of dollars to get your 'candid' pictures taken by online dating profile picture photographers – whew, that's a mouthful!
---
Suggested read: Professional photographers to make you swipe right on Tinder
---
However, at First Sight dating app might be slightly more slightly more daunting for those who are shy because they can't hide behind a cellphone screen in this app. They have to talk to a stranger for 60 seconds, which may seem intimidating to them. Whether you choose at First Sight dating app or any other dating app to find your life partner, there is certainly no dearth to the platforms available these days. This is just one of them out there, if you so choose.
Good luck dating!
Tell us what you think about this video chat dating app in the comments below.
Summary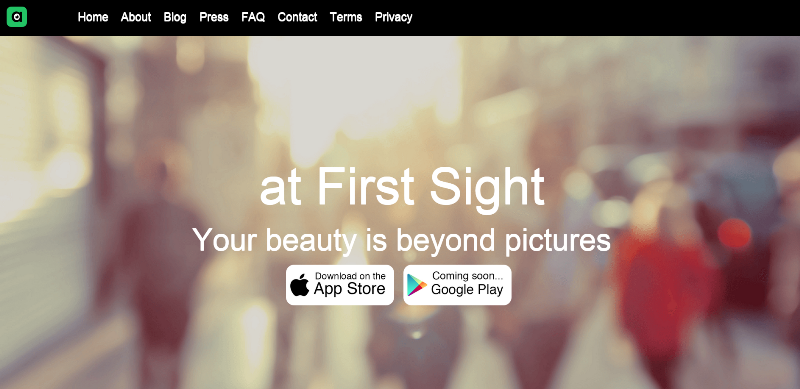 Article Name
at First Sight Dating App: You Are More Than Your Profile Picture
Author
Description
at First Sight dating app connects users via 60-second video chats. This is a refreshing take on the dreary and boring online dating scene. Check it out.