Dating apps are as ubiquitous as the cabs plying on our streets. They're everywhere, with niche dating apps cropping up almost on a daily basis – from a dating app that connects you with a person you passed on the street to a dating app which allows men to bribe their way through dates, seems like every imaginable niche dating app has already seen the light of day. While some work and succeed in making valuable connections, some others just fade away as if they weren't even there to begin with!
But with the launch of Apple Watch, there have been a slew of Apple Watch dating apps to cater to the niche(r) market. Who knows, when you attend a wedding in the future, the bride and the groom might have met on an Apple Watch dating app! It's certainly within the realm of possibility, if the current trend is anything to go by. The first ones to jump on the Apple Watch bandwagon are older players like Match, OkCupid, and Tinder.
---
Suggested read: Wingman app – Tinder for the skies?
---
So, without further ado, let's look at ten Apple Watch dating apps that help you look for love on the go:
1. Tinder
The dating app that reduced dating to a couple of swipes – right or left – Tinder Watch app is nothing special. Its functionality is similar to its main iOS app, where you get to make snap judgments based on a picture, a first name, and a few words about a profile. With more than 30 million active users, Tinder is the most likely candidate which would help you in your search for 'the one.' Keep your fingers crossed, though! Just in case.
2. OkCupid
OkCupid Watch app allows you to browse through the pictures of singles in your area to see if there's a match. With its seemingly endless questionnaire that you need to fill up on OkCupid, it's just an extension of the online format onto your Apple Watch. With a credibility that it has built over the years, OkCupid is just one way to find love via your watch.
3. Match
Match Watch app is an extension of its online persona, but with a new feature added – sort of. On Match Watch app, you can send someone a template message like, 'tell me about you,' or 'want to chat?' that is meant to spark a conversation. These templates are in addition to the standard 'on my way,' or 'okay,' that are preinstalled in any Apple Watch's Messages app.
4. Clover
Just like the dating app version, the Clover Watch app cuts through incessant and seemingly endless chats and helps you go on a date almost instantly. The Clover Watch app lets you find a date nearby to your location, and even goes so far as to suggest hotspots where you could meet up for the date. Pretty cool, huh.
5. 3inder
For the uninitiated, 3inder is the dating app for threesomes. With its Apple Watch version, 3inder has come up with a new feature called Close Encounters. Although the mobile version is for finding threesomes, the Watch version is strictly for straightforward dating between two people. The Watch app has done away with photos, but only displays a user's bio, interests, and desires. It also lets you know when someone is close by, by vibrating on your wrist. If you like your match's desires, interests, and bio, then you just have to share your location, which will create a little red line that connects you two, helping you both to meet up in person.
6. WatchMe88
WatchMe88 pretty much works like a radar that detects nearby singles based on your preferences for age, gender, sexual orientation, and location. If the two of you match, then the Watch face starts to glow, indicating a match. You can also send your match a message or a 'wink' with a photo of yourself, so that they get to know how you look before you two meet in person.
7. Jack'd
This could be called a real-life version of a 'gay-dar' that some people seem to possess. This is the first Apple Watch app which helps guys looking to meet guys. You get real time notifications when your profile is viewed by someone nearby. If they liked what they saw on your profile, you can take the interaction further.
8. PlanetRomeo
PlanetRomeo is another Watch app for guys looking to meet other guys. But this is slightly more advanced than Jack'd. This UK-based Watch app lets you scroll through profiles, read and send messages, and even save guys you like to your favorites list, which will send you notifications whenever they come online.
9. The Inner Circle
The Inner Circle Watch app is basically the LUXY of Watch apps, if its description is anything to go by. Every member on this dating platform is apparently prescreened, so as to 'maintain the highest quality.' Just what does 'highest quality' mean? Seems to me, that it means you need to be rich and pretty, or at least think so, to get on to its roster.
---
Suggested read: Your dog can be your best wingman – says science!
---
10. Coffee Meets Bagel
Coffee Meets Bagel's Watch version is very much similar to its mobile avatar. Every day at noon, the app sends you a bagel, one potential match, selected based on your mutual interests and Facebook friends. Then, the app gives you 24 hours to decide whether you 'like' that person or would you rather 'pass' on it. The Watch app has a counter, sort of, that tells you how much time has left before you need to decide, so that you won't ever have to miss out on a good match, because you totally forgot about it because you were busy with work.
So, if you have an Apple Watch and are currently single and ready to mingle, then it's time you downloaded one of these Watch apps to try and find a partner for yourself.
Do you think these Apple Watch dating apps will find success? Tell us what you think in the comments below!
Featured image source: Google, copyright-free image under Creative Commons License
Summary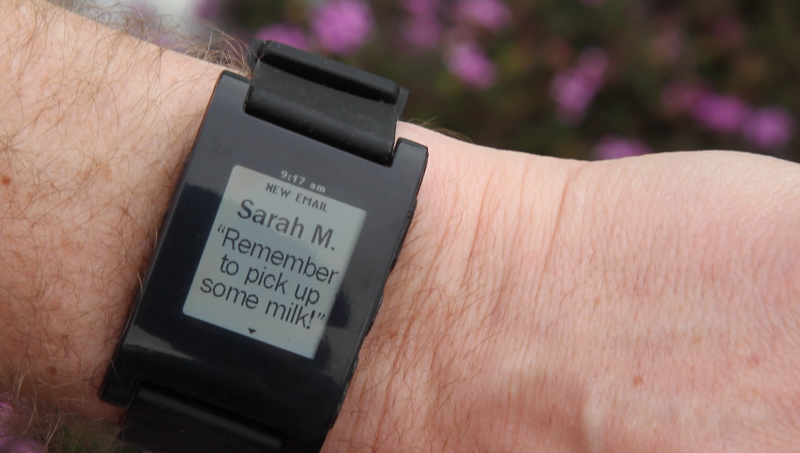 Article Name
10 Apple Watch Dating Apps To Spark Your Love Life
Author
Description
These 10 Apple Watch dating apps help you find love on the go. Check them out here.