There are achievers. And then there are achievers who seem to know no bounds to what their minds and bodies can accomplish. Bhakti Sharma of Udaipur falls squarely in the second category.
She recently achieved the world record of swimming 1.4 miles (2.25 kilometers) in 52 minutes in the Antarctic Ocean when the temperature was about 1 degree Celsius (34 degree Fahrenheit). She is the first Asian woman and the youngest to achieve this feat. The previous record was held by Lynne Cox of the US and Lewis Pugh of UK.
Indian President Pranab Mukherjee sent her a congratulatory note saying "I am delighted to know that you have set a world record by swimming 1.4 miles in 52 minutes in the Antarctic Ocean, becoming the world's youngest and the first Asian girl to achieve this feat. Your success is a matter of great pride for all Indians, especially our youth. The whole country joins your family and you in celebrating this impressive achievement. I extend my congratulations and wish you continued success in all future endeavours"
Here is her gritty story:
1. Born on November 30, 1989 in Mumbai, Bhakti was brought up in Udaipur, the city of lakes. She was introduced to water by her mother Mrs Leena Sharma, a national level swimmer, when she was just two-and-a-half years old. Presumably, she took to it like a duck to water, pun intended.
2. Over the next 12 years, she participated in many district and state level swimming championships, standing first at the district level. She also had to give up swimming and try Karate due to societal pressure of being a girl swimmer. She says of her mother's guidance in choosing one sport and being good at it – "My mother was very clear about one thing, either do something 100% or don't do it"
3. But Bhakti's real potential lay in open water swimming. When she was 14 years old, her mother told her about an open water swim of 16 kilometers that takes place between Uran port and Gateway of India. They thought that it would be a good change for the budding young lady from the usual pool based competition.
4. What she did not know was that the preparation for open water swims is vastly different from pool competitions. A swimmer in the open water has to contend with low temperatures, currents and the impact of salt water. Bhakti says that she built on her stamina in preparation for the open water swims very unprofessionally – start by swimming as long as possible at a stretch. Then push herself to beat it gradually.
5. As she grew her stamina and love for open water swims, she began conquering the seas. In 2006, she crossed the English Channel, swimming from Dover, England to Callis, France, a distance of 36 kilometers in 13 hours 55 minutes. She also swam for 19 kilometers in the Strait of Gibraltar in the Mediterranean Sea near Spain in 2007.
6. In 2010, she set tougher goals for herself and swam in the Arctic Ocean for 1.8 kilometers in 33 minutes with the water temperature ranging from 4-6 degrees Celsius becoming the second and youngest swimmer in the world to have swam in all four oceans.
7. In 2015, she set out to conquer the Antarctic Ocean in even lower temperatures and difficult seas. The objective was to push herself and also raise funds for a Rajasthan based NGO focusing on girl child education. She bought herself a tiny pool that could fit on her balcony and stuffed it with 480 kilograms of large ice blocks to get her body used to the freezing temperatures.
8. While swimming might be her forte, she has not ignored the other parts of her life too in becoming a well-rounded person. She holds a Master's Degree in Communications Management from Symbiosis International University.
Watch  her TEDx talk in Bengaluru about her journey through the years in this inspirational talk.
Wish this young achiever – leave your comments below!
Summary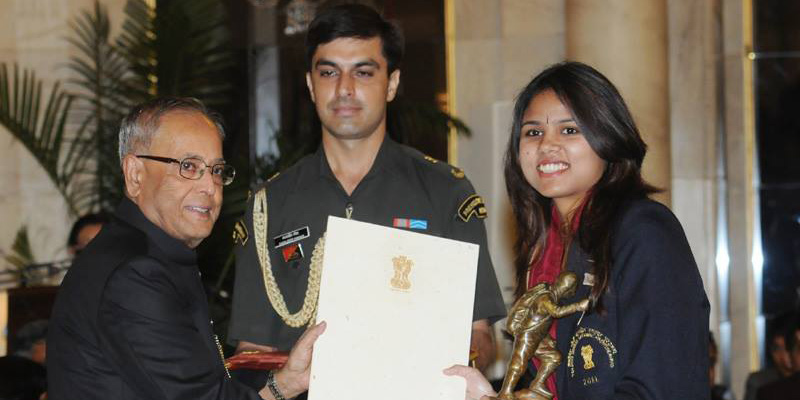 Article Name
Bhakti Sharma, the braveheart who swam the seven seas
Author
Description
Bhakti Sharma, the gritty young swimmer has set a world record by swimming in the Antarctic Ocean. Here is her journey and how she achieved it