Valentine's Day is finally here, and we're not gonna let the haters tell us how it is a trumped up celebration of capitalism. VALENTINE'S DAY IS FOR LOVERS, K? BYE HATERZZ.
This year we figured we'd bring you the stories of some of the top fashion couples, and create a style guide for you guys to draw some inspiration from. You know…cuz we love you.
Here are our favorite fashion couples who are serving up not only some major #couplestyleinspo, but also giving us some serious #couplegoalz.
---
Suggested read: 9 Swoon-Worthy Book Boyfriends You Can Spend Your Valentine's Day With
---
1. The Beckhams
Does it GET any more iconic than Posh and Becks? Yeah, no, we don't think so. The former Spice Girl and the former British footballer have been serving up some major #couplegoals inspiration for the past 20 years, and they don't look like they're gonna stop any time soon. They started at the very bottom and worked their way up to success, fame and grandeur, but the one thing that has remained a constant all this while is their undivided devotion to each other.
A singer, designer, makeup enthusiast, and fashion icon, Victoria Beckham's style oozes confidence and panache. She embodies what is now known as "London Street Style", in her structured, crisp shirts, midi skirts and badass trousers.
Eternal hottie, David Beckham has graduated from "chocolate boy" to "daddy", with his boyish
charms giving way to just unreal, rugged handsomeness. He sticks to mainly casual-chic outfits with a lot of layering and a LOOTTTA beanies. But that's not to say that he doesn't clean up GOOD.
Years together – 20
Children – 4
Times we've tried to make them adopt us – 234567
Fashion score –10/10
2. Ellen & Portia
Having been one of the first openly lesbian comedian/actor, Ellen has continued to light up people's lives with her humor, her generosity and her GIANT GIANT heart. So it makes perfect sense that her love story with the stunning Portia De Rossi is the kind of stuff that makes you happy cry.
Portia and Ellen have redefined what it means to be gay and famous. Not only have they used their platforms to make the world a happier place, but have also given us some serious fashion inspo that'll last us a while.
Ellen sticks to casual to semi-formal outfits, with a lot of shirts, tailored trousers and lotsalotsa sneakers. She even has her own fashion line called Ed by Ellen, which is pretty effing cute kay.
Portia's style is slightly more feminine, but very LA-chic. She tends to stick to flowy dresses, fitted jumpsuits and gorgeous floral prints.
Years together – 14
Children – 3 kitters and 3 pupsters
Times we've tried to make them adopt us – 87654
Fashion score – 7/10
3. Gigi Hadid & Zayn Malik
Let's be honest kay. Our lives haven't quite been the same since Zayn left One Direction. But when things get really difficult, we do enjoy Google-ing "Zayn and Gigi cute", and obsessing over how perfect this couple is.
Supermodel Gigi Hadid, and international pop star Zayn Malik, have been the #fashiongoals couple of our dreams. When they're not melting our hearts with their insanely cute relationship, they're serving up just coolest couple-style inspo ever.
Gigi has a classic off-duty-model style, where she goes from slaying in a velour pajama suit and stilettos to killing it in a pink monochrome leather outfit.
Zayn has a very laid-back, casual-chic sense of style. He tends to favor oversized clothes, lots of layers and very quirky accessories. But every now and then he'll throw on a suit and a metal arm and make our ovaries melt out of our hoohaas.
Years together – a little over 2
Children – they're babies themselves
Fashion couple score – 8/10
Summary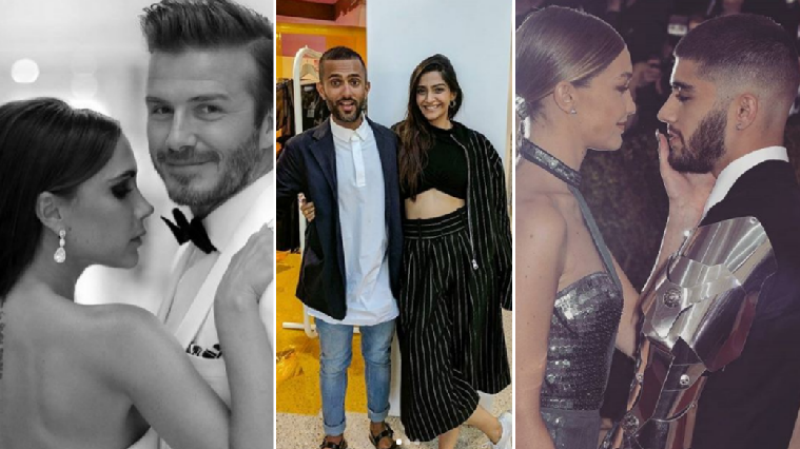 Article Name
8 Fashion Couples Who Have The Cutest Love Stories Ever
Author
Description
Want to ogle at some good-looking fashion couples this Valentine's Day? Here are 8 couples we can't stop obsessing over!
Read the rest of the article:
Next