The online dating market is flooded with every kind of dating app you can think of, and there's something for everybody. You're a cat lover and looking for a fellow feline lover, yep. You can find such a person out there. You absolutely love bacon, and are on the look out for a fellow bacon lover. Check. You've got a dating app for that exact purpose. Your love for all things Disney is legendary among your friends and family, and you want someone to share this passion with you. Check – an exclusive dating site for the same is out there.
So why not one where straight men want to explore their sexuality?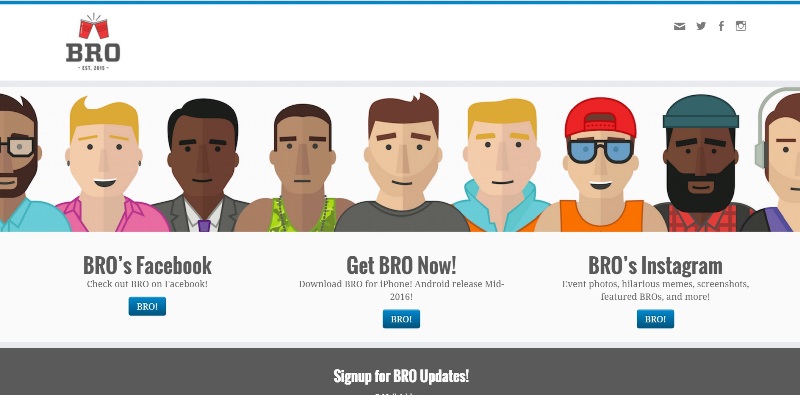 Image source: BRO app
Yes, that's what the new app BRO promises to let straight men do. BRO app wants to help bros looking to meet other bros for – 'Dates,' 'Chat,' 'JUST Friends,' 'Long-term bromance,' or 'Whatever, bro.' When signing up for BRO, the app asks its users to provide information about their body type, ethnicity, HIV status, and 'bro type,' which has options like Brogrammer, GI Bro, Preppy Bro, Hipster Bro, etc.,
Image source: iTunes
BRO app also has photo verification feature to cut down on catfishing along with anti-harassment policies. The app has a policy against posting nude pictures, which are pretty common on gay dating apps. Similar to a 'wink' or a 'like' on other apps, BRO lets a user fist bump another user whom they like.
---
Suggested read: Hey! VINA app wants to help you find your new best girlfriend
---
While some might wonder the use of such an app by straight men, it's not all that out of the ordinary for straight men to wonder about their sexuality and explore it. However, whereas seemingly straight women exploring their sexuality is not frowned upon and chalked up to 'experimenting in college,' the same courtesy is not extended to seemingly straight men.
Image source: iTunes
Another point to note is the fact that straight men and gay guys who don't fit into the 'gay' stereotype are more often than not included in the queer community. So there isn't a space for these men to explore the full range of their sexuality and know where they fall on the sexual orientation spectrum. And a space for such men was the main intention in creating BRO app, said its founder Scott Kutler, while talking to Global Dating Insights in an interview.
Image source: iTunes
He said,
"BRO's main goal is to bring men together – whether they're curious, bi, or gay – and not single anyone out just because they're not 'Scruffy' or 'Jacked.' It's not about what music they listen to or which drag star is their favorite; BRO is about men finding a connection with each other beyond the stereotypes people may try to fit them into… I was inspired mainly because I felt there was a huge segment of men that don't feel welcome in the 'gay' community – be it 'bi' guys or gay men that don't fit the 'gay' stereotype. As well, I wanted to move beyond the hookup culture that many apps and websites have catered to."
Image source: iTunes
One of the important ideas that BRO perpetuates is the fact that it doesn't categorize or try to fit the range and the nature of the relationships that its users hope to pursue. It doesn't assume whether a user is there for some much-needed bromance with another guy or a straight man wanting to explore a liaison with another man. It allows men to explore the whole gamut of interactions that men can indulge in with other men.
Would you try BRO app? Do you think this is innovative and experimental or plain stirring up trouble? Tell us what you think in the comments below.
Featured image source: BRO app
Summary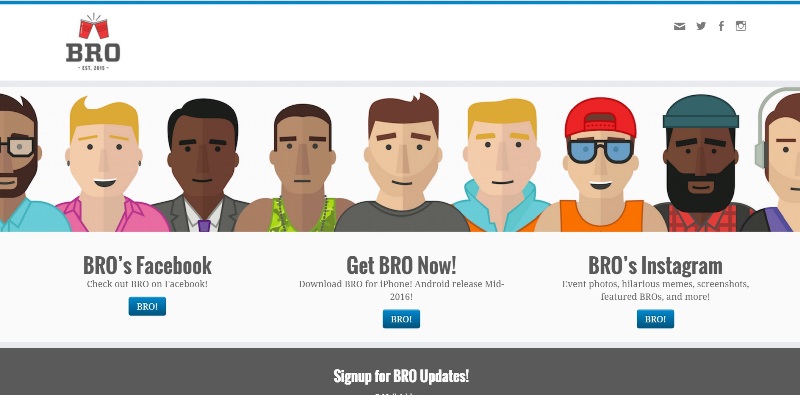 Article Name
BRO App Wants To Help Bros Meet Other Bros
Author
Description
BRO app is a new app in the niche dating market, and it has a unique purpose. It wants to help bros meet other bros, to chat, for bromance, or more.