There is no dearth of dating apps in the dating sphere. You can meet someone exactly like you, who cares about the same things you do, with niche apps catering to every whim of an average person out there. Be it an unhealthy attraction to zombies (ewww!), or another cat lover, or a 'beautiful' person – although beauty is an immeasurable quality that is entirely subjective. Whatever be your passion, there is a dating app/site that helps you out. However, this 'help' is questionable, when it comes to women's safety and online etiquette.
The moment a woman seems to be uninterested in a man, his claws come out – extra pointy. He starts abusing her in all kinds of vulgar language, sends her unwanted images of his private parts, or worse, cyber stalks her. To put an end to such disgusting behavior and positive menace, recently, there has been a surge of women-centric dating apps which have flooded the market. To this growing pile of female-centric apps, another app is added.
Behold, Antidate!
Two high school mates and Cambridge graduates Hatty Kingsley-Miller, 33, and Mo Saha, 34, have come up with Antidate, an antidote to the apps that are circling the current dating scene. Not just claiming to be women-centric, Antidate actually puts all the power in its female users' hands.
How, you wonder? Antidate allows women to remain anonymous, without even so much as a peek for the men into their profiles, until the women initiate contact with them. This initiation of contact can be done via a 'tap' that shows that the woman is interested or the woman can start sending messages to the guy directly.
Apart from giving all the power to women, Antidate also puts the onus on the women to make the first move. This gives women the power to control their interaction with a guy as well as weed out unwanted and sometimes unwarranted advances from creepy guys. This app is perfect for men who are shy and who prefer that women make the first move.
One of the co-founder of Antidate, Hatty Kingsley-Miller, said,
"All the online-first sites felt dated to us. Mobile daters don't have any non-mass-market, non-bland, progressive options. But we've set out to fix that. Antidate is not for everybody. But it does contain a number of features which we thing a young, confident, social audience will love."
Antidate's unique one-way communication could be likened to a one-way looking glass.
"It's the only app to have a truly asymmetric experience," said Hatty. "Girls can see the guys on a map, but guys can't see the girls at all unless they are approached via a 'tap.' This means that girls have to make the first move."
Antidate hopes to tackle many of the complaints of dating apps currently doing the rounds.
"We have thought a lot about what irritates guys and girls about the current workings of the dating world and have set out to improve them," said Hatty.
Further, she continued with,
"People post out-of-date pictures, just want to swipe or email but not to meet, or the profiles are entirely fake. You need to 'kiss a lot of frogs' and it ends up being exhausting. Antidate cuts all of that out. Honest profiles and an emphasis on real-world meet-ups. Minimal investment per frog."
Talking about the one-way control that women users of the app enjoy, co-founder Mo Saha said,
"We started thinking about the concept of a two-way mirror: what if the girls could see the guys on a map, but the guys couldn't see the girls until approached by a girl via a chat or 'tap alert. The girls' location would never be revealed."
But this looking glass has certain restrictions too. To make sure that users provide their latest and accurate profile pictures, a user's Antidate account is linked with his/her Instagram account. Plus, Antidate users also need to submit a time-stamped verified profile picture, making it even more authentic. Another tick in its good features checklist is the fact that all messages between connected users get deleted after 24 hours. So it cuts out the part where you agonize and overanalyze every text sent back and forth. Instead, you need to act and go meet that person already!
The app has been in development for the better part of last two years, and currently, its beta version is available on iTunes store. The friends and co-founders of the highly ambitious app have been testing it out on their friends. The duo work on the app around their respective day jobs in the advertising industry and law. The pair is also on the lookout for investors and hope to perfect the Android version as soon as the iOS version runs smoothly. They are also eyeing the LGBTQ community as a potential market, just as soon as they figure out the combinations and roles to be flipped that apply to non-hetero dating spheres.
Another point in its favor is that the app is not free. It charges £0.69 as its cover price. Mo Saha said that it was intentional.
"We reckon if people are prepared to pay for the app, they are going to be more serious about using it – so that was the real reason behind charging."
Summary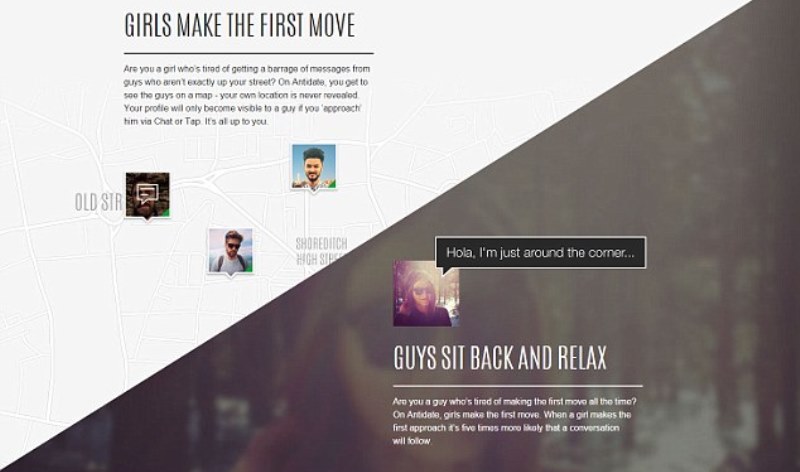 Article Name
New dating app, Antidate, is refreshing with its asymmetric approach
Author
Description
Antidate is the newest dating app on the block. Here's a look at all its features and what sets it apart from the run-of-the-mill dating apps.