Imagine taking a selfie with the pout queen, and all you can see are your miserably thin lips looking like a rubber band beside her luscious ones. Nightmare! Yes, it is! But who says it's not possible to wake up from this one and develop an Angeline Jolie-like pout? There are some amazing tricks that might just make the #PoutQueen place the crown on your head.
"Lucky lips are always kissing, lucky lips are never blue…" crooned Cliff Richard a long time ago.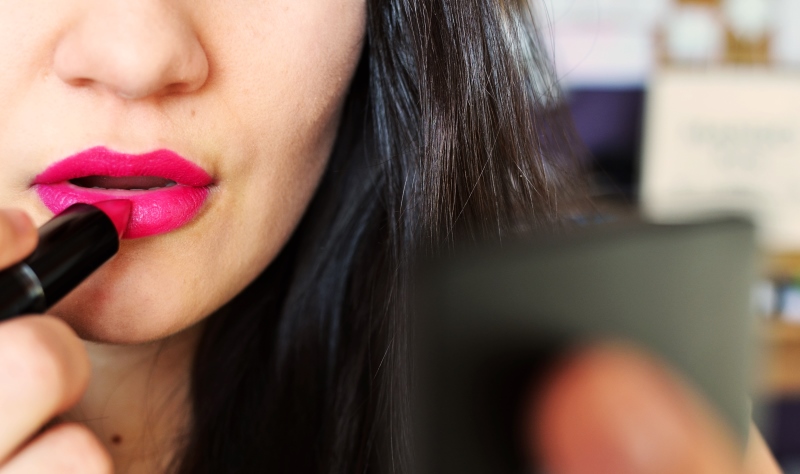 Image source: Google, copyright-free image under Creative Commons License
If you hear these lines in your head, what do you imagine? Whatever it is, it sure isn't a pair of scaly, thin lips. I mean, the one person who rocks a thin-lipped, pursed-up look is Meryl Streep, but you don't exactly see her selling any lipsticks. So don't just sit there and mope. You can learn how to make your lips look bigger. There are so many ways to do that, but here we've picked the easiest and the most natural. Yes, you heard us. Natural. No Botox, if you were dreading reading that as the first tip.
---
Suggested read: 10 amazingly easy tips to get pink, kissable lips
---
Now, there are so many reasons why you should make the effort to make your lips bigger. The first one is easy – fuller lips, better kiss! Second, make your selfie rival go green with envy. Third, rock that new shade of expensive lipstick you've just bought. Fourth, see how it attracts attention and does wonders for your confidence.
These simple tricks are easy and absolutely doable sitting at home. Take a look:
1. Brush your lips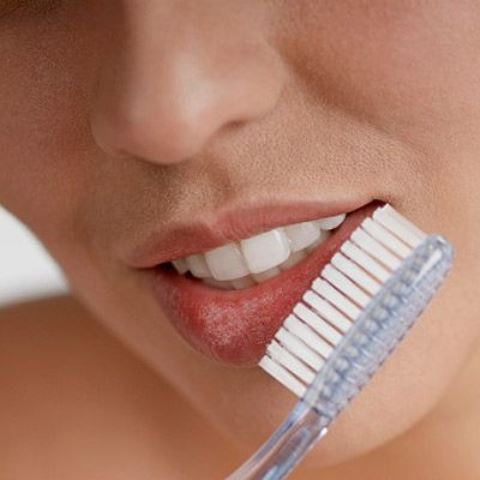 Image source: Pinterest
It's as simple as that. Brush them regularly using your toothbrush and you'll be amazed to see the results in a few days' time. Brushing your lips will help remove the scales and make them smoother and definitely fuller. This simple exercise improves the blood flow and gives your lips that sought-after natural rosy tint.
2. Go organic
Don't think of medical intervention as any form of divine intervention. Things can go horribly wrong and can bring down your 'face value' big time. Try nature's way and pucker up those babies for true love's kiss!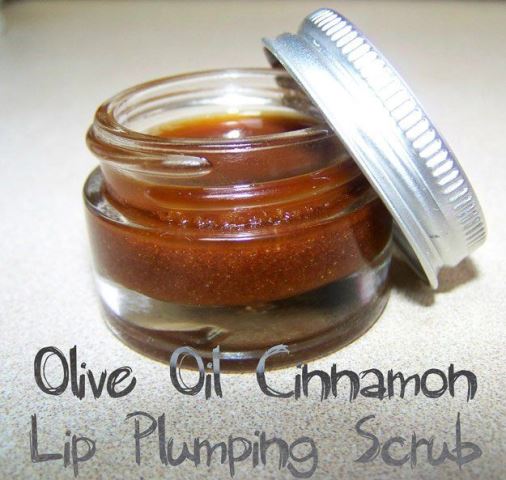 Image source: Pinterest
Here are the top three easy ones:
a. Honey
Honey is one of the most commonly available items in your kitchen. Apply a few drops on your lips before going to bed. When you wake up the next morning, wash it off with cold water. Try this for a few weeks and feel the difference: from scaly and harsh to soft and plump lips.
b. Cinnamon and peppermint
The essential oils of this spice are a natural, easy way to get bigger lips. Mix a drop with your lip balm and apply it all over your lips. It might sting a little, but will eventually leave you with a softer, fuller pair of lips.
c. Cayenne pepper
A bit of a daunting prospect, but the perfect dose can fetch you the results you are looking for. But beware! Don't use more than two drops of this essential oil, or else you will end up with a serious burning sensation.
3. Line the lips

Image source: Pinterest
You have no idea what perfect lining of lips can do for your date night. Use a liner that is exactly the same shade as your lipstick, and carefully trace a line slightly above the upper lip and just below the lower lip. Then fill in the gap in between with your lipstick and, voila! Your lips just grew bigger. However, a glossy finish often fails to blend in with the over-lined lip line, so it's best to stick to a matte finish.
4. Exercise the muscles
A very good way of getting naturally fuller lips is to do certain facial exercises regularly. While this may not be an overnight method of plumping up that pout, it is definitely a more long-term solution.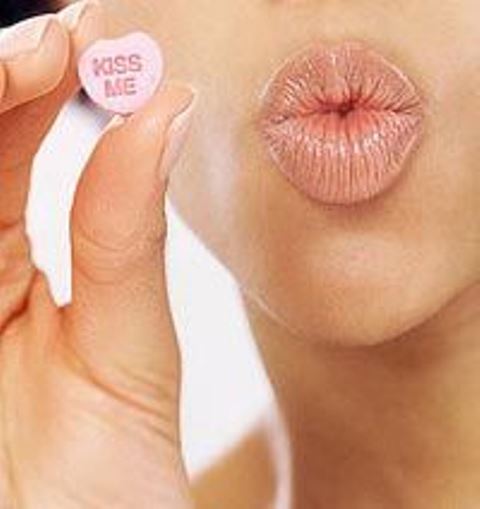 Image source: Pinterest
Check out three easy ways here:
a. Whistle
Work those lips, form a pout, and blow. Don't get any ideas, my friend. That is how you whistle. Whistle for at least 10-15 minutes per day, and soon you'll find yourself staring at a fuller mouth. Did you know that musicians who play mouth organs tend to have bigger and fuller lips than others?
b. Kiss and smile
They say 'kiss and tell,' we say 'kiss and smile.' Stretch those babies as much as you can and break into a broad smile. Then form a pout and pretend you are kissing your hot crush. Hold the kissing pose for around 5 seconds and then go back to that dazzling smile. Er… you might want to do this particular exercise in private or you may have a hard time explaining yourself to your family or roommates! 😉
c. Rotate your lips
Press them together, pucker up and then rotate them clockwise for 10 seconds and then anti-clockwise for another 10. Repeat this facial exercise 7-10 times a day.
5. Highlight or gloss up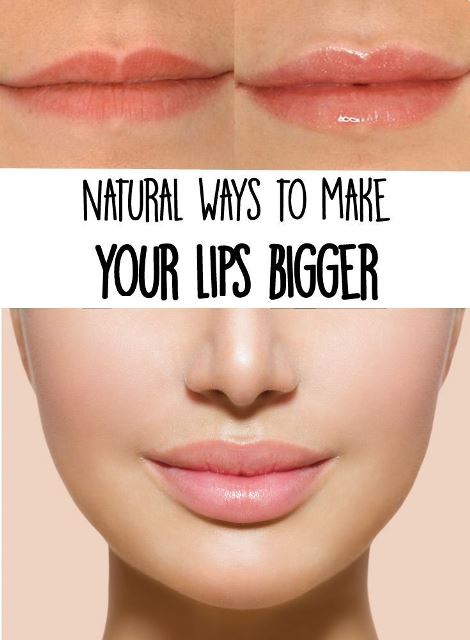 Image source: Pinterest
Apply your lip color and then use your gloss on the center part of your lips, carefully avoiding the sides. This creates a glow and makes your lips seem bigger than they actually are. A great cheat code, I say! A highlighter or a translucent powder can do the same trick.
---
Suggested read: 10 home remedies to get rid of dry, chapped lips this winter
---
6. Create a good base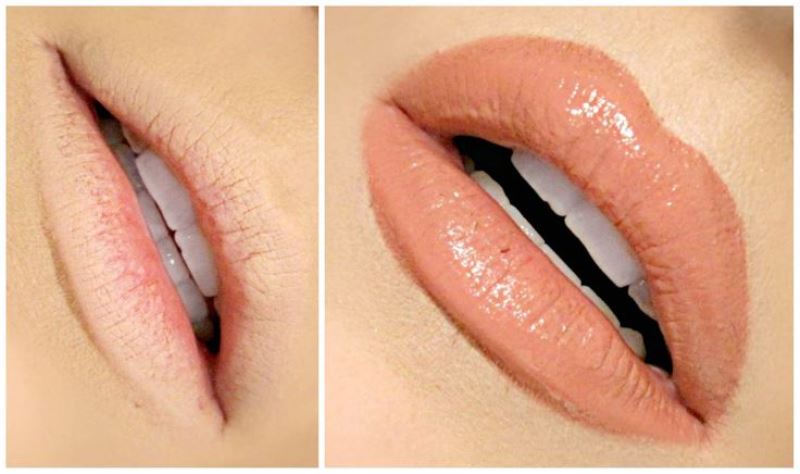 Image source: Pinterest
Sometimes a good lip base is your answer to how to make your lips look bigger. Line and fill your lips with a nude color. This ensures your lip color stays put and generally creates a nicer base. Once you apply the color, you'll be surprised to see how an ordinary pair of lips has turned into a perfectly plump and kissable one.
With these tricks up your sleeve, who knows, you just might be able to fool your date into dreaming about your full, luscious lips. A word of caution here: don't go crazy though. If things go wrong, there's a horrible prospect of looking like some nasty insect has bitten you. Make the most of these tips on how to make your lips look bigger – work the sexy pout, ooze some kickass confidence, and get ready to take on the world!
Featured image source: Pinterest
Summary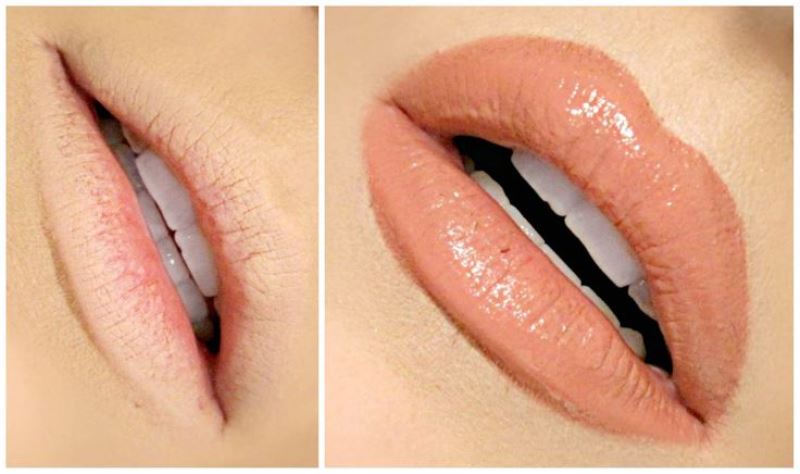 Article Name
How To Make Your Lips Look Bigger - Cheat Codes For Fuller Lips
Author
Description
If you have thin lips, don't you worry, for here we have cheat codes that will tell you how to make your lips look bigger and plumper, and more kissable! ;)