The trend of plump lips is spreading like wild fire, isn't it? Thin lips, are they ever going to be in vogue, again? I don't know! But plump lips… they are, definitely, here to stay! And so, you ABSOLUTELY NEED a guide on how to get plump lips, to add volume and juiciness to your lips. Fret not. You have come to the right place. This guide has got every single aspect and way of getting plump lips covered, just for you!
---
Suggested read: How to make your lips look fuller – Cheat codes for plump lips
---
How to get plump lips
The whole idea of plump lips being more desirable and sexy is very biological. Lips have always been considered the most seductive part of a woman's body… Yea, when she is fully-clad, I mean! 😛 But, seriously, the bigger and more luscious the lips, the more voluptuous your appearance! More recently though, the trend got itself a brand ambassador: Kylie Jenner. And since then, plump lips became every beauty junkies lip goal!
So, without wasting our time, let us look at every possible way that you can get kissable, pouty, plump lips!
Grandma's secret lip plumpers  
When I say Scarlett Johansson or Rosie Huntington, what is the first thing that pops up in your mind? Those voluptuous lips!! One can easily get them through non-invasive serums, which sting (btw!) and surgeries (that may have side-effects!). Not interested in both? Well then, let's turn to Grandma for suggestion, shall we?
Here are 5 natural products that can gift you those pouty lips without a hint of pain!
1. Peppermint oil
We all know that Peppermint oil has a calming effect on our lips. But did you know, it also lends your lips fullness? Peppermint oil causes a mild sting effect as soon as you dab it on your lips. This causes puffiness and a transient flush of color on your lips.
2. Capsicum oil
Capsicum is what give red peppers the much-needed spice. It is also available in the form of an oil, which enhances the flow of blood to your lips, improving their natural reddish tinge. Capsicum oil can be used as a natural serum to plump lips. Apply the oil, sparingly, on your lips, and give them that extra appeal!
3. Brown sugar and coconut oil
Exfoliating the lips improves blood circulation, and also enhancing their glow. Prepare a mix of brown sugar and coconut oil, and gently exfoliate your lips in a circular motion. This will make your lips look more plump, naturally.
4. Beeswax or honey
Celebrities over the years have gone nuts on some really crazy remedies, like remember the bee venom obsession? Well, honey and beeswax, which you can find without being stung, is a great lip plumper that gives you the pout with a fullness, to die for!
5. Cinnamon oil
Cinnamon oil is excellent for blood circulation, and as such, you got to try it on your lips. Apply the oil in clock-wise and anti-clockwise movements on your lips. It will not only perk up those lips, but also let them borrow the tantalizing tang of cinnamon throughout the day!
Makeup for plumper lips
You must have seen exaggeratedly lined lips as the subject of countless memes. But, though overly lined lips are the makeup world's push-up bra (!) they are not easy or even chic, for that matter! We add definition to our eyes using eye liners but when we use the same trick on our lips, well we are up for an epic fail…. Unless we know how to do that right! 😉
Over the years, we have seen a number of beauty icons, make a dent, courtesy their excessively lined lips: Remember Pamela Anderson's Baywatch lip look? Or, Lil' Kim's, "Crush On You"? Today, plump lips and Kylie Jenner have, nigh on, become synonyms! Her pillow-like lips have enhanced because of reasons more than makeup, but her overly lined lips are more of a viable option, methinks! And it won't hurt, so…. I am in!
Here are some steps that will make you an expert on how to get plump lips!
First, trace your lip line.
To get plumper lips, start by drawing the outer perimeter of your lip. The pigmented part of your lip, is the outer lip color that is more flesh-toned than the part right at the edge which bends into the face. After identifying the two, draw above the pigmented part of your lip. This will help create an exaggerated lip line.
Second, fill in the lips. 
To fill the lip shade, trace from one of your inner corners to your cupid's bow. Now drop down, and repeat the same from the other corner. Use the same tint to top up your lips. That's the way Kylie J does it, and she is a major lip inspiration!
Third, cool it!
For your lips to look fuller, you need to make them more dimensional, and for that, we suggest you use a lighter liner. Apply the liner at the center portion of your lip, both upper and lower, and then blend the color at the edges to give an illusion of a gradient look.
Fourth, go 3-D!
To amp up on the luster, use a plumping gloss that will lend your lips that sheen without the stickiness. Swing the gloss through the center of your lips.
Fifth, blend it in.
Now this depends on you: The blending is what differentiates an Anderson lip look from a Jenner lip look. The ball is in your court!
---
Suggested read: #InstaGlam Work your lipsticks to give you instant celeb looks
---
Here are some lip products you can take a crack at to get fuller lips.
1. Plumping gloss
A plumping gloss like Soap and Glory Sexy Mother Pucker Pillow Pump XXL, which comes in 5 different shades, is a holy grail product for your lips! The neutral shades feel more like an explosion when you douse your lips in them. As soon as you put a shade on, you can feel a pulsating tingle in your lips, and in seconds, your lips will look fuller than before!
2. Lip enhancer
A lip enhancer is usually colorless, but when you bathe your lips with this venom-based glossy balm by ApiRefine, your lips will turn more pigmented and poutier! #SunKissedLips!
3. Lip plumper
Give Sephora's Beauty Amplifier Lip Plumper a go. It contains hyaluronic acid which keeps your lips hydrated all the while, plumping them up, at the same time. The icy cooling effect feels real good on the lips, lending them a fresh vibe when you apply lip color over it. The sheer aftereffect is reason enough why you MUST invest in this lip plumper or amplifier!
4. Matte lip treatment
Usually, the plumping products are sheer and glossy, but the matte lip treatment, such as, Glamglow Plumprageous Matte Lip treatment, can give you that subtle, non-metallic finish.
5. Hydrating plumper
The plumpers that we have mentioned so far, leave a sting when applied. If you don't want to feel that burn, try Grande Lips Hydrating Plumper. The plumper is available in 7 hues, each of which are made from collage-enhancing ingredients. The plumper should be used twice a day for a month to see visible results.
6. Lip maximizer
The lip maximizer not only renders voluptuous lips, but also, if you use it for a month, your lips will actually start plumping because of the collagen and marine-based stuffing!
Pro tip: Try the Dior Addict Lip Maximizer High Volume Lip Plumper. It smells like heaven, if heaven is made of vanilla and mint!
7. Lip serum
With marine sponge and collagen boosters, the Too Faced Lip Injection Extreme plumps up your lips, right away. The OG lip plumper, Duwop Original Lip Venom, has cinnamon, ginger and wintergreen that not only make your lips appear fuller, but also improve the blood circulation in them.
Best cosmetic procedures to get plump lips
Lip augmentation is the most popular cosmetic procedure for plumper lips. The procedure uses an injectable dermal filler to give lips the fullness. There are a number of dermal fillers to choose for, but the most common of these are based on the hyaluronic acid. This acid is a natural substance that is found in our body, which is known to increase lip volume. These dermal fillers are usually called the hyaluronic acid fillers. Collagen is an example of such fillers.
Fat injections and grafts are other popular cosmetic ways of plumping lips, but they are not as common as hyaluronic fillers because of the greater risk of harmful side effects.
Effects of hyaluronic acid fillers
The lip enhancing fillers improve the lip look by adding shape, structure and volume to our lips. The effects of these fillers last for about six months, and after that you need to get injections every 6 months to maintain that craved lip volume.
Famous brands
Here's a list of the hyaluronic acid filler brands that are easily available in the market:
Captique
Esthélis
Juvederm Ultra, Juvederm Ultra Plus
Puragen
Restylane, Restylane-L, Restylane Silk
Belotero Balance
HylaForm
Elevess
Prevelle Silk
Perlane
All these products need to be injected and some contain anesthetics in them. Once you get injected., the filler's gel starts to support and shape your lips and give them a fuller look.
Benefits of the dermal fillers over other cosmetic treatments
The fillers are a better option compared to other cosmetic treatments because when using them, you can control your lip volume, by controlling the amount of the substance being injected into your lips. So, you will not end up looking like a lip disaster after multiple usages!
The treatment has a gradual pace, and so, you can have different appointments spread over a period of time, making sure it isn't very painful for you. Also, fillers help dissolve bumps, effortlessly. The bumps that may be created due to lip movement can be dissolved through the hyaluronic acid filler lip augmentation treatment. Furthermore, the lip bruising is lesser compared to other procedures.
The dermal fillers last longer than others and are more permanent, with very minimal allergic reactions, which is because the fillers are made of substances which are already in our bodies, and therefore, are not foreign to our system. Hence, chances of the body rejecting these fillers are highly unlikely.
P.S. If you are allergic to lidocaine, you need to mention that to your doc before the treatment ensues.
Side effects
The side effects of the hyaluronic lip treatment are temporary. These include bleeding caused by the injection, swelling of the lips and redness at the site of the injection.
However, the more serious side effects that you cannot neglect are:
Swelling that lasts up to 10 days or more
Lips look different sizes at different parts
Irregularities and bumps in the lips
Severe infection
Tissue loss because of injection into the blood vessel
Stiffening of the lip
Ulceration
Itching around the lips
Fever
 Call your doctor straightaway if you experience any of these abovementioned side effects.
Exercises to get fuller lips
With age, our lips start looking thinner, as we lose muscle tone and the circulation of blood to the face is disturbed. If you are an exercise enthusiast, you could use your fitness-passion to get plumper lips. Lip exercises help firm the muscles around our mouth, and improve the blood flow to the face. This invigorates the collagen production, which by now we know, is a natural lip plumper.
4 lip exercises you need to try right now are:
1. Smile and kiss
Stretch that smile as much as you can. While doing that, keep your mouth closed and the lips tightly pressed together. Hold the pose for about 5 seconds, and then make a pout, yes, the way you work your lips for a selfie. Make both the smile and the kiss as exaggerated as possible. Hold each pose for 5 seconds. Repeat 10 times.
2. Closed-mouth smile
This exercise helps lifting the edges of your mouth and prevent sagging, which happens with age. Fold the lips over your teeth. Now lift the corners of your mouth by smile really wide. Hold the smile for 15 seconds and then relax. Perform the lip exercise 10 times, and with each rep, widen the smile further.
3. Lip press
Press your lips together. Try to form a lip line as straight as possible. Now imagine someone is trying to open your mouth. Try working against this pretend resistance, keeping the mouth firmly shut. Next, place your pointing fingers at the two corners of your mouth, and try pulling out, which will provide extra resistance to your attempt of keeping the lips firmly pressed against each other.
This exercise not only gives plumper lips, but also helps prevent wrinkles. Hold the pose for 5 seconds, and repeat 10 times.
4. Lip circles
Keep your lips tightly pressed against each other. Now try puckering them up, slightly. Next, move the lips to the right, then hold, and again move them to the left. Keep swinging the lips from one direction to the other, while keeping them tightly shut. Repeat each movement at least 10 times.
---
Suggested read: 14 invaluable home remedies to lighten dark lips
---
That's a wrap from us. We would really love to know which of these lip-plumping techniques did you follow, and how they worked out for you. Your feedback and opinion are crucial for us. Sound off in the comment section below!
For more on makeup tips, tricks and trends, sign up for our daily newsletter today! Ciao!
Featured image source: Google, copyright-free image under Creative Commons License
Summary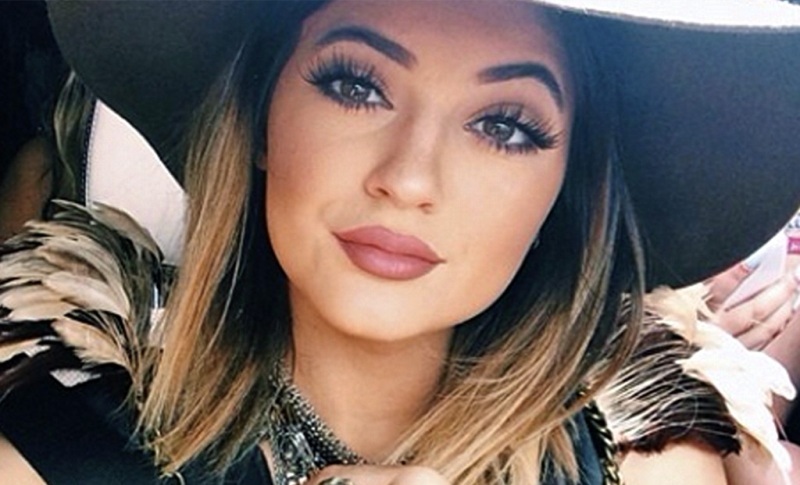 Article Name
All You Need To Know About How To Get Plump Lips
Author
Description
How to get plump lips like Kylie J, the natural way, the cosmetic way, through exercises &/or through optical-illusion makeup! Here's all you need to know!