Pink lipstick is a classic makeup product that everyone should have in their makeup kits. Even though there are a ton of dumb rules demarcating certain lipsticks for people with certain skin tones, the truth is you can wear any lipstick that catches your fancy, no matter what shade your skin tone is. As long as you know how to wear pink lipstick, you are good to go.
Even though it seems like a pretty non-committal job, wearing pink lipstick is actually a little trickier than you would expect. In order to figure how to wear pink lipstick and look like a cutie patootie, there are some steps you need to follow. However, there is no need to get overwhelmed because here we have the complete, most comprehensive guide on how to figure out your pink lipstick, to make yourself look like the prettiest in pink.
---
Suggested read: 19 Best Liquid Lipsticks That Will Make You Reconsider Your Spending Limit
---
Lip Care Routine
Even though it is not imperative to prep your lips every single time you want to put on pink lipstick, taking care of your lips is nonetheless a practice you should turn into a habit, so that even if you have less than 30 seconds to put on your lipstick, you know you have healthy and pretty-looking lips as a base to work on, even on the shortest notice. Here are the steps for the perfect lip care routine, before it is lipstick time!
STEP 1: Scrub your lips
Scrubbing and exfoliating your lips gets rid of all the residual dead skin cells and dry skin that gets build up over there when you don't exfoliate regularly. Even though your lips appear soft on the surface, they might have a layer of rough, invisible skin, which can become pronounced once you wear lipstick. To get rid of this layer, scrub your lips with either a handmade, natural scrub or with a cosmetic one.
To make a natural DIY scrub, mix 2 tablespoons of brown sugar with 2 tablespoons of virgin coconut oil and scrub it onto your lips with a soft-bristled toothbrush.
STEP 2: Cleanse your lips
Wipe away the rest of the dryness in this next step, which is cleansing your lips, and getting them ready for your lipstick. Exfoliating can be a little rough on your lips, so cleansing helps you soothe them and make them feel fresh and ready for all the makeup that is about to go on there. You can cleanse with a natural cleanser like olive oil or apple cider vinegar or aloe vera, but there are cosmetic cleansers as well which you can check out, which render your lips with the soft, fresh feel you need for naturally pink lips.
 STEP 3: Moisturize your lips
After you have cleansed your lips, it is important to preserve this freshness with the help of moisturizers, which will lock the moisture content in, and not let your lips dry out, no matter how dry your lipstick gets. Moisturizing also provides a smooth and plump base for your lipstick. You should ideally moisturize your lips every day before going to bed, so that whenever you need to put on lipstick, you have a protective layer for them, to prevent them from looking dry and chapped.
Things You Will Need
Don't panic, because most of what you will need, you probably already have somewhere in your makeup bag. The reason you need the following things is to make your pink lipstick look a tad bit better than what you would normally do, which is, slap it on and rush out the door. Here is what you will need:
Concealer
Lip primer
Lip liner
Thin lipstick brush
A paper towel
Your lipstick
---
Suggested read: Wearing Dark Lips Has Never Been This Easy! The Complete Guide On How To Apply Dark Lipstick Like A Pro
---
How To Wear Pink Lipstick Like A Pro
Now when you are choosing your lipstick, you don't have to worry about whether a particular shade of pink is meant for you or not. If you are dark skinned, and you have a thing for hot pink, then by all means go for it. Again, if you have lighter toned skin, you can rock a deep, dark pink or a super light nude-y pink as well as anyone else. All you need to do is follow the following steps to make your lipstick look the best and brightest.
STEP 1: Concealer
Applying concealer on your lips serves multiple purposes, although it might seem strange to you at first. A concealer that is in the same shade of your skin is enough to do the job. This serves two purposes. Firstly, it smoothens out all the uneven points on your lips, so that the crags and bumps don't catch the lipstick and the overall effect isn't uneven. Secondly, concealer also prevents the natural color of your lips from interfering with the shade of your lipstick. If you have naturally dark skin on your lips, it can make your lighter pink lipsticks look different than their actual shade. Concealer helps remove all these problems to give you a smooth, even-toned base to work on.
STEP 2: Primer
Primer is a highly underrated lip product which can be used to take your lipsticks looks to a whole new level. To make your lipstick look super fabulous, and extra even, use a proper lip primer to even out your concealer, and seal in the moisture and create an even more stable base for your lipstick to stay on. It might seem unnecessary at first, but using your primer is going to make all the difference in the world.
STEP 3: Lip liner
After you have primed your lips, and created a good enough base for your lipstick, it is time to use your lip liner to get the perfect lining for your lipstick. Try to get a lip liner in the shade closest to your lipstick, so that two blend effortlessly. You can also vary the shade depending on the effect you want your lipstick to create. For a more natural look, use clear liner for your lips and apply a slightly dark shade of lipstick on the centre of your lips. For a dramatic look, use a dark liner and a lighter lipstick to blend them out well.
Make a little 'X' just below your cupid's bow on your upper lip so that you have the right structure to draw your lipstick on. Make three lines on your bottom lip, running from the centre to the bottom and parallel to each other. You can even fill your lips in with the liner to get a more intense lipstick look.
STEP 4: Lipstick
After your lips are lined and ready, take your favorite pink lipstick and apply it to your bottom lip and then your upper lip. Start from the centre of your lips and gently drag your lipstick or your liquid lipstick wand towards the edges, and make you are smiling or your lips are taut. This will give you an even application, and get into even the fine lines and grooves on your lips that your concealer might have missed. Make sure you don't overdraw with your lipstick, after you have already lined your lips with liner.
STEP 5: Pat off the excess
To get the perfect, even, gentle and natural look with your lipstick, pout your lips as best as you can and press a paper towel against it. This will soak up the excess lipstick and give you a thin layer, which will stay for longer and not dry out your lips, or feel too heavy. If you want a more intense look, after pat drying, apply a second layer of lipstick, but without too much pressure, so that you have two layers of fabulousness piled up.
---
Suggested read: 15 Gorgeous Matte Lipstick Shades You Simply Can't Do Without!
---
STEP 6: Clean the edges
The final step is to clean the edges of your lips. Even though the lip care and the concealer and the super tight base of your lipstick should prevent your lipstick from bleeding and getting all over your face with a couple of hours of action, you can never be too careful. To prevent this from happening, take the thinnest makeup brush you can get your hands on, with an angular and sharp edge. Dab a few drops of concealer around your lips and blend it out with the brush, making sure that you get as close to your natural lip lining as possible. This creates an extra strong boundary for your lipstick, and does wonders when it comes to the longevity of your lip color.
Pink lipstick is a wardrobe staple that every woman must have. Once you get the hang of the entire process, and figure out the best way to apply pink lipstick, no one can stop you from looking your cute, yet badass best!
Feature image source: Instagram
Summary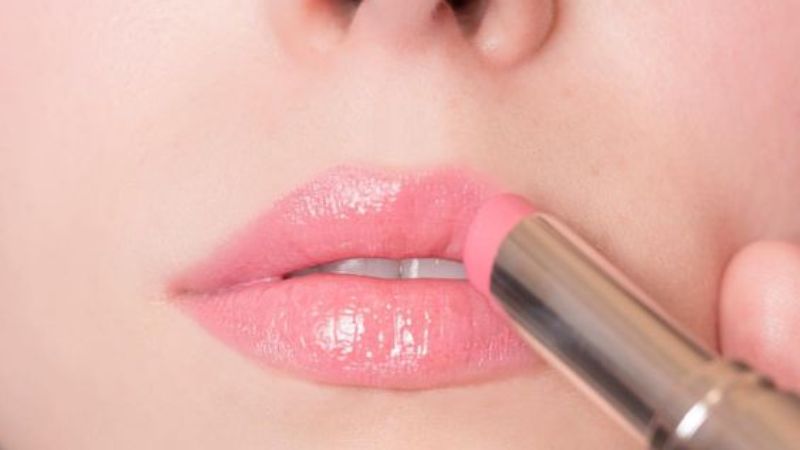 Article Name
Learn How To Wear Pink Lipstick And Look Like An Ingenue
Author
Description
Check out this guide on how to wear pink lipstick to look cute & badass at the same time, with handy tips on getting natural pink lips!