There is no denying that Huda Kattan is one of the most famous people on the planet with a whopping 20 million followers on Instagram. However, 20 million people across the world didn't decide to follow her just because she has a pretty face.
Huda Kattan makeup trends are a thing, and she is the undisputed queen of makeup hacks which is why she is as famous as she is. In fact, her ability to understand makeup and beauty patterns makes her an authority to decide what is on trend and what isn't, which why I present to you, an all-encompassing guide to everything Huda believes is trendy.
---
Suggested read: Who Is Huda Kattan: The Story Of An Internet Sensation And Beauty Mogul
---
1. Lip Contouring
Lip contouring is a thing exclusively invented and extended to the world by Huda, which is why it must top any list of Huda Kattan makeup hacks that you might want to know about. Not only is it ridiculously simple to do, it is also super effective, with results that look like you got the best lip plumping job in the world.
This totally on trend makeup hack has taken the world by storm, and has in fact become so popular that she released her own line of lip contours, which are essentially lip liners in neutral shades that help you contour around your lips. Even though her video tutorial is pretty comprehensive, the technique she uses is basically a shadow contouring technique, where she creates shadow lines above, beside and under her lips, so create an illusion of deeper grooves, and therefore bigger lips. Trust me, this is an infinitely better alternative to plastic surgery.
2. Boob Contouring
This was a pretty drastic makeup trend that Huda started, and makeup artists the world over went berserk trying to come up with their own versions of the fake boob job with contouring trend. Just like Huda used strategic lines and shades to enhance the size and shape of her lips, here too, she makes her boobs look even bigger with the illusion of a fuller cleavage, with the help of contouring.
Boob contouring is totally a thing now, and it is pretty easy to do, once you master the art of blending and drawing even lines. There is a detailed tutorial on how to fake a boob job on her YouTube channel, but till then, this is a pretty revolutionary deal to begin with.
3. Non-Touring
After contouring and strobing, Huda discovered and popularized the idea of non-touring, because let's be honest, nothing really is on trend in the makeup world unless makeup giants like Huda herself say so. Usually, when temperatures soar, makeup tends to melt from your face, which is why people try to avoid layers and layers of intensive makeup, and stick to the basics while still managing to get that gorgeous, polished look. Non-touring essentially is a process where you use a lot of highlighter and primer to bring into focus the good aspects of your face, without changing the shape to make it look more structured, which is what contouring does. It is a natural contour, which makes your face naturally glowing and flawless.
4. The Perfect Brows with a Calibre
According to Huda herself, the perfect brows are no more a trend, but in fact, a necessity, which is why you have to do everything within your power to step out with the perfect eyebrows. The best way to do this is by using…you guess it- a calibre. Not only is the shape and structure of the thing ideal for your brows, but if you are just starting out with your brows, then it can be difficult getting the proportions right. A calibre helps you draw straight lines, and measure the right distance between your brows and then finally fill them out with Huda's favorite products.
5. The Perfect Wings
Getting the wings right, and getting your eyes to look dank AF has been a constant struggle for amateur makeup enthusiasts (like me) and there are a thousand and fifty memes to glorify our struggle. Also if you are thinking wings are so 2015 then think again, because Huda Kattan makeup trends have wings topping their charts.
Here is a super simple way to get the perfect wings on both sides without spending 30 hours in front of the mirror. Take two pieces of duct tape and stick the over and under your eyes so that the intersection at which they criss-cross forms the perfect wing shape. After that, it is pretty self explanatory.
---
Suggested read: Latest In Beauty: The HOTTEST Beauty Trends To Shake 2016 Yet
---
6. Long Lashes without False Lashes
We can't really talk about Huda Kattan makeup trends unless we talk about her eyelashes, which is why she became famous in the first place. After trying every possible hack under the sun, here is a simple makeup trick you can use to get the longest, most luscious and unreal eyelashes, instantly.
Simple apply a coat of mascara on your lashes after curling them, then rub an old mascara spool inside an opened cotton ball and run that over your still wet lashes, so that you are left with ridiculously long eyelashes.
7. Shoulder Highlights
What even is this trend you ask? This is in fact, one of the more practical trends that Huda has sanctioned. I mean, if you are going to highlight your face, and go so far as to take care of your neck, then there is no reason why your shoulders, which is the next place the eye is going to be drawn to, should be ignored. When you are wearing those sexy dresses or a sleeveless top, you need your arms to look flawless, and highlighting only enhances your collar bone and your muscles and makes you look like a supermodel instantly, tbh. The purpose of shoulder highlights is to make your bone structure more visible, and at the same time, get the glowing skin that everyone seems to love complimenting.
8. Ruler Contouring
Contouring is of course, Huda Kattan's forte, and her gorgeous face in every single selfie is proof of that. However, for lesser mortals like us, it is impossible to measure out the contour perfectly on both sides of our face, and gauge what should be done on what side to even out the facial structure. The best way is to of course, use a ruler, whereby you can measure the application down to the centimeter and look like a contouring pro whenever you are trying to get those lines straight.
9. Tape Contouring
If you are bad at drawing lines in general, and you cannot make sharp edges with the contour brush for the life of you, then there is another makeup trend that Huda totally endorses. Duct tape your face, so that the gap left between them will help you draw the perfect lines in the perfect places. Otherwise, if your lines are all wonky, it will alter the way you look when you finally blend it out, and needless to say, it is not going to look very flattering. Using duct tape is an easy and effective method of perfecting that contour.
10. Bedazzling Pimples
This is possibly my favorite Huda Kattan makeup trend ever. Everyone is plagued by pimples, and conveniently that happens when you are about to go out or meet someone important (or cute). Instead of piling on layers and layers of concealer and foundation, go out looking like a goddess by covering them with sequins and looking like your fashion game is on point (which it is). It is a fast, simple and effective method to hide your pimples, which you can take care of afterwards at your own leisure, without having a panic attack.
---
Suggested read: 25 Amazing Lazy Girl Beauty Hacks That Will Get You Looking Fab In No Time
---
11. Pimp your lipstick
When you have 10 lipsticks, and you are bored of them all, you don't need to burn a hole inside your pocket to buy more. In fact, you can turn those ten lipsticks into a hundred creative shades, only by making use of your eye shadow palette. Here, Huda uses her Huda Beauty Rose Gold Palette to make her red (and boring) lipstick look beautiful and metallic and trendy, only by dabbing a combination of shades onto it, to make it matte and shimmery. There is of course, no end to possibilities when you have access to an eye shadow palette and a primary lipstick color, so this is definitely one that we will use the next time we're stepping out.
Huda Kattan makeup trends have always been a trailblazer for most other makeup artists on Instagram and YouTube to follow. However, the reason they are so popular and follow-worthy is because they are practical, ingenious and super easy to do, so that everyone can look like the best version of themselves, simply because of the power of makeup. You can check out Huda's Instagram, page @hudabeauty to find out other, more amazing, life-changing beauty trends and makeup hacks.
Featured image source: Instagram
Summary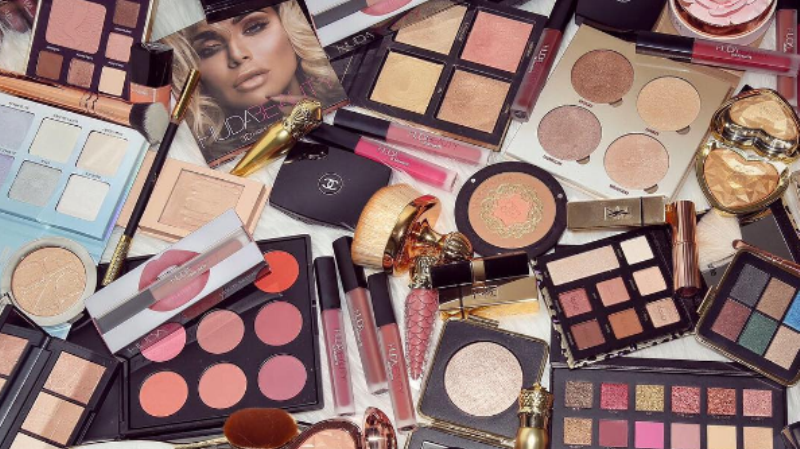 Article Name
The Ultimate Guide To Huda Kattan Makeup Trends
Author
Description
Huda Kattan has some of the best makeup hacks and beauty trends up her sleeves! Here are some of Huda Kattan makeup tips you just can't do without!