Kevin Kantor, a 22 year-old poet and acting student at the University of Northern Colorado was, one fine day, taken aback by a 'People You May Know' suggestion on Facebook. It was the man who had raped him when he was twenty.
Image source: Youtube
That the horrifying ordeal would come flooding back, courtesy of Facebook, wasn't an event he had anticipated. But having been pushed either into the silent realm that is the exclusive reserve the society offers male rape victims/survivors or having suffered from claustrophobia in an increasingly uncomfortable space in which his 'freedom of speech' was subject to state-regulated 'structure,' the incident drove him to check out what really there was to 'know' about the man who raped him.
Kevin Kantor asserts that although he blocked the man on Facebook, the inability to release pent up emotions haunted him after Facebook brought the troubling incident swinging back on the front porch of his memory. He decided upon writing a poem as an apt coping strategy, and soon decided to share the verse publicly in performance to a community who was 'receptive and listening.'
Image source: Youtube
The performance, he said, was one of the most liberating experiences ever, as he wasn't just able to take ownership of the experience he had had, but also reach out to a million others who had possibly undergone the same trials and tribulations. With bringing 'male rape' out in the space of public performance, he brings the longstanding intimate relationship of the personal and the political in the open, along with a direct challenge thrown toward society that incessantly tries to brush away the 'taboo subject' under the carpet.
---
Suggested read: Why #ProjectWomanKIND is the web series you need to watch
---
While he told BuzzFeed that the initial reaction on seeing the man pop up on his feed was,
"'Is this real? Is this really him?' Then I clicked and went through it [the man's profile]. It was like an out-of-body experience, like I held my breath for five minutes. I felt paralysed. But I couldn't help myself but look through it because it felt… It was weird to think this person could go on existing, because I worked so hard to make him stop existing in my brain."
He went on to document the virtual encounter in verse and describe the 'feelings' that arose within him. While it served as a coping mechanism for dealing with the memory of an incident he'd long been trying to obliterate, the 'cleansing' and 'purging' didn't quite happen until he brought the verse out in the performative space.
In a moving recital of his poem 'People You May Know' which expounds upon chancing upon his rapist on Facebook, he not only manages to shake about the 'taboo subject' of male rape brushed away in swirls all around but also pick up and fold the rug so the subject cannot ever be concealed. This is evinced in the solidarity the community has shown toward his brave attempt to bring his personal trauma out in the open as well as exhort a thousand others to pen down their own personal traumatic experiences and inundate his inbox. Kevin relates and he feels glad that his own personal tale out in the public sphere acts as an enabling force for people to feel 'safe' to recount theirs – some, after silence of decades!
And why wouldn't it – for not only does it engage, capture, enable, relate, and haunt with its poignant socio-political activist streak, but also inspires one to walk toward self-love. The ending lines of the poem evince as much.
In a way, Kevin Kantor's several performances of the piece (which have won him two awards at the 2015 College Unions Poetry Slam Invitational) have been his perfect purging for he now avers that what began as a process of exorcism has now totally purged him of the residual emotions. The attention and appreciation his immensely difficult move has received has led him to be a part of the discussion every day. He has learnt of the 'power' in speaking about it and purged himself of the shame and negative emotions riddled with the memory. In his own words, how he feels today is,
"It's interesting because for a while it felt like something that was behind me but now it's so saturated – it's something I talk about daily because of the attention that the video's been getting. But in a good way. It's something that… I'm excited for my future now. For a while I wasn't. I didn't feel excited about tomorrow and now I am, every day."
Well, we are glad for you, Kevin, and we hope the entire world is listening!
Featured image source: Youtube
Summary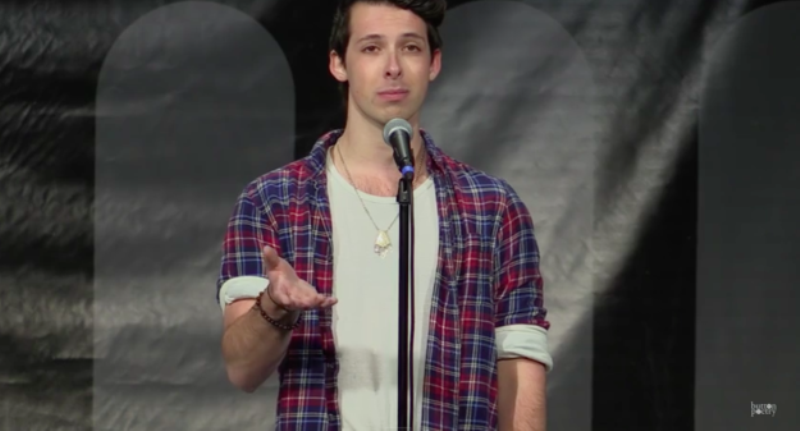 Article Name
'People You May Know' - The Story Of Kevin Kantor, A Male Rape Survivor
Author
Description
Facebook prompted 22-year-old Kevin Kantor to befriend his rapist. That's when 'People You May Know,' his poem on male rape took shape.