When Robyn Exton decided to help a gay girlfriend who had undergone a rough breakup to get back on the dating market via some online luck, she discovered the underserved niche of women seeking women.
"It was the dawning realization that the best that was out there was a site for gay men that had been 'reskinned' for girls," says Exton, 27.
Image source: Google, copyright-free image under Creative Commons License
Disappointed with the plight of lesbian dating sites in general, she found that the male counterparts in the realm like Bender had merely been repainted in pink hues and rechristened Brenda while they
"still asked you questions like how much body hair you have. Or there were sites for straight people where you could tick a box saying you were interested in women. But those are full of fake [female] profiles set up by guys looking for a threesome or trying to, like, 'convert' you. Clearly it was an area no one gave a sh*t about. I was working for a branding consultancy at the time and knew nothing about tech or product design, but thought, 'Well, I'll give it a shot'," she says.
---
Suggested read: FuzzyBanter creating awkward situations for users – like flirting with siblings!
---
Herself a bisexual, she cared about the issue so much that she was exhorted by the gap to build something to cater to the undertapped market. She went freelance for a while and taught herself enough in programming to build a beta version of her lesbian dating app, ready for demonstration to investors.
"I cared so much about it and then the actual idea for Dattch came up," recalls the now-proud entrepreneur who is a precious asset to the Silicon Valley and has recently been featured in the British documentary series 'How To Be A Young Billionaire' which debuted on Monday on Channel Four.
Image source: Google, copyright-free image under Creative Commons License
But the journey from building her new lesbian dating app Dattch [now Her] from scratch up until new status of acquiring a funding of $1 million from investors such as Reddit's Alexis Ohanian, YC's Garry Tan, and Michael Birch was not an easy task. On being questioned about the difficulties encountered in the process, she says,
"It's really depressing because you start to realize that everything is completely dependent on money. I can't ever imagine not doing it and being prepared to give it up."
She told her interviewers that entering a geographical zone where over 5000 smartphone apps are launched every week and only one in ten survives the cutthroat competition was a herculean feat but she was armored against any possible knock backs and determined to fight it out. She was one of the first few people to focus exclusively on lesbian dating. In fact, her vision for the app combined with an astute business sense earned her the attention and praise of media mogul and co-founder of Bebo Michael Birch, over and above the wads of green he chose to invest. He is all praise for Exton's entrepreneurial spirit,
"We liked her a lot, super-passionate, she built a great product proving she could execute was getting some early traction. She identified an area that we feel was being under served. Had the potential to be the market leader in that and at this stage a relatively low valuation. Good time to invest."
Image source: Google, copyright-free image under Creative Commons License
With a six-member strong team in London and San Francisco, her story is one of three featured in Channel 4's new documentary Billion Dollar Dreams, about British app designers attempting to take America by storm. The proud founder of the dating app for lesbians, who was seen making a five minute pitch to the group Lesbians In Tech in San Francisco, has come across as the most impressive one among the three hopefuls featured in the series. Witty, energetic, and enthusiastic, her charmer-quips and likable verve has sparked even a keener interest in the 'more' that she plans to bring to the table.
---
Suggested read: Mesh dating app filters out the creeps and their sleazy messages
---
On the whole make-over process and the rechristening of Dattch to Her, Exton explains,
"I actually thought it was a rather clever combination of words at the time, but almost everyone thought it stood for 'snatch.'"
On being probed further about why she chose the name, she says,
"Dattch stands for 'date catch', not 'dyke butch snatch' as some have suggested," she explains, sniggering.
She said that people often thought that Dattch stood for some combination of 'dyke' or 'butch' or 'snatch,' and that 'Her' more closely represents the evolution of the product.
"We are all Her," said Exton, blatantly proud of 'her lesbian app'.
Initially launched as a 'Grindr for girls,' Exton was quick to realize that Grindr's model of offering quick, nearby hook-ups wasn't apt for women. She went on to explain that women preferred to plan things slowly and that, "women hated creating profiles, always undersold themselves, and would talk about the worst or most generic parts rather than the most interesting or unique things about themselves so as not to show off."
"The original Dattch was more in your face. It was cool and confident, but ultimately a failed hypothesis," remarked Exton.
Speaking of the experiential learning process and the growth curve that came attached to it, she adds,
"I think with the relationships between women … it's never a clearly defined boundary."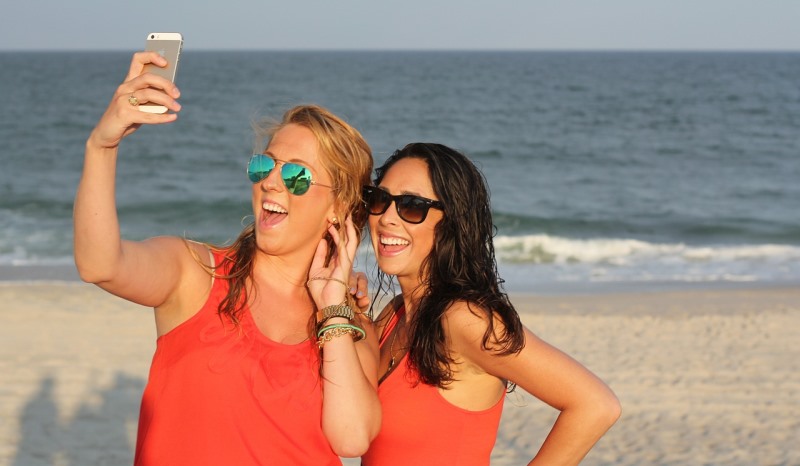 Image source: Google, copyright-free under Creative Commons License
This social fluidity between women that allows them to meet over drinks even if a potential romantic association has been nipped in the bud contributes to the key differences in dynamic between the way straight people date as well as the way gay men and women date. This is why the number of messages needed before a meeting can be set up on dating app Her is 42 as against a measly 12 for straight dating apps.
Exton also said that this crucial insight enabled her to change the way Her operates. And that, she arrived at the current formula and interface of running her dating app for lesbians through solicited user feedback, A/B testing, and an analysis of the data. Originally Exton's product was a pure lesbian dating app aimed at matching partners for romantic rendezvous but over the past year, multiple user surveys have led her to undertake a paradigm-shift-of-sorts and rebrand it around creating a community of lesbians.
Exton asserts,
"There's this social element to it, one that isn't limited to dating."
---
Suggested read: Clover dating app is all inclusive with LGBTQ members
---
Part of it is also due to Exton's insight on sexuality – she believes that men mostly identify as gay or straight and gay men as top and bottom but female sexuality is far more fluid. She lists the seven categories Her currently offers its users — "lesbian, bisexual, bi-curious, pansexual, flexi-sexual, queer, To Be Decided" — but avers that they will eventually develop a sliding scale users can position themselves on. Exton herself dated men in her teens, then in her twenties had "two friends that were gay so I spent a lot of time in gay bars with them. I started kissing girls, then found someone I really liked. I kind of told my parents but it wasn't like an announcement, it was just 'I'm dating a girl' and they were like 'OK, sure'."
According to a press release this week, Her explained its purpose this way:
More social, less dating. Women aren't looking for a 'Hot or Not' — they want to chat and meet up, make friends, meet girlfriends, find events. HER is a complete lesbian community.
This is the reason that Her profiles aren't just limited to flattering pictures but instead operate on a Pinterest-like forum where users can see one profile at a time. If both users "like" each other, they are matched and will be able to send messages to one another. The profiles are reminiscent of Pinterest, the virtual bulletin board where users can "pin" favorite pictures. On dating app Her, users can add multiple photographs with captions, or short descriptions and favorite quotes to their profile.
"You 'like' content about women, rather than saying 'that face is nice,' so you're also connecting over mutual interests," Exton said. "That [way] you can talk to other women that have similar opinions — or even very different opinions — about certain topics."
The addition of a communal offline element where Exton avers they are "mixing in local events in your area, so that you can meet people who are going to that event or chat before then" makes Her a one-of-its-kind lesbian dating app. This blog feed covers events and entertainment for eight cities across the US currently, enabling users of a particular city to filter events of their region. Not only is this a refreshing change and a welcome avenue for the lesbian community, but she is also trying to invoke newer shifts in mindsets through forging a strong communal spirit. She believes that the camaraderie and bonds forged over her virtual rooms can turn into deep friendships – that can translate into a power of sisterhood. Users of Her are classified as lions or gazelles – the hunter or the prey. Exton says that since women are conditioned to be gazelles, cultivating their inner lions is a challenging prospect, but must be done.
This ties in with the social activism role that Exton sees as a responsibility of the app that started out as a dating-only app but has since evolved to be embraced by an entire community, thereby gearing itself to give back to the group too. Even the enthusiasm shown by investors away from the ambit of her native land and their openness to the spectral graph of sexual orientation has caused her to take the role more seriously than ever. She says that after being turned down on several grounds such as 'you don't look like a lesbian' to 'I love it but my partners…' and a firm NO for religious reasons, she is ready to monetize the faith investors have shown in her product and also revolutionize the LGBT scene by deploying the welcoming and tasteful social flavor of her product to exhort women to be open about their sexual choices without being discouraged by social mores.
Currently, Exton says that the traffic is growing at a 30% rate. Exton's future plans include rolling the app out in more cities while a paid version might also be a possibility. While that remains to be seen, we can only assert that Her promises to change the LGBT dating scene and foster a communal spirit – and we believe in the potency of this promise. After all, Her is one app that refuses to cling to the hook-up culture and have its users be flooded with choices or even jump the gun before even knowing each other. And maybe, just maybe, there is a lesson there for all the apps beyond the LGBT world too. Would make the world a friendlier place, no?
Featured image source: Google, copyright-free image under Creative Commons License
Summary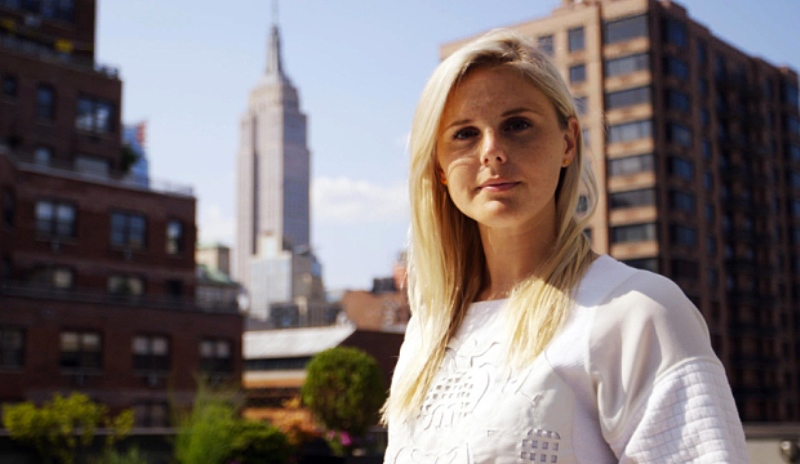 Article Name
Lesbian Dating App 'Her' Promises To Change LGBT Dating Scene
Author
Description
Robyn Exton, CEO and founder of Her, a lesbian dating app, promises to bring much more than LGBT dating to the table with her product. Interested? Read on.