A new dating app, well … not a dating app, technically, but a new app for sure, Lulu, is making waves in the online dating world. Why, you ask? Because Lulu is an app where women can login and rate men they know and have dated. Sexist, much?! 
Touted as 'Facebook meets Sex And The City,' Lulu dating app asks its women users to log in via their phone numbers, following which they can see all the men in their contacts list, who also have Lulu app. Then, women are invited to review each man on there by answering multiple-choice questions about the man's manners, ambition, sense of humor, commitment level, and appearance, and give them a score in each of the aforementioned areas.
Not just that, women can also choose from a host of hashtags to describe a male user. These hashtags range from #dudecancook to #BelievesInLove to #HandyMan to #smartissexy, which are some of the positive traits, while hashtags like #KnickerDropper and #MummyIssues are some of the worst, describing negative traits.
---
Suggested read: Once dating app provides one match every 24 hours!
---
Based on the reviews given by women, a man's profile is given a rating, which is also accompanied by the above mentioned hashtags, both positive and negative.
The Lulu dating app home page displays men who have been recommended by their friends, freshly reviews, and even men that they have viewed previously.
And what do the guys do on the app, you ask? Well, they can sign up and view the ratings they have been given by women they know and have gone out with previously. They can check out the rating they have received along with the hashtags that women have used to describe them.
If you think this highly sexist dating app will be booed by men, think again. Apparently, more than 1 million men have already signed up for Lulu dating app, in the hopes of getting personalized feedback from women they know and have previously gone out with.
But does the app allow men to rate women? Nope. Not in a million years! But if a man doesn't like what he sees about himself, he can remove himself from the app.
The app is the brainchild of founder Alexandra Chong. Speaking about the app, she said she created it because 'she and her girlfriends needed it.' Further, she said,
"Imagine you're sitting around a table with your girlfriends. The conversation flows from recent dates to career moves and dermatologist recommendations. It's honest, it's open, and it's girls-only."

"We created Lulu to bring those private conversations among women online and to unleash the value of girl talk. Our goal is to provide a private network for women to share their experiences and get information to make smarter decisions."
Talking about expanding the app's reach to other areas that interest women, Chong said,
"Relationships are just the beginning. We've started with relationships, a critical area for all of us to share and make more informed decisions. Our goal is to expand into all areas that women care about – from careers to beauty and healthy."
Talking about the app's journey so far, she said,
"In February 2013, we launched the first version of Lulu as a private app for girls to read and create reviews of guys they know. Millions of users and billions of profile views later, we're just at the start of our journey."
That is all well and good; but some male commentators are not so happy about the clearly biased and sexist app. One disgruntled reviewer took to Lulu's iTunes preview to write, "Everyone deserves a new start with every relationship and this app keeps that from happening."
Another vocal dissenter of the app is Peter Lloyd, author of best-selling Stand By Your Manhood: A Game-changer For Modern Men. Speaking about the app, he said,
"Aside from invading privacy and inviting libelous content, this app makes the lazy assumption that men are inherently bad and women are always good – which is deluded, at best, and offensive at worst. If a bloke's app reviewed women in the same way, the sisterhood would be foaming at the mouth with cries of sexism, yet here men are denigrated based on entirely subjective, and not necessarily factual, experience – and yet it's celebrated."
---
Suggested read: The Inner Circle dating app for 'ambitious and elite professionals'
---
He went one step further and declared,
"Lulu is dressed up as a safety initiative, but it's actually just a humiliation app."
Just as there are men who are utter creeps and perverts, there are women who are obnoxious and deserve to be sectioned! Believe me, there are women as bad as the worst men, and men who are as bad as the worst women. But that's here nor there. However, nobody gives anybody the right to judge them. But if you're volunteering to get rated by women, then it's your personal choice. There's nothing to be done about it.
Would you use this dating app? Would you rate your ex-boyfriend, or even a friend on this app? Tell us in the comments below!
Summary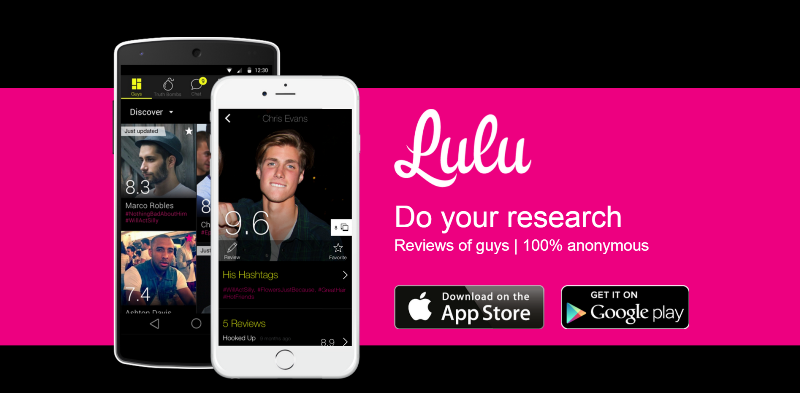 Article Name
Lulu Dating App Lets Women Rate Men They Have Dated
Author
Description
Lulu dating app asks its women users to rate men they have dated and/or know. The app then gives rating based on this 'feedback' from women. Check it out!