After years of matchmaking, the 'Rishta Pakka Samjhein' way, the matrimony services giant Matrimony.com has stepped in to tap the hithertofore unexplored potential of the GenX dating milieu. This has led the matchmaking site to acquire Matchify, a Bangalore-based dating app for 'like-minded' people and relationships, owned by Matchify Services Private Limited.
Founded in 1997, Matrimony.com provides matrimonial services and other classified online advertising services through domain-specific web portals like BharatMatrimony.com, CommunityMatrimony.com, PrivilegeMatrimony.com, and EliteMatrimony.com. Backed by a clutch of VC firms, Matrimony.com, a prime player in the matrimony consumer cyberspace has invested an undisclosed amount in acquiring the 100% subsidiary, Matchify Services Private Limited.

Matchify is a dating app that helps its users to find partners looking for serious, meaningful relationships. The premise on which Matchify functions is to strike an optimal balance between the casual hookup culture that most easy-to-use dating apps perpetuate and the 'go-all-in-and-say-I-do' idea that matrimonial sites fuel. In providing a middle-ground, Matchify aims to connect 'like-minded' individuals through dates rather than over a disappointed deal when the 'swiped right' (s)expectations are watered down or an imposed meeting with family members and plates of 'samosas and mithai' becomes unbearable. The app claims to have taken a step forward in the direction by matching the users' preferences and interests through a combination of algorithmic-cupidity and human matchmaking.
"With a blend of technology and human matching skills, Matchify's relationship matching algorithm constantly updates itself based on the understanding of 'interests' dynamically, as users begin to identify and engage in relationships," claims Matchify.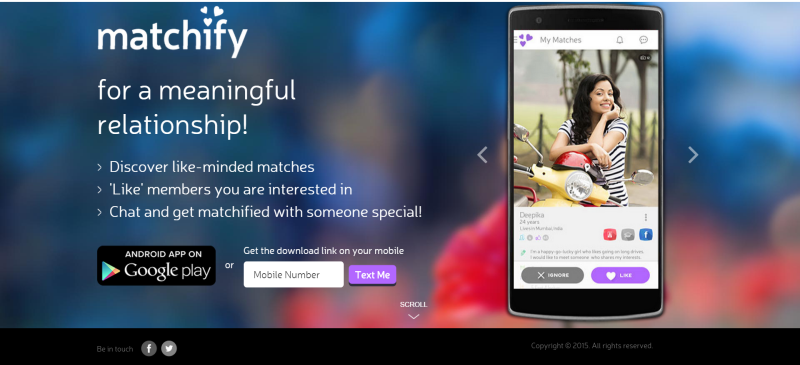 The signing up process requires users to fill out an extensive profile, verify their profiles by signing in through Facebook and select criteria over a number of lists for their desired matches. Coming with a gamut of 'safe' and 'desirable' features like verified and authentic credentials, a secure chat line for women to initiate conversation, mobile verification, photo screening, control over who can access their profile, the ability to hide their profile from Facebook, and the option to report abuse/block users, Matchify positions itself as a women-centric app, with a vision to provide the new-age Indian woman with a secure and robust platform to forge meaningful connections, on the go.
With more and more individuals spending time away from home and family, the need for an intimate connection is being increasingly felt. However, in the face of the wonky work hours that take up most of the time, quality connections with worthy matches are hard to come by and Matchify aims to fix just that. Sai Chithra, Business Head, Matchify.in, concurs,
"We are aware of the growing need of young Indians for meaningful relationships matching their interests and near their current location. Matchify is a robust and secure platform for like-minded people and it's on mobile. That's what makes it interesting."
---
Suggested Read: Score Dating App makes dating playful
---
Working on added features like one-way video chats for women, Matchify is currently seeding itself into the game, with no plans of monetizing itself in the near future. Thus, available for free download on Google Playstore, the app aims to build a large consumer base, especially women, and help them ease in to a relaxed and safe model of dating and matchmaking.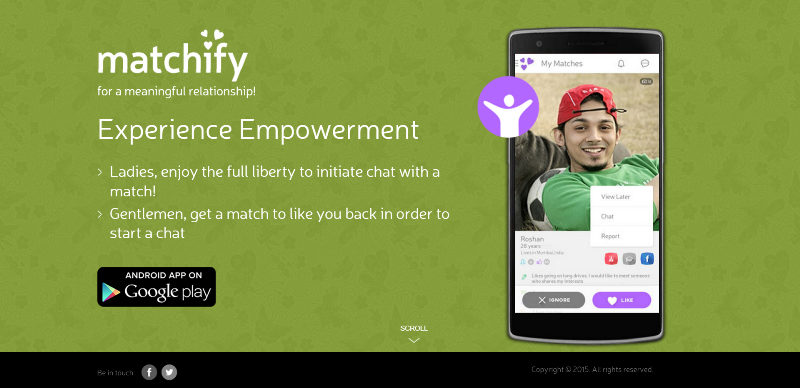 Given that Matrimony.com's rival, Shaadi.com had bought about 25% stake in Delhi-based dating applications maker Thrill, in a cash and stock deal valued at close to $1 million, this move by the matrimonial service giant isn't surprising. In fact, the fact that Matchify positions itself as a distinct matchmaking app, looking to connect people interested in meaningful engagement, syncs in well with the website's mission of creating 'happy marriages.' Differentiated from the crowd by refuting the 'hot-or-not' hooking-up culture promoted by casual dating apps, Matchify and Matrimony.com's alliance seems to be a match that was certainly sealed by a 'Rishta Pakka Samjhein!'
We wish them a fruitful association!
Summary

Article Name
Matrimony.com Acquires Matchify - A Match Made In Heaven?
Author
Description
The biggest player in the matchmaking space, Matrimony.com, has now acquired Matchify, to help capture the pulse of an India that wants to date for matches!