The thought of finding the perfect match (so perfect that you'd tie the knot!) through a 'non-living matchmaker' was sort of a monopoly that newspapers enjoyed, until recently the online matrimonial apps pounced on the opportunity and quickly captured the market!
Marriage is an institution that most Indians have tremendous faith in. Though love marriages have become exceedingly popular, families in India still favor an arranged marriage over the former. This is primarily because the elders feel that exchanging wedding vows does not only unite two souls but two families together. As a result, the role of authentic and genuine mediators in the matrimony acquires a very important position.
---
Suggested read: India's best dating apps to help you find love in 2016
---
There is another common observation made to grasp the popularity of these matrimonial apps. The GenY depends on the internet for everything: from shopping apparels and books to even groceries and vegetables. Having a perfect match just a click away makes the whole deal rather convenient and hassle-free. These matrimonial sites are effortlessly accessible and their apps can be easily installed. If the Associated Chambers of Commerce and Industry in India is to be believed, the online matrimonial business is set to be a $250 million business as early as in 2017. A report in New York Times read that over 1500 matrimony websites are in operation in India. But I am sure you don't want to go knocking at the door of all those matrimonial apps!
So here's a list of the 8 best!
1. Shaadi.com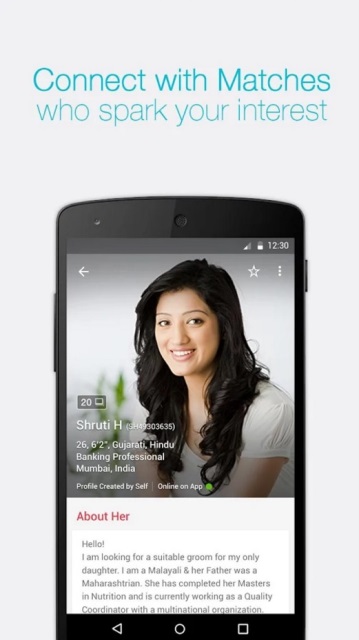 Image source: Google Play Store
With a new pair being made every 2.4 seconds, Shaadi.com proudly boasts of more than 4 million success stories! It is not only India's but the world's largest matchmaking service.
A leader in the matrimonial category, this site has continually redefined boundaries with the innovation-led approach it adheres to.
With a simple and intuitive interface, this is one of the matrimonial apps that allows you to:
Craft your profile
Upgrade search results to discover matches
See pictures of members
Connect & converse with members
Regulate your experience with improved privacy settings
Retrieve higher concessions on premium memberships
Shaadi.com owes its reputation and the numbers of installations to pros like,
Curated matches every day
New complementing matches by waving your phone
Instant interest notifications
Better discounts
One can use the same app to login to community sites like BengaliShaadi or MarathiShaadi among many.
However, there is also a negative energy surrounding the matrimonial app.
Thousands of complaints about the site not being "geared to the individual" are surfacing
Membership and customer service issues
2. BharatMatrimony matrimonial app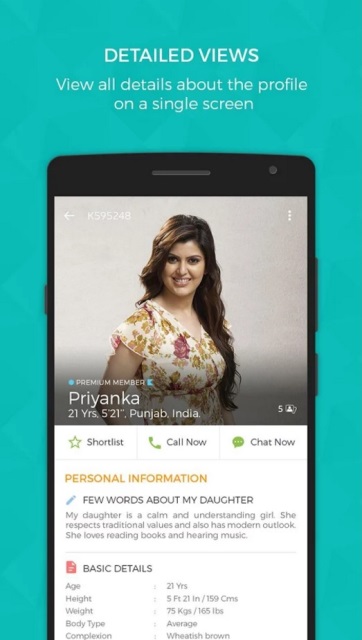 Image source: Google Play Store
Dubbed as the world's most trustworthy matrimonial portal, BharatMatrimony aids more marriages than any other matrimonial app in the world. This service boasts of being the only one in the matchmaking business to feature in the Limca Book of World Records for the maximum number of documented marriages online.
Its mobile app has been recently upgraded to enhance performance and user-friendly navigation. The app also has a unique design which adds a feather to its cap.
You can get started by,
Creating the profile picture after registering, right through the app
Refining results, and saving 'favourites' for future viewing
Using the Matrimony Messenger which enables chatting on-the-go
Benefitting from the GPS-enabled City Search feature for relevant matches near your locality.
Getting instant notifications
Pros:
Occupies less storage space
100% security
Cons:
Great for users with premium membership only
People have difficulty registering if not in India
3. Jeevansaathi.com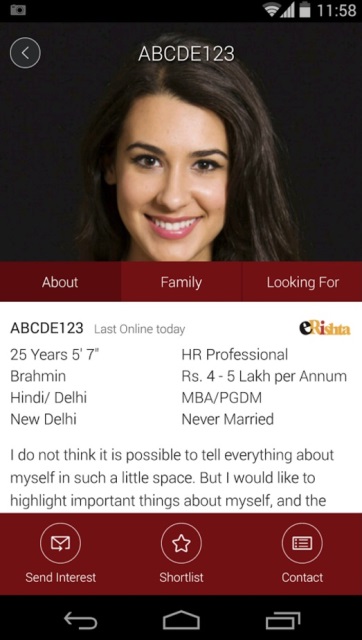 Image source: Google Play Store
Jeevansaathi.com is committed to facilitate safe and a suitable experience of connecting people. Over 12 years old, this site promises strong privacy settings that help the user to control the amount of information they want to share and who they want to share it with. The member profiles are quality-screened and even the contact numbers are verified prior to getting them registered.
Jeevansaathi.com is family friendly. It allows the aspirants to see all the recommendations stored for them in the category 'My Matches'. The user is also notified about various 'Match Alerts' to avoid missing good opportunities. You can even edit the Desired Partner Profile in case you need to add or strike off something from the column. An upgraded membership to premium allows the users to improve their profile visibility and responses.
Pros:
Highly reliable due to amazing security settings provided
Recommended for the quality of the matches
Cons:
Reduced search options than before
Minor bugs in the app
---
Suggested read: Why you should 'date' your arranged marriage partner before saying YES
---
4. SimplyMarry matrimonial app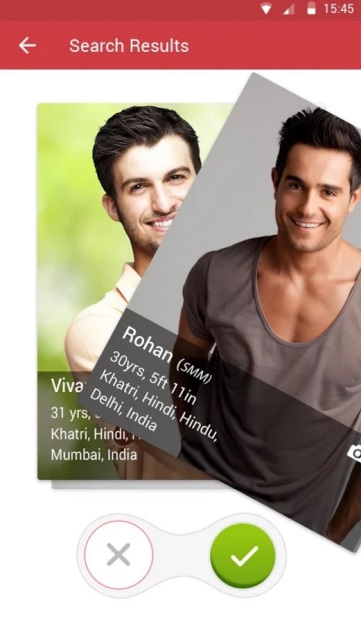 Image source: Google Play Store
"Wandering the streets, in a world underneath.
Gone are the days of fun and games.
Now I'm waiting for cupid to strike,
Doing my bit by searching online.
For only conversations can help me find…
A lover, a friend… a new beginning of life."
Yes, that's the unconventional way SimplyMarry.com describes why it does what it does! If you share the belief that to fall in love you don't need to wait for the right time, this app is your best bet!
The site is a Times of India initiative and is committed to cater to the best services to its registered users. It provides an accessible platform where people can meet new faces, talk, become friends, and then plan a marriage.
Pros:
It is free!!
It has a 'Chat Room' facility that eases conversations
Cons:
No instructions are provided about password generation
Poor user interface
5. Nikah.com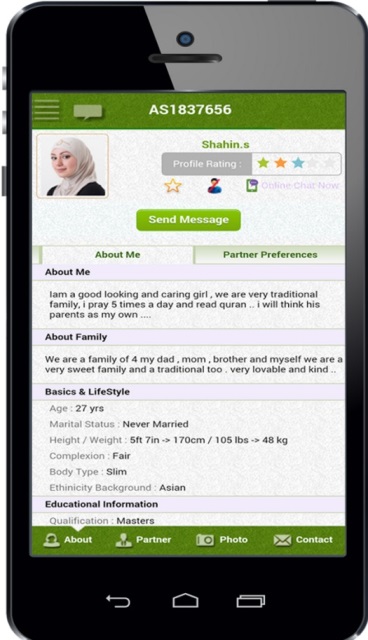 Image source: Google Play Store
Nikah.com is the world's chief and most popular Muslim matrimonial website that was founded as early as in 1998. "Helping Muslims to find suitable Islamic partners," is what the objective of Nikah.com reads. Like other leading matrimonial apps, this one too is dedicated to provide a safe experience for people to meet their future life partners. The staunch privacy and security settings allow the users to control as much info about themselves as they want. Moreover, the users can decide at what point in time they would want to share their personal information. The profiles are quality screened, with their contacts verified and marked.
Pros:
Halal environment that bends the technological advancements to suite the Islamic principles
Has already helped 1,80,000+ Muslims to unite in a nuptial agreement
Cons:
Caters to only a section of the population
Not user-friendly
6. LoveVivaah matrimonial services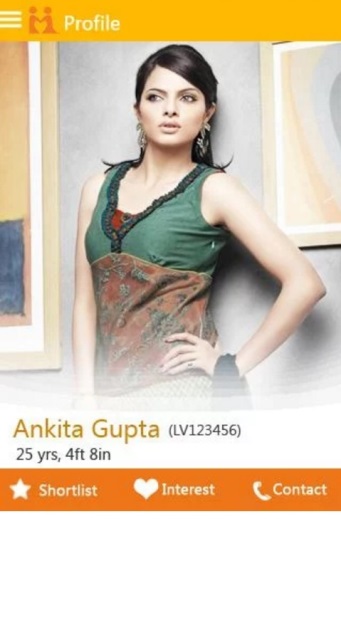 Image source: Google Play Store
One of the matrimonial apps that is not only available to the Indian community in India, but also abroad with major focus on nations like USA, Canada, and the Great Britain. It lists its objective as "helping singles not only to find their life partner but also find a true friend!"
Lovevivah.com arranges for interactive and quality experience through its app and follows the same pattern of registration as the other big names in the business.
Registration is free but that does not mean that the user profile security is not taken care of. It facilitates only 100% verified user data. The reviews speak very highly of their customer services.
Pros:
Free registration
Efficient support staff
Cons:
Last updated in April, 2015
User complaints regarding issues encountered while editing profile
7. Free matrimonial – Matrified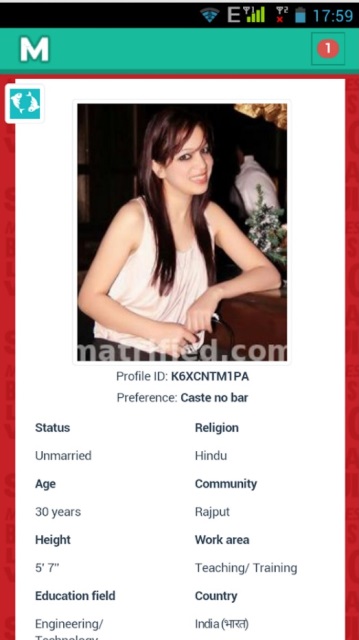 Image source: Google Play Store
Featuring amongst the most reliable matrimonial apps, Free Matrimonial offers contact sharing. The users simply need to contact one of the matrimonial members and once they are interested in each other they receive other contact details absolutely without any charge. The app also caters to free kundali matching and Zodiac services. One of the best and unique features of this app is the free characteristics report it provides every user with.
Pros:
Free subscription
Additional features which are absent in other matrimonial apps
Cons:
Verification process is prolonged
It takes quite a while for the users to receive any kind of confirmation
---
Suggested read: 8 compelling reasons to have an arranged marriage
---
8. MarryInAWeek: Free matrimonial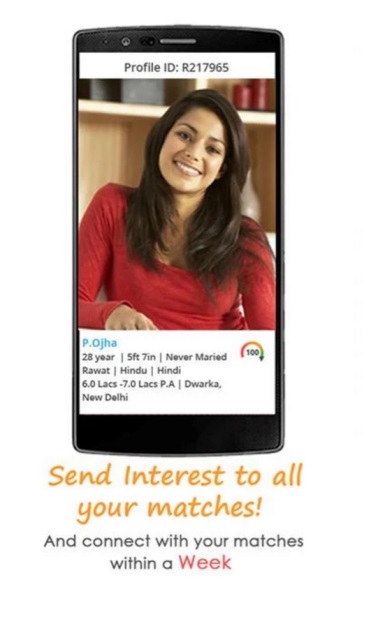 Image source: Google Play Store
As the name suggests, this app connects the handlers to verified potential matches in … a week! Yes, that's like the quickest possible time! Also, the app installation and registration are absolutely free of cost. Only the relevant prospective matches are allowed to view a user's profile. Any featured response is sure to get a reply in a week. Accessing the mobile number of the potential match is also free.
The concept of this app unlike the other matrimonial apps is that of a "swayamvar," which once was a time-honoured Indian tradition. In case you are unaware of it, in a swayamvar, a princess got to choose her life partner from a host of her suitors, who would gather in a particular auspicious venue. The app has molded this tradition with a technological twist and made matchmaking very easy and interesting.
Just like in a swayamvar, the app ensures that the 3 essential requirements are taken care of. These include,
Availability (Ready and available matches)
Relevance (Both social and economic compatibility of the users)
Decisive Interest (Response received in a week or lesser time)
Pros:
The speedy process
The swayamvar concept increasing the number of potential matches
Cons:
Relatively new
Users have also complained regarding the app being too heavy to load
These are our picks for India's best matrimonial apps you can choose to find your perfect match in 2016. Marriages are still made in heaven, but finding the soul mate is now only a click away!
Summary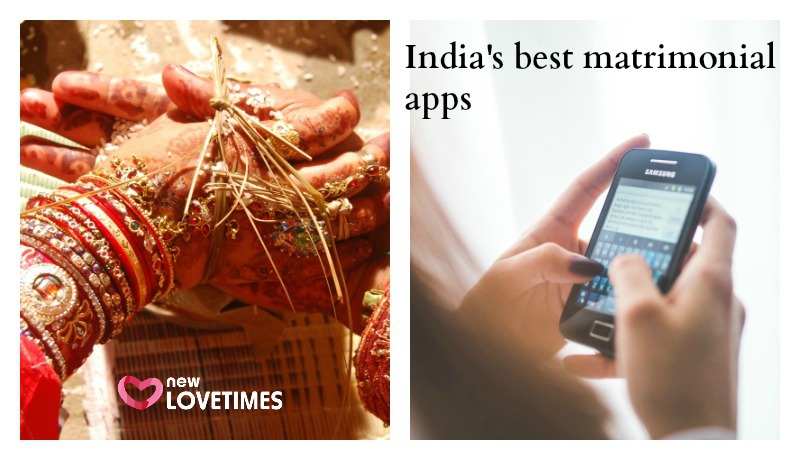 Article Name
India's Best Matrimonial Apps To Find Your Perfect Match In 2016
Author
Description
Take a look at our picks that make the cut as India's best matrimonial apps that will aid you in your quest to find your perfect partner in 2016.