The Y-chromosome that men carry in their DNA has been attributed to many of their obsessions, and perversions alike. This latest excuse that "boys will be boys," or "it was just harmless fun; take a chill pill," has been directed towards a lady cop.
The latest target for some men's depraved fantasies and "harmless fun," is Merin Joseph. When a Kerala-based Facebook group Kochi Pazhaya Kochiyalla uploaded a picture of Merin in her police uniform, along with the caption: "How many likes for our new ACP of Kochi?", the photo garnered more than 10,000 likes and 500 shares in a single day!
This seemingly "harmless" post was flooded with comments left, right, and center, mostly by men. While some users lauded her choice of career, some openly complimented her on her good looks, and suggested that they wouldn't mind getting arrested by such a good-looking lady officer. And even some depraved minds went on to express their desire to start thieving to get arrested by her.
---
Suggested read: Merin Joseph IPS ties the knot with psychiatrist Chris Abraham
---
Have a look at some of the more … colorful comments for her photograph:
'Love u ACP…'
'Cute and dangerous!!! I like it!!!'
'arrest me officer!!'
'Wowwww!! Really happy to see a young n gorgeous police officer ruling Kochi. Wish ya all the very best and good luck!'
'ACP looks cute'
'Pretty woman…'
'looks like a celebrity'
'10000 likes … so cutieee!!'
'I am sure people will surrender themselves'
And to top it all, the 24-year old lady is an IPS officer undergoing training at the Sardar Vallabhbhai Patel National Police Academy in Hyderabad, and not yet a full-fledged police officer. After the misinformation that was propagated by the group, Merin came out with a clarification: "An urgent clarification – I am NOT the new ACP of Kochi. Still under training in NPA Hyderabad. Will update when I get my first charge in January next year. Kindly refrain from believing baseless rumours floating in social media. Thanks." But the deviant of the lot were least bothered with her clarification, and went on liking and commenting on her photo.
And the Internet as such, didn't help matters either. There were several memes that were posted on social networking sites, with Merin's photo as the background. Sample this: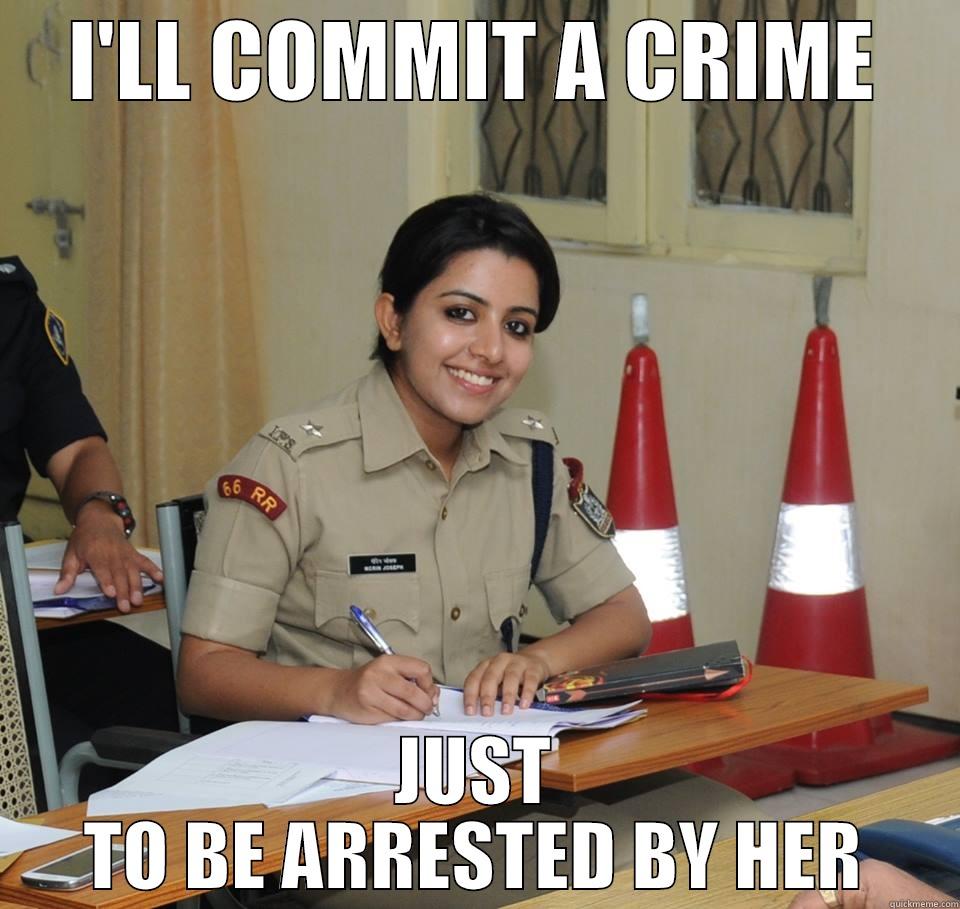 As such, there is nothing wrong in complimenting a lady for her good looks. But when that is taken to an extreme and she receives them from every Tom, Dick and Harry who happened to come across her photograph, the line is crossed.
Merin Joseph cleared the UPSC examinations in her first attempt in 2012, after completing her BA Honors from St Stephen's College, located in the capital. Apparently, the lady is one of the youngest IPS trainees of her batch, and was recently selected to lead an Indian delegation to the 'Youth20' summit, official youth engagement programme of the G20 countries, to be held in Sydney, Australia.
"I am excited about this opportunity," said Ms  Joseph, on her selection to the summit.
It isn't easy to crack the civil services exams, that too in the first attempt. It takes a whole lot of dedication, courage and perseverance to achieve what she has. While Merin has pursued her choice and come up to where she wants to be in life, these reprobates have made her accomplishment into a joke.
Even after so much talk about women empowerment and gender equality, women are still treated as chattel, and sex objects. Unless the mindsets of boys and men aren't changed and nurtured from a young age towards a tolerant and respectful attitude for women, this scenario is unlikely to change anytime soon. Such incidents reinforce that there will always be a few depraved souls, who will bring a bad name to the whole male population.
It's time that we stop blaming the Y-chromosome – as a whole, for the actions of a few deviants. What do you think is the best way to honor this woman who has set off on a path of achievement?