Winter brides have a few things going for them – Diwali is over and done with, there are no worries of sweating under that heavy lehenga, and the rains are unlikely to mess up the general proceedings. But honeymooning can be a challenge when the cold prevents spending too long outdoors. So do what the birds do in winter – migrate south!
And when we say south here, we're being specific about God's Own Country, Kerala. This tiny little state enjoys a tropical climate throughout the year, so you never have a problem of the climate being too cold. In fact, winter is the perfect season in Kerala with beautifully cool mornings, low humidity, and cozy nights. There are quite a number of locations you can make the most of this lovely weather, and we've listed the top 6 for you.
1. Kovalam
Kovalam is a picturesque little beach town close to the capital city of Kerala, Thiruvananthapuram, and very close to the southernmost tip of the country. The entire beach line is crescent shaped, separated into three segments by rocky parts. The picturesque view of the beaches is just like the ones you see in magazines – no Photoshop here! There are several honeymoon resorts here, along with all kinds of shops.
Image source: Google, copyright-free image under Creative Commons License
Kovalam was a fishing village before becoming a tourist hotspot, so if you're a seafood aficionado, you're in luck! You can also go swimming, the beaches are quite safe. Another tourist trend that has recently become popular is the Ayurvedic massage. Book yourselves a winter special couple's massage at one of the well-equipped resorts.
Thiruvananthapuram is the nearest airport and railway station, and is about 16 km from Kovalam.
2. Munnar
Munnar is probably the most popularly known tourist location in Kerala, and is one spot that is best enjoyed during the monsoons and winter. Munnar is a hill station that was once the summer destination for the British who couldn't stand Kerala's heat. Munnar has all of nature's gifts – acres and acres of rolling green tea plantations, waterfalls, lakes, all residing alongside steep rock faces.
Image source: Google, copyright-free image under Creative Commons License
Munnar is a place where there's something for all personalities, so it doesn't matter if you and your new spouse want to do different things! Go trekking up the hills throught the clouds, check out the tea factories, visit the various parks and sanctuaries, or go rock climbing! Another great option for honeymooners is exploring the surroundings by yourselves on bicycles or going boating. If you don't want to be too active, just enjoy the beautiful green view from your resort window. Don't forget to try out the sumptuous food and of course, different varieties of tea!
Kochi is the nearest airport and Aluva is the nearest railway station, which is 110 km from Munnar.
3. Kumarakom
If you've seen ads and brochures on Kerala, the most common picture you've seen is probably one of serene backwaters, lined on either side by lush greenery, a quaint little boat floating along the waters. And this dreamy scene is exactly what you'll get to see if you visit Kumarakom, set against the freshwater Vembanad Lake.
Image source: Google, copyright-free image under Creative Commons License
If you love water but don't want to go the surfing/gliding route, Kumarakom is perfect. Boating and fishing are available as fun activities, as well as canoe services to the Kumarakom bird sanctuary. The sanctuary is home to many species of migratory birds. There are quite a few varieties of boats here, on which the two of you can enjoy some quiet time together, floating along the lagoons, while the greenery forms a beautiful canopy above you.
Kochi is the nearest airport and Kottayam is the nearest railway station, about 16 km from Kumarakom.
4. Alappuzha
A mention of honeymoon locations in Kerala will be incomplete without talking about the houseboats in Alappuzha! Alappuzha or Alleppey is also called the Venice of the East, because of its various canals that snake through it. But instead of gondolas, they have snake boats and houseboats. Remember the houseboat sequence of the song 'Jiya Jale' from the movie 'Dil Se'? Well, now you know where it was shot!
Image source: Google, copyright-free image under Creative Commons License
A day and night stay in a houseboat is one experience that every couple should have at least once. They are very comfortably furnished, but without too much modernization, maintaining its old world, rustic charm. Complete privacy is guaranteed, and you'll love gazing at the stars from on top of the water. Some even catch fish right there and cook it for you on the houseboat itself. Fresh gets a whole new meaning here!
Alappuzha has its own railway station and is 75 km from the nearest airport at Kochi.
5. Wayanad
Wayanad is an upcoming hot tourist spot in the north of Kerala. A predominantly tribal area, it is one of those places that haven't been overtaken by tourist corporations. You'll find lots of untouched hills, valleys, rivers, waterfalls, and wildlife in their natural habitats – all just the way they were intended by Nature. If you want a honeymoon that's not too tourist-y, you've come to the right place!
Image source: Google, copyright-free image under Creative Commons License
You can have camping trips or outdoor trails, by booking in advance. If you've ever wanted to live in a tree house as a little child, make that fantasy come true!! Meeting the tribals and seeing how they live is a lovely experience too. There are several quaint little temples, which the two of you can visit together.
Kozhikode is the nearest airport and railway station, at a distance of 72 km from Wayanad.
6. Bekal
Bekal is another tourist spot in the north of Kerala that is relatively less crowded than its southern counterparts. The main attraction of this little town has got to be the Bekal fort, a huge keyhole-shaped fort that straddles a beautiful beach. If you've seen the film 'Bombay,' you'll remember the romantic song 'Tu Hi Re' shot in the majestic fort; but the video doesn't do the impressive fort justice – it has to be seen in person.
Image source: Google, copyright-free image under Creative Commons License
Explore the fort hand in hand, and look out at the magnificent Arabian sea, watching the waves splash over each other. When you're done, go for a relaxing Ayurvedic massage at your resort and then feast on some delicious Malabar fare. Later, you can visit the caves and have some couple fun on the beach.
The nearest airport is at Mangalore and the nearest railway station is at Kasargod, about 16 km from Bekal.
You're beginning a new life with your spouse and there's nothing like a beautiful start amidst equally enchanting surroundings. Trust us; visit Kerala this winter and you'll surely want to return!
Featured image source: Shutterstock
Summary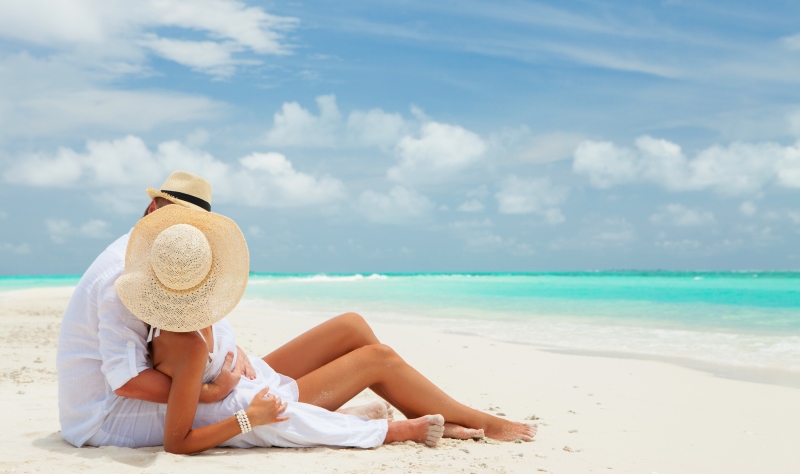 Article Name
Best Kerala honeymoon packages for winter 2014
Author
Description
For a couple who have a winter wedding, Kerala is the perfect honeymoon destination. Here's a list of best places to have a romantic honeymoon in Kerala.