As the year draws to a close, it's only natural to look back on the year that was, all the beautiful, bizarre, weird, and fun things that happened. And what better way to go about it than to look at trend-setting weddings, innovative engagement and pre-wedding photo shoots, wedding photobombs, wedding trends that will be aped in the future, and breathtaking, one-of-a-kind wedding pictures that left us awestruck!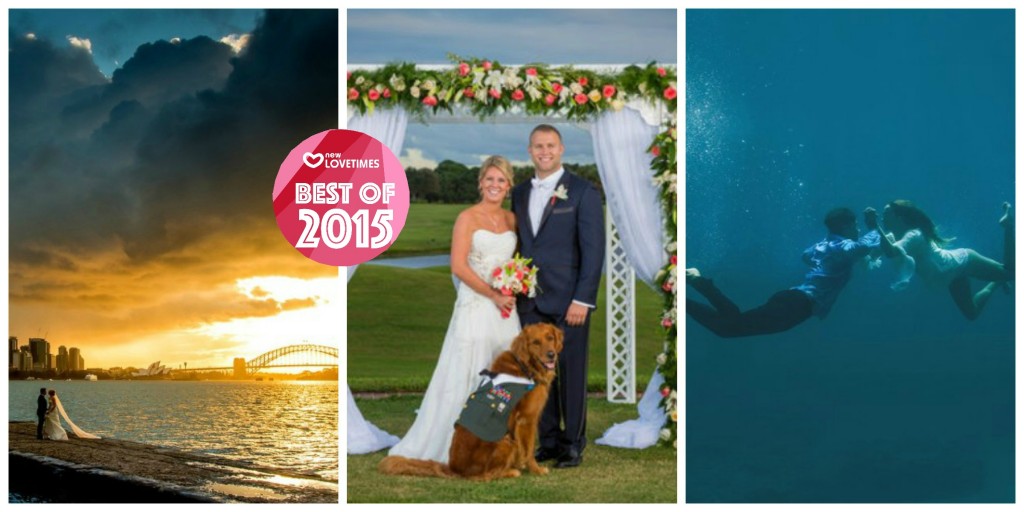 ---
Suggested read: 10 most underrated Bollywood movies of 2015
---
So, here's the NLT-approved list of the bizarre, weird, true, and funny wedding-related stories of 2015:
10. 38 weddings in 11 countries in 83 days!
Image source: Facebook
Cheetah Platt and Rhiann Woodyard of Los Angeles, California, couldn't decide on a specific wedding theme for their wedding. So, this ingenious twosome, who are professional acrobats, came up with a superb idea to put aside all their wedding planning woes. They went on an epic globe-trotting adventure where they visit 11 countries on 6 continents and have 38 wedding ceremonies, in 83 days!
Read the full story here.
9. CrossFit engagement pictures show what real love looks like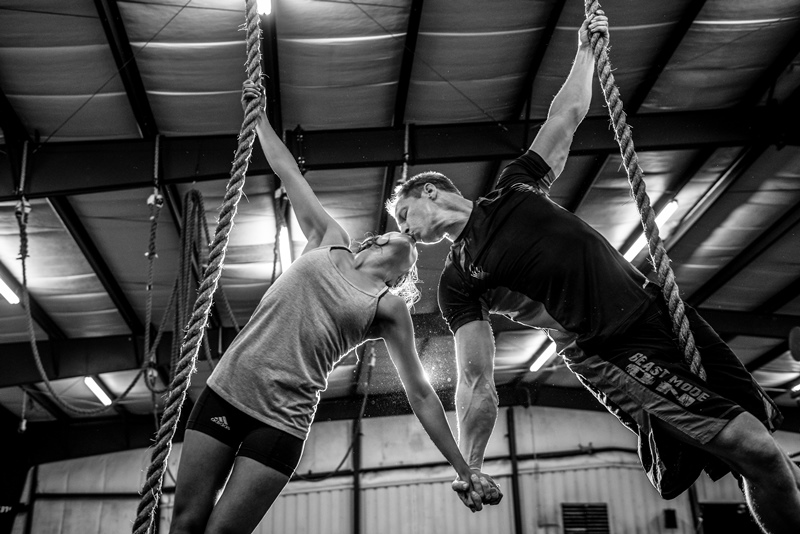 Image source: cricketsphoto
Iliana and Joe of Florida got engaged and didn't know how to announce their engagement to their near and dear ones. However, since the couple spends so much of their spare time at their CrossFit High Intensity gym, they came up with this unique engagement photo shoot where they would pose in their workout gear and positions, while also showcasing their love for each other. And the results… are truly amazing. You just get tired looking at these pictures!
Read the full story here.
8. Surreal underwater wedding photos leave us awestruck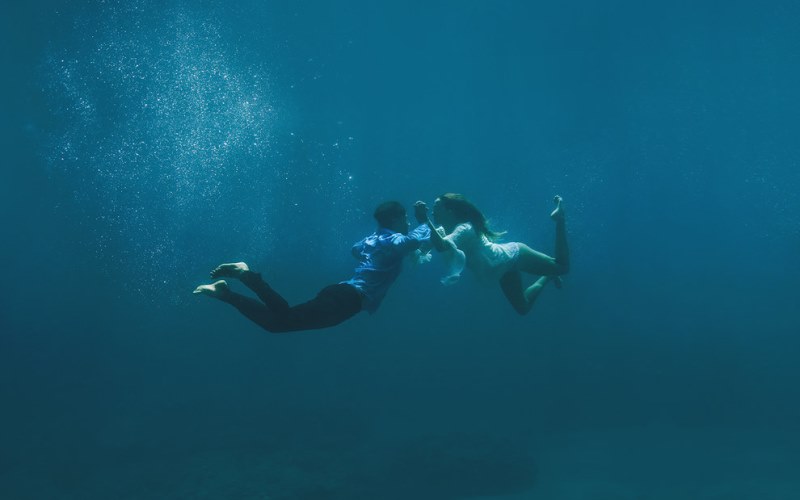 Image source: Love and Water Photography
Adam and Shawn-Marie Ravazzano of Australia but currently settled in Maui, Hawaii, specialize in underwater photography. Their venture, Love and Water Photography, caters to couples who are underwater enthusiasts. And this underwater wedding photo shoot truly describes what the word 'surreal,' means!
Read the full story here.
7. Groom photobombs wife in epic wedding photo!
Image source: Nuvoria
Waleed Abbasi tied the knot with Sidra Zahid on March 27th. While the couple hustled from one famous monument to another in Washington DC for their wedding pictures, there was this one shot where Sidra was posing for a solo shot. And Abbasi, who was tired by this time, literally jumped into the shot to photobomb her! The picture is absolutely one of a kind!
Read the full story here.
6. Wes Anderson-themed wedding photo shoot is adorable!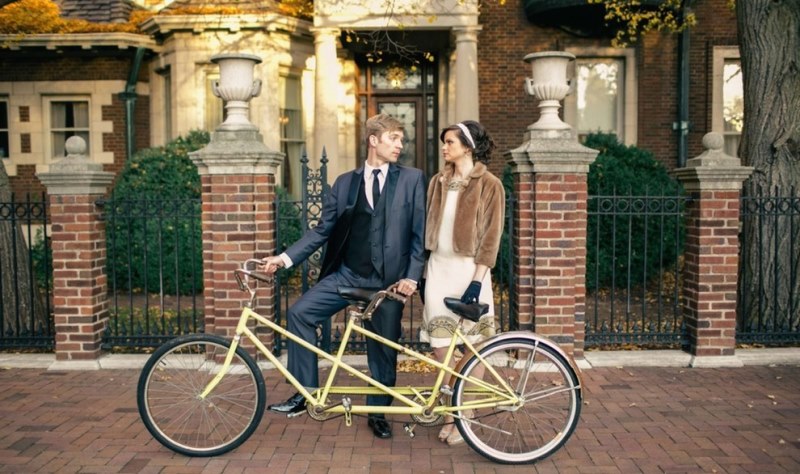 Image source: Jennifer Van Elk photographers
Jennifer Van Elk, an Indiana-based photographer, is a huge Wes Anderson fan, which led her to create a stylized Wes Anderson-themed wedding photo shoot, as her personal homage to the talented filmmaker. With inspiration drawn such Wes Anderson movies – The Royal Tenanbaums, The Grand Budapest Hotel, Moonrise Kingdom, The Darjeeling Limited, and The Life Aquatic With Steve Zizou, the results are truly adorable.
Read the full story here.
5. Mississippi photographer captures epic wedding picture – accidentally!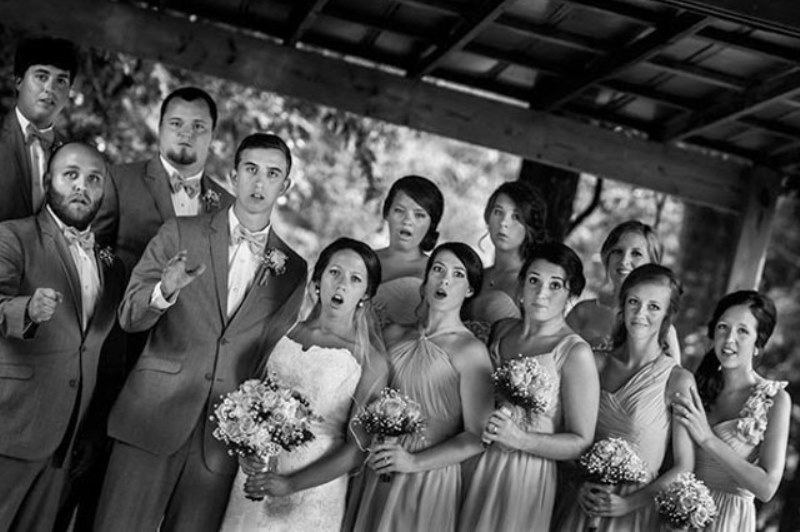 Image source: Chase Richardson
A Mississippi photographer literally went above and beyond the call of duty to capture amazing pictures for this couple, when he slipped in a puddle and fell over! However, during his fall, he managed to click a picture that is nothing but epic!
Read the full story here.
4. Coffin-themed pre-wedding photo shoot captures the netizens' imagination
Image source: Jenny Tay
Jenny Tay and her fiancé Darren Cheng, work as undertakers. So what better way to declare their engagement to the world than with a coffin-themed pre-wedding photo shoot! Yes, the couple can be seen cuddling inside the coffin, and it seems like the couple takes the 'till death do us part,' seriously, if the pictures are anything to go by!
Read the full story here.
3. 3000 nude cyclists photobomb couple's pre-wedding photo shoot!
Image source: JPG Photography
Ross Cohen and Blair Delson of Philadelphia, posed for their pre-wedding photos at some of the choicest spots in the city. However, when they were posing in Dilworth Plaza, next to City Hall, they were photobombed by a herd of 3000 nude cyclists! And the results are quite… um… surprising!
Read the full story here.
2. Service dog serves as best man at army veteran's wedding
Image source: Brad Hall Studios
Gabe, the service dog, was paired with Justin Lansford after his return from Afghanistan in 2012, after an IED explosion shattered Justin's left leg. And when Justin tied the knot with fiancée Carol Balmes, it was obvious that Gabe would be a big part of the wedding. But when Gabe served as Justin's best man, there wasn't a dry eye in the ceremony!
Read the full story here.
1. Sydney photographer captured an epic picture of newlywed couple
Image source: Sam Yeldham
Photographer Sam Yeldham of Sydney was out to capture the roiling heavy rain clouds over the iconic Sydney Harbor. However, at the same time, when a newlywed couple was trying to get a picture taken on Bradley's Head, Sam clicked a truly stunning picture, which captured the couple's love as well nature's raw beauty.
Read the full story here.
Among these 10 epic wedding-related pictures and stories, which one is your favorite? Tell us in the comments below.
Summary
Article Name
#BestOf2015 10 Heartwarming Wedding-related Stories From Around The World
Author
Description
2015 brought us some epic, stunning, and surreal moments in weddings across the world. Here are the 10 of the most heartwarming wedding stories.