The thought of leaving one's job to travel is both exhilarating and frightening. And yet, more and more people are opting for this experience of quitting the 9 to 5 grind to live their dream of seeing the world.
One such wanderlust-struck backpacker, Ipsa Das, or more popularly known by her Instagram handle, Infinity Wayfare, says that her decision to take a year-long break from work was not a very easy one. "It was an arduous task accompanied by anxiety and frequent panic attacks," she says. Taking such a monumental decision as a 25-year-old woman in India is no joke. "I didn't have any plan and all I had was a tiny flame of hope. I knew that this leap of faith is exhausting, but it just felt right," she recalls.
---
Suggested read: "There's A Need For More Content That Speaks Explicitly Of The Diversity In India": #NLTTalks With The Irrelevant Project
---
Breaking-up with money for a lifelong relationship with passion 
What makes taking this life-altering decision more difficult is the current emphasis on money and security, factors that cannot be totally brushed aside. Not having a salary for a year did haunt Ipsa, and convincing her parents was not easy either. "But I knew I had to do this. I figured that I lacked the motivation for the job I was in. Money didn't motivate me either," she says. When the only thing that makes you feel alive is traveling, all you got to do is shoo away your fears, gather all the courage you can, and have faith that things will fall into place, and that is exactly what Ipsa did.
The start of an incredible journey 
Ipsa started this extraordinary journey in 2015. She was working for an I.T. company then, and was quite clueless with where her career was heading. Right then, traveling came to her rescue, but by fluke. She booked a night bus to Hampi from Mysuru without having any idea how this was about to change her life. When she returned from the trip, which was only supposed to be an escape but turned out to be much more, she started Infinity Wayfare on Instagram.
What was it about Hampi that made Ipsa take this plunge? She says that she cannot put a finger on it. It could have been the calmness the place offered, or the divinity of the sun setting behind the Virupaksha Temple. It could have also been her journey across the Tungabhadra river on coracle boats, or the serenity that seeped through her while lying on a boulder in Sanapur lake. Maybe it was all of this together that made her realize travel is her calling.
Struggles of a female solo traveler 
Being a female solo traveler comes with this "wonderful problem," says Elisa Doucette (a solo traveler and contributor at Forbes) where everyone is worried about your safety. But they have reasons to, don't they? Women safety is a matter of great concern; the world has numerous dangers to offer a woman, and she has to be prepared to fight them. Ipsa too, isn't unaware of these perils, and therefore, she does quite a bit of research about a place before visiting it. However, as of now, she has not cancelled a trip because she thought it was not safe enough to travel alone. "Luckily, I've met the kindest of souls who made me believe in the goodness that still exists in the world. So. yay!," she exclaims.
---
Suggested read: "I Have A Dream That Every Terrace Of Calcutta Will Be Green" #NLTTalks With Lata Bhatia
---
And yet, you cannot solely rely on your luck, because some amount of preparation is required for women who are planning to take up solo traveling. Ipsa suggests that the first battle one needs to win is the battle within. You have to replace your fear with curiosity, the beautiful feeling of knowing the unknown, the eagerness to explore new places. She suggests that you read about the place you are planning to visit, try to find out about the essence of the place. Once you are there, respect the place and its sanctity. "I've met people who insensitively comment on regional languages, food and local people, without a second thought. Don't do that. Don't indulge yourself in anything that you'd hate if it happened to you," she says.  
Not a quitter
In the last couple of years, we have heard many stories about people who took up full-time traveling. Some of them still uphold their decision as the best thing they did for themselves; however, there are many who also regret it. The latter have had to go back to living the "secured" life, realizing that traveling alone is not very sustaining. But Ipsa says that the idea of quitting solo traveling has never occurred to her. She agrees that there have been numerous challenges on the road, but that has only contributed to improve her problem-solving and decision-making skills.
The one thing that keeps a traveler going is curiosity, which always attracts adventure. Ipsa has already lived for 3 months in Himalayan villages, and still considers herself a "lame trekker". Breathlessness, altitude sickness, the rocky terrain that only gets tougher as you go higher, are all a stubborn reality, but not enough to crush her resolve. Her spirit remains indomitable. In fact, Ipsa feels that these challenges, ironically, encourage her to keep going. "It's awe-inspiring at the summit where I somewhat feel closer to that ultimate energy we call God," she says.
What is home to a full-time traveler? 
Escaping the mundane world once in a while for a change in environment and routine, is one thing, but turning into a modern day vagabond is a completely different task altogether. When you are always on the road, the idea of home is bound to change. Ipsa thinks that she might have left bits and pieces of her heart in places that she has visited, which makes every one of those sights her home. She talks about the time she stayed in a cozy homestay somewhere in a remote village in the Great Himalayan National Park. "I woke up to a misty morning overlooking farm fields, with mountains in the backdrop," she recalls. At a distance, she saw children running for school, playing and laughing all along the way, their laughter blending with the chirping of birds. Sipping a hot cup of mint tea, she felt that was the best morning of her life yet.
Traveling ain't an easy business 
Whether traveling is your hobby or something you want to dedicate your life to, there are some investments you ought to make. Ipsa recommends that for a hassle-free trip, one should get a good rucksack/backpack. "You don't want things falling off your bag due to a faulty zip while you're running to catch a ride," she warns. If you are planning to conquer mountains, but have not purchased the right shoes, then you can expect a nasty fall or at least a climb that is not fun at all. A power backup is the next must-buy. You cannot expect to find plug-points or even electricity everywhere. Good hygiene is always important, but especially when you are traveling. Keeping clean will help you avoid various infections and diseases. Having personal toiletry basics goes a long way in keeping ailments at bay.
---
Suggested read: "The Least I Can Do For My Body Is Not Be Ashamed Of It": #NLTTalks With Dolly Singh
---
The most vital investment, however, is time. Ipsa believes that one must give a place the time it deserves. "Travel slowly to fall in love with the place," she advises. Traveling without a plan that restricts you, is the best way to go about it. "I keep extending my stays at places I love," Ipsa says. She says that works for her as long as there are more surprises. Her ultimate travel dream is Antarctica. "No humans, just penguins in endless whites!," she smiles through that.
Here's wishing Ipsa Das all the best in her journey.
Featured image source: Instagram
Summary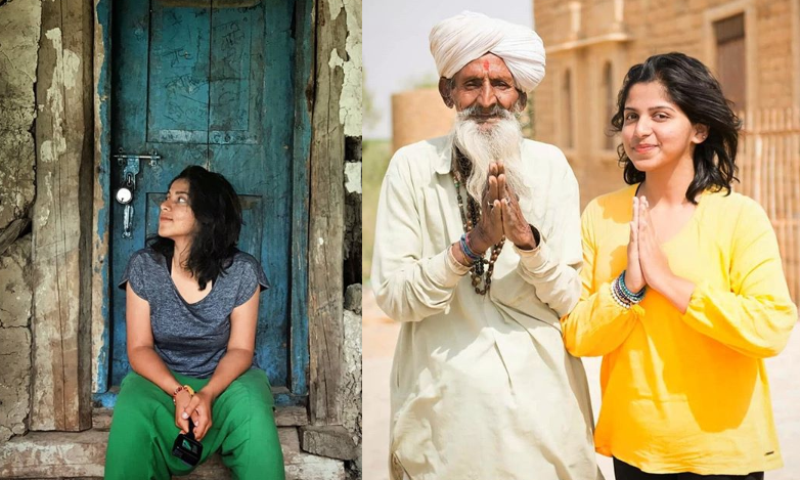 Article Name
#NLTTalks With Ipsa Das AKA Infinity Wayfare
Author
Description
In conversation with Ipsa Das, a software engineer who took a break from her work on December, 2017, to pursue her dream of traveling.