Recently Donatella Versace, the CEO of Versace announced that Versace would now take a step towards an ethical future in fashion by going fur-free. While it does not actually make Versace a completely ethical, sustainable fashion brand, we see the effort they've made and we're here for it. But, in the spirit of supporting brands that care enough to make a difference, here's a list of our favorite ethical, vegan brands.
---
Suggested read: 15 Hottest Vegan Celebrities Of All Time
---
Stella McCartney
Stella McCartney is one of the best vegan brands in the fashion industry, with her incredible designs and her ethical and sustainable production decisions. She used her fame and her influence to set a precedent for so many fashion designers to opt for ethical, cruelty-free production methods, without compromising on the quality of their designs or their products.
Bourgeois Boheme
Bourgeois Boheme is a UK-based vegan and vegetarian footwear brand that makes shoes that will make you look and feel like a frigging badass, without the guilt of wearing a dead animal. Their shoes are modern, sensible and so so soooo on trend right now. We love the faux patent leather Oxfords. They look like something out of a vegan hipster dream and we're here for it!
Matt & Nat
Matt & Nat is a Canadian accessories brand that makes just cutest bags and shoes ever. If your style is more hipster-chic than L.A-Barbie then you are going to fall in LOVE with this ethical, vegan, sustainable fashion brand. Not only do they use plant-based materials to make their hella cute products, but they also try and used recycled materials (my hippie earth-loving ovaries are bursting right now).
Sydney Brown
If you're not a big fan of loafers and Oxfords, and would much rather stick to your tried and tested mules and booties then Sydney Brown is probably going to be the shoe brand of your dreams. Not only do they have trendy but sensible shoes, they also have a few pieces that look like they have been MADE for Instagram posts. SMH look at those gorgeous iridescent wedge booties (#mermaidvibes). You have to go check out their Instagram page and see all the crazy cute stuff they make. We may or may not have stalked them for a few hours *sheepish smile*.
Vaute Couture
Vaute Couture is the world's first all-vegan fashion brand, making waves in the industry, making headlines on some of the most prominent fashion magazines like Vogue, Nylon and Paper Magazine. This Manhattan-based fashion line is the PC designer brand of our dreams. Not only are they unapologetically opinionated and vocal about their morals and their dreams for the fashion industry, they carry out their activism in style. From chic dresses to gorgeous outerwear, this badass fashion brand is here to take over the fashion industry and revolutionize it.
TOMS
TOMS is a UK-based accessories brand, famous for their super cute nautical-inspired designs. Not only does TOMS use ethically-sourced materials and fair-trade production practices to make their crazy cute shoes and sunglasses, but they also make an active effort to use their influence and their resources to make the world a better place. Their One-for-One initiative aims to help one person in need for every TOMS product purchased (from their One-for-One line). They pair up with organizations that increase access to water in water-starved countries, ones that provide better pre-natal care to low-income mothers, ones that engage in anti-bullying movements, etc. All in all, TOMS is a BAMF that is making the world a better place, one pair of shoes at a time.
---
 Suggested read: 8 Eco-Friendly Beauty Products To Invest In Right Now
---
Fat Face
Fat Face is a British apparel brand that uses ethical trading practices to make really pretty, quintessentially British clothes. TBH if you want to look like you live in some posh British village, on your own ranch, where you eat posh British food (does mash potatoes and gravy count cuz that stuff is DELISH), then you probably want to buy a whole lot of stuff from Fat Face. From trendy athleisure pieces to comfy yet stylish jumpers, to cute and quirky jumpsuits, this conscious and sustainable fashion brand has it all. Also, unlike the brands we've talked about so far, this one isn't a designer brand, but a high-street one. Therefore, you won't have to sell your kidney to go shopping at their really chic stores.
Hot As Hell
Let's be honest, their name pretty much says it all. Hot as Hell is a bougie, sexy fashion line that will make you feel like you belong to the Kardashian clan, without feeling guilty about possibly wearing a dead animal or potentially killing the planet. They go by the motto that you don't have to sacrifice your sexiness to be sustainable #sexywithasoul. They produce eco-friendly clothes that make you feel like a sexy goddess. From delicate lacy dresses, to bougie sequined bodysuits, to itsy-bitsy bikinis, this fashion brand is creating fabulous clothes, reclaiming sexiness, and saving the world all at the same time. Whaaaaaaaaaaaaaaatttt.
Rungg
Who said you had to compromise on design and authenticity in order to be sustainable and eco-friendly? Rungg shoes are some of the prettiest shoes we've ever seen. Bright colors, hand-stitches faux-leather, intricately hand-embroidered detailing, quirky designs, this brand is the vegan shoe-lover's heaven. The name comes from the Hindi word "rang" which means color. And boy do they take their name seriously. This brand has some of the most colorful, intricately embroidered and embellished shoes ever! We're obsessed!
Summary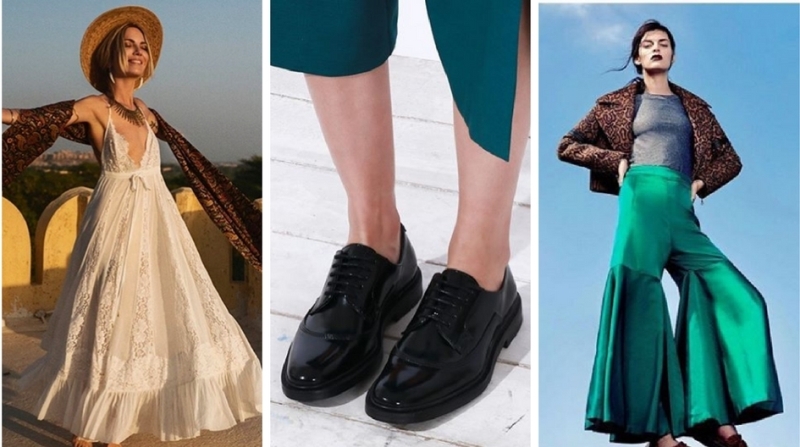 Article Name
Ethical Fashion: All The Vegan Brands We Are Rooting For
Author
Description
You don't have to feel guilty while wearing fab clothes! Check out the best vegan brands in fashion that we are rooting for in 2018.
Read the rest of the article:
Next