"If winter helps you curl up and more that makes it one of the best of the seasons." – Murray Pura
Winters have many faces, depending upon which part of the world you live in. You could be enjoying a slight nip in the air or you could be busy shovelling snow off your sidewalk! But whatever the state may be, there's no denying that there's something magical and festive about the season, probably on account of the holidays and the New Year. And it is this very spirit of magic and togetherness that makes winter one of the perfect times to go on a honeymoon. Of course the fact that you can easily get time off work is definitely a bonus! So if you're planning a winter getaway with your significant other, here is a list of the 10 best winter honeymoon destinations you might want to consider.
Image source: Pixabay, under Creative Commons License
For many of us, the mention of honeymoon conjures up images of couples sunbathing, or walking hand in hand on the beach – in short, very summery images! So the thought of a winter honeymoon may be met with a few raised eyebrows. However, having a honeymoon in the cold does have its advantages, a few of which are:
1. The obvious one we already mentioned – it's easier to get time off work for both of you! (Unless your job description includes being a mall Santa, then you might want to reconsider your honeymoon dates!) Most businesses shut down during the end of the year, so you're unlikely to have any important assignments or meetings during this season.
2. In many countries, winters are considered 'off-season', which translates into lower costs for everything, especially airfare and accommodation. That means more money to spend on premium luxury suites with all the added frills, and of course, shopping!
---
Suggested read: 10 best hill stations in India for your honeymoon 
---
3. For some countries, winter is nothing short of a celebration, and there are special festivals and events that take place only during winter. Many of these are very unique, and you're unlikely to find them in your own country. Take some never-before-seen pictures and watch your summer-honeymooner-friends get jealous!
4. Winters mean chilly weather that makes you want to snuggle up and get warm. And we know what happens when you snuggle up to the person you love! A winter honeymoon gives you plenty of opportunities to canoodle, with long nights in where you can enjoy more time together.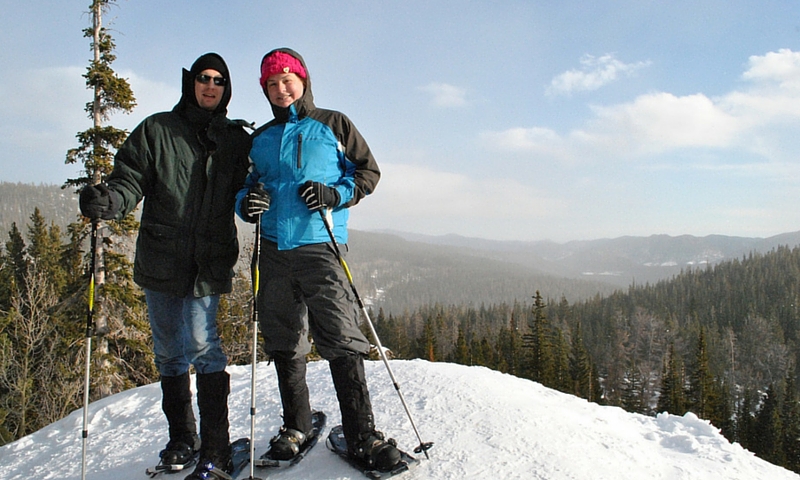 Image source: Flickr
So, a winter honeymoon is suddenly looking a lot better than one spent sweating and getting sunburnt, right? But the best part of winter honeymoons is that it doesn't necessarily have to mean that you've to step out looking like an Eskimo all the time. Many global honeymoon destinations don't have very cold winters; these are places that are sweltering in summers and have very pleasant weather during winters. You might love these if you're from a place that has freezing winters. Either way, a winter honeymoon might be just the thing you and your new spouse are looking for, so let's start checking out the best winter honeymoon destinations for you!
10 best winter honeymoon destinations to consider this year
1. Reykjavik, Iceland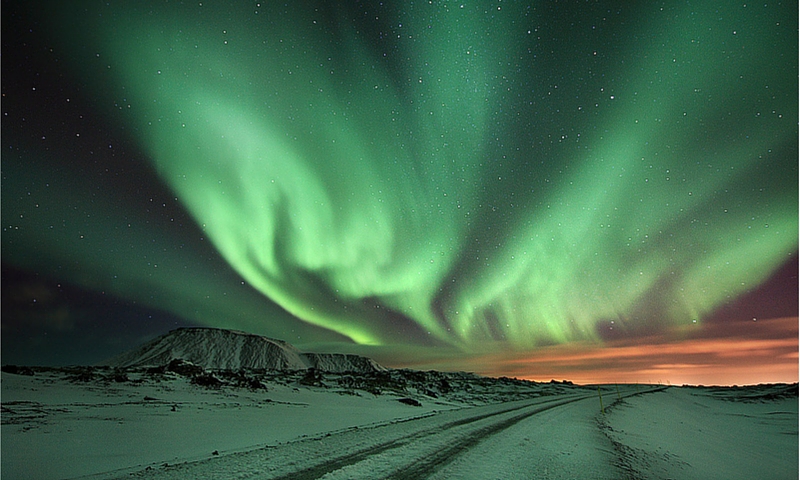 Image source: Flickr
Let's begin our winter honeymoon journey with the land of ice, Iceland! If enjoying nature at its wintry best fits your idea of the perfect honeymoon, then Iceland is THE place to go to! While the fresh mountain air and friendly locals are very charming, the biggest winter attraction of Reykjavik has got to be the Northern Lights. These are naturally occurring polar lights that create a spectacular display, which gets even better in cold and dark weather. Iceland also has a low population, so you won't be accosted by crowds at every corner – perfect for privacy!
Travel: The Keflavic International Airport is the nearest airport to Reykjavik and can be accessed by major global airlines.
Cost: Iceland isn't exactly cheap, and the average daily cost for a person can be upwards of 250$.
2. Prague, Czech Republic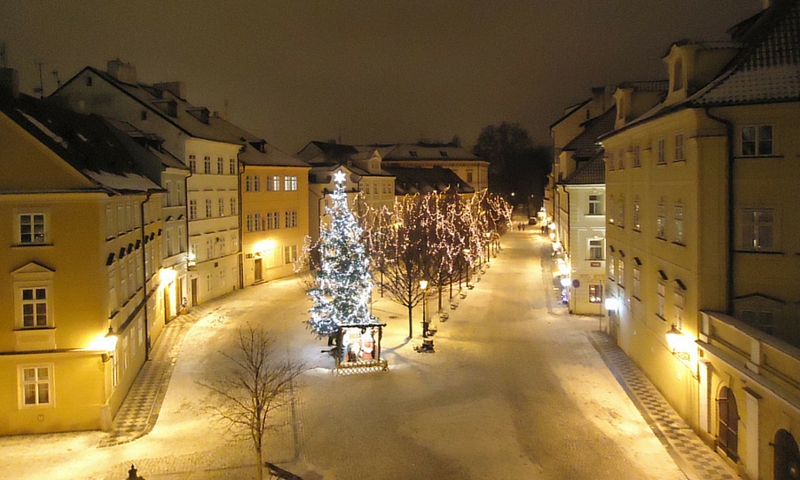 Image source: Flickr
One of the advantages of a winter honeymoon destinations is that you can enjoy the festivities in the country you're visiting. And if you're choosing Prague, then you're in for a treat! Prague is considered to have the finest Christmas markets in Europe, which light up beautifully during the festive season. Prague is a charming place, with lovely castle tours, quaint cottages and river cruises – perfect for a fairytale honeymoon! The food there is legendary as well, and there are many romantic little cafes where the two of you can spend some quality time together.
Travel: Vaclav Havel Airport is Prague's airport and most European airlines operate flights to Prague.
Cost: Prague costs along the same lines as other European cities, but is on the cheaper side, with the cost per person for a day starting from 75$.
3. Jaipur, India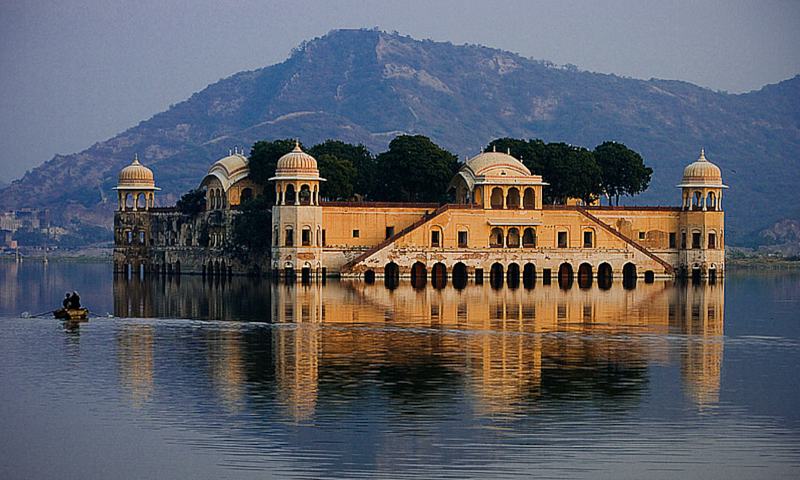 Image source: Flickr
If you live in a place that snows in during winter and would like something different for your honeymoon, then you'll love Jaipur in Rajasthan, India. With a desert as the backdrop, the perfect time to visit the 'Pink City' is during winter, when the weather is lovely. The city is steeped in rich history and traditions, evident in the sprawling palaces and riot of color visible everywhere. Honeymooners can enjoy staying in a real palace, with stunning views of the sunset and the landscape. You can also feast on lovely vegetarian fare and visit tigers at the neighbouring national park. Exploring Jaipur is an experience in itself, and is bound to bring couples closer!
Travel: The Jaipur Airport is close to the city and is easily accessible from all parts of India as well as major international cities.
Cost: Winters are peak season in Jaipur and costs can be higher at this time, but are still cheaper than most other cities in the world with the average cost per day coming to about 20$ per person.
4. Zurich, Switzerland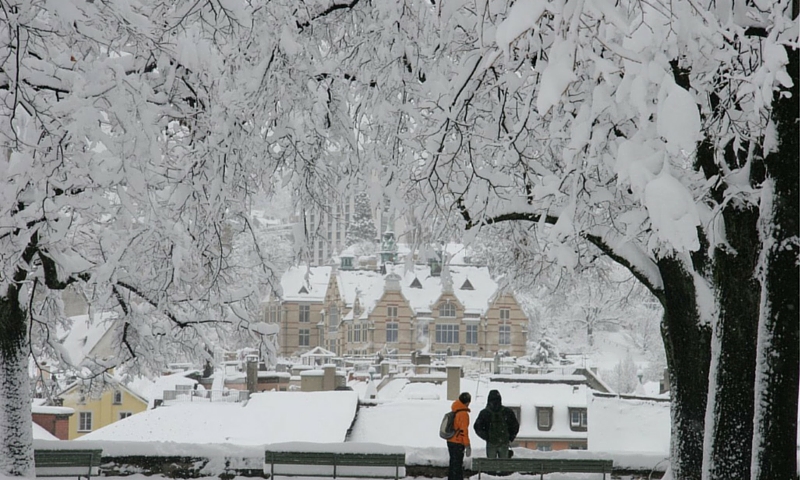 Image source: Flickr
If you ask someone about a winter honeymoon destination, they're very likely to begin by suggesting the Swiss Alps! And they're not wrong; with picturesque locales and snow capped mountains, Zurich is every bit as beautiful as those pictures you've seen on calendars and wallpapers. Zurich's landscapes provide the perfect backdrop for romance, as you go mountain biking or skiing together. The art scene in Zurich is quite rich as well, with museums, galleries and historic buildings to visit. And of course, don't forget the ultimate aphrodisiac – delicious, melt in the mouth Swiss chocolate!
Travel: The Zurich airport is Switzerland's largest airport, and there are many trains that connect the city to other European cities.
Cost: Zurich is a common tourist spot during winters, so rates are bound to be higher, especially if booking at the last minute. The average daily cost for a person comes close to 200$.
---
Suggested read: How to choose a honeymoon destination that's perfect for you
---
5. Quebec, Canada
Image source: Flickr
Have you ever looked at pictures of igloos and wondered what it would be like to live in a house of ice? If yes, Quebec will give you a chance to satisfy your curiosity at the Hotel de Glace, a hotel made entirely of snow and ice! And when you're outside, there are many parks, castles and forts, which give the city a distinctly French feel. Honeymooners have a variety of activities to choose from, ranging from fishing to skiing. Besides, going there in winter will give you a chance to enjoy the Carnaval de Quebec, one of the world's largest winter festivals. All in all, you are bound to be enraptured by the romance at every corner in this lovely place!
Travel: The Jean-Lesage International Airport is about 16 km from the city and is well connected to major cities of USA and Europe.
Cost: In Quebec, you can expect the average daily cost per person to be around 90$.
6. Yamagata, Japan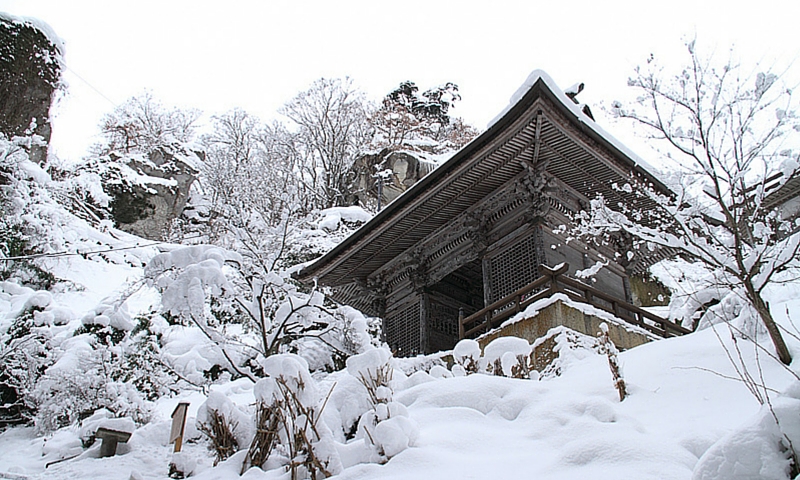 Image source: Flickr
If you and your new spouse are thrilled by the idea of doing adventure sports together, then Yamagata is the place for you! With lots of snow during winters, there are several sports that the two of you can engage in together at Mount Zao, a complex volcano. Besides sport, Yamagata is also home to a crater lake called the five-color marsh that changes color depending on the weather as well as a large public hot spring. Another unique feature of this place is the Juhiyo or snow monsters, which are essentially pine trees covered in snow. All these make for a one of a kind honeymoon that you'll never forget!
Travel: The nearest international airport is in Tokyo, and several connecting flights are available to Yamagata.
Cost: Winter is considered peak season in Yamagata, so prices can be expected to go beyond 100$ per person a day.
7. Venice, Italy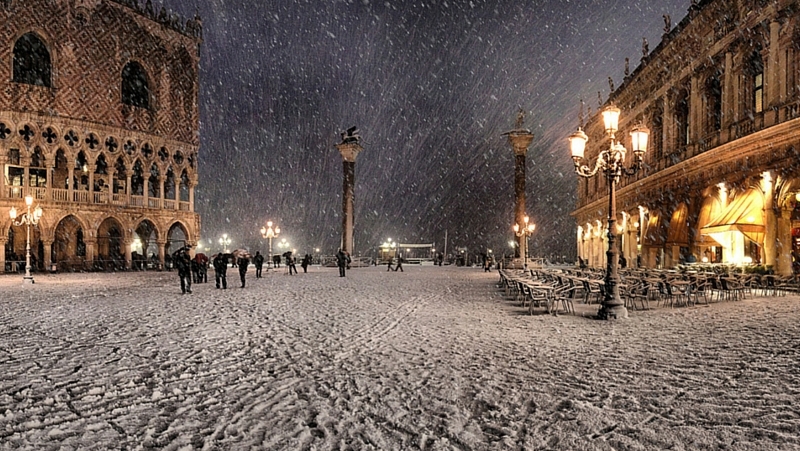 Image source: Flickr
Venice is a popular honeymoon destination throughout the year, but it often attracts tourists in summer, with winter being considered off-season. However, the truth is that Venice becomes hauntingly beautiful in winter, and with fewer crowds and lower prices, this is the perfect location for privacy-seeking, budget honeymooners! In winter, there is an abundance of snow, and the landscape is turned into sheer gorgeousness! The Venetian Winter Festival celebrates all kinds of art forms, and the old, aristocratic buildings add to the charm. Enjoy a mug of Venetian hot chocolate with your loved one and snuggle up in one of Venice's many beautifully designed hotels!
Travel: Venice is well connected by the Marco Polo airport. Within the city, buses, water buses and ferries are abundantly available.
Cost: Costs in Venice can be upward of 100$ per person, including costs for drinks.
8. Aspen, United States of America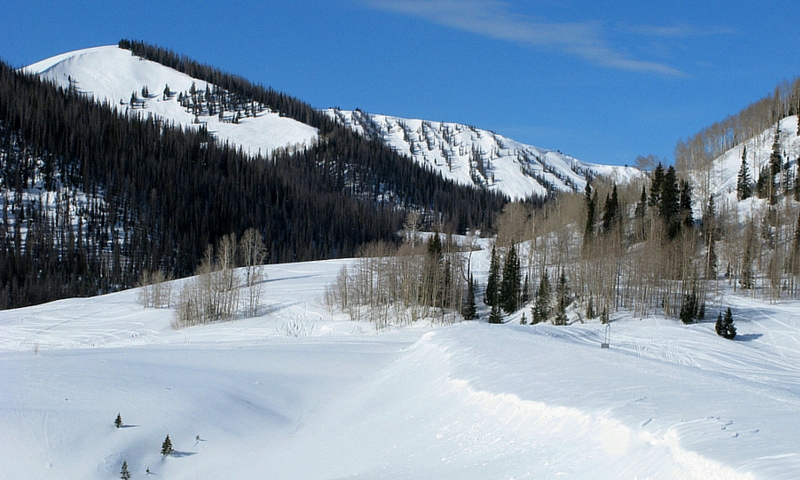 Image source: Flickr
Aspen in Colorado is not just a popular honeymoon option, but a well-loved wedding location as well. The mountain destination has a wealth of natural beauty, and is sought after both during summers and winters, with a range of activities for both seasons. Aspen is breathtakingly gorgeous in winter, when the snow covers everything and what you get is truly a winter wonderland! Aspen is also called the Ski capital of the Americas and there are many winter sports for the adventure seeking couple. If not, just wander around, soaking in the beauty and dine at some of the best restaurants you've ever been to!
Travel: Pitkin Country Airport is very close to the city centre and there are many connecting flights from all over USA.
Cost: For a person, it can cost around 10$ a day, but you may have to pay more for any special sports gear you intend to use.
9. St. Petersburg, Russia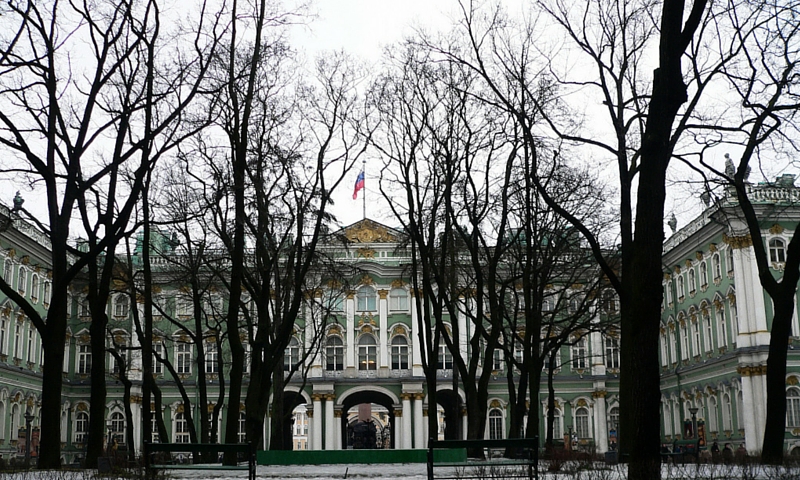 Image source: Flickr
Russia is probably not the first place to come to mind when you think of winter honeymoon destinations, but a visit to St. Petersburg during the winter will completely change your opinion! Along with Moscow, this city is a top destination for Russian honeymooners, and with good reason. This is a city steeped in history, with palaces, beautiful architecture and grand buildings. The canals, bridges and lovely avenues provide the place with an old world charm which takes on a different personality in the winter. After all, what could be more romantic than a snuggled up ride in a quaint horse-drawn carriage through the snow!
Travel: The Pulkovo airport is a short drive from the city, and bus and metro services are available within the city. US citizens generally get a 3-year multi-entry visa to anywhere in Russia.
Cost: A trip to St. Petersburg can cost anything between 60$ – 100$ per person.
---
Suggested read: 7 simple things to do on your honeymoon for a strong marriage
---
10. Antartica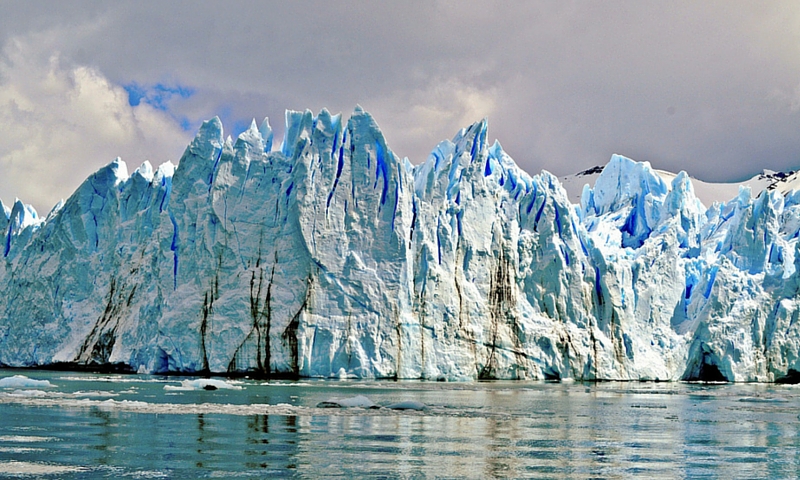 Image source: Flickr
We end this list with a bang, particularly for the adventure-seekers at heart – Antartica! Bet you didn't imagine that would come up on this list! A winter honeymoon to Antartica is not as farfetched as you may think, with many cruise companies having expedition ships to what many consider the end point of the world. While the journey is certainly not simple, it is completely worth the effort and expense. The huge glaciers, white mountains and sparkling oceans come together to form the most beautiful landscape you've ever seen. Watch baby penguins hatching, take long icy walks and even go skiing. Trust us, this will be the trip of a lifetime!
Travel: The best way to travel to Antartica is by cruise ships, and there are a variety of both large and small ones.
Cost: As you can imagine, a trip to Antartica is expensive, and a 10 day cruise trip can cost anything upwards of 4,500$.
These destinations cover a variety of activities, and whatever your interests are, there's something for everyone! So what're you waiting for, get your partner together and start planning!
Featured image source: Pixabay, under Creative Commons License
Summary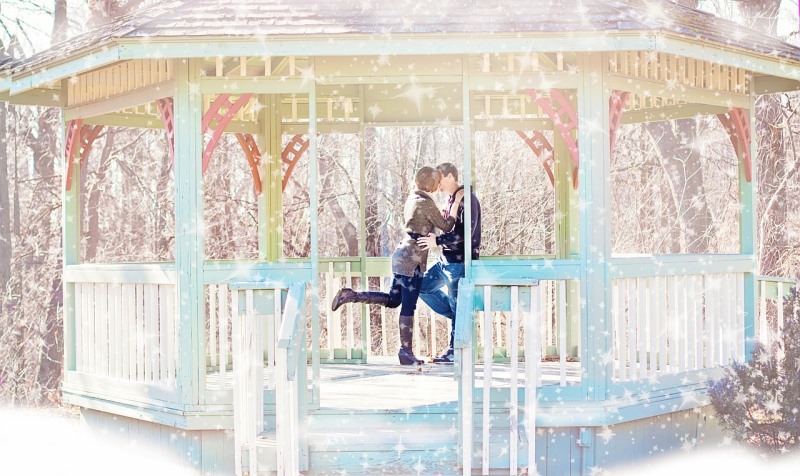 Article Name
10 Best Winter Honeymoon Destinations You Can Consider
Author
Description
Honeymoons don't have to be all about the sun and sand! These winter honeymoon destinations will give you the most magical and unforgettable time!