We have seen it all – from generic dating apps to hookup apps to niche apps catering to specific groups to super-niche apps that aim to cater to the still smaller pool of people. What we hadn't seen was an app for escorts and call girls.
Last year, Berlin-based entrepreneur Pia Poppenreiter launched an app called Peppr, which connected clients/customers directly to sex workers. But due to problems in the model, Peppr was scrapped and Pia went back to square one. She decided to consult with the women who actually work in the industry to know more about what would work and what would make them comfortable.
---
Suggested read: Raya, the dating app for 'hot people' in creative industries
---
And the result is Ohlala. Ohlala is the first of its kind app that helps people connect with escorts for their 'paid dates.' 'Paid dates' is the preferred euphemism for sex work on Ohlala.
Talking to TechCrunch, founder Pia said,
"Whatever those two people want to do – may it be to give company at a dinner or end up in bed together – is a private matter and should be agreed upon in the chat before meeting. It's simple: We match people for paid dates immediately. It actually solves problems in this marketplace, that dating sites and most escort sites don't solve: We match expectations, on-demand."
Ohlala hopes to cut out the middlemen in the sex industry from the scene entirely by giving all the power to the escorts themselves. The escorts have all the say in the matter; the johns, not so much.
How Ohlala works
On Ohlala, the john says what he is looking for, the price he's willing to offer per hour, the duration, place, and any other personal preferences, which he then sends to ladies who are available nearby. In turn, if the ladies find the request interesting, they reply to his booking request. If the woman agrees explicitly, only then does the chat feature on Ohlala be accessible to the two people. Until then, the lady's profile is private and cannot be seen by the john. The escorts' profiles are private and remain private until she explicitly agrees to a paid date.
What happens after the lady accepts a booking request is NOT Ohlala's business. The 'paid date' might involve a movie, a ballet recital, or the duo could choose to hit the sack. One thing is for sure – money will change hands. But Ohlala doesn't take a fee for facilitating this 'paid date.'
Then how is Ohlala, which is dubbed 'Uber for escorts,' making money? It aims to make money through functions, product placement, content such as a blog, and even a possible membership fee.
"That's an ethical choice, but it's also a question of criminal liability," said Pia.
Although prostitution is legal in Germany since 2012, advancing or promoting prostitution is a criminal offense.
And all the escorts are verified by Ohlala to make sure that the women are signing up voluntarily.
"We conduct interviews to vet them and to make sure they know what they're doing," said Pia. "If they don't speak much German, for example, we won't verify them."
---
Suggested read: CrewMe, Tinder-style dating app for pilots and cabin crew
---
Makes sense since the service is currently available in Berlin, with plans to roll out in two more German cities, Munich and Frankfurt, by mid-September. Pia also plans an English language rollout soon, and hopes to expand the app's reach internationally.
Speaking about the terminology used in the app, like 'paid dates,' Pia said,
"What is a prostitute anyway? Is it someone who has sex for money as a full-time job? Are you a prostitute just because you do it once? I don't like labels and I would prefer to distance myself from certain language. We want to develop a tool for users, not engage in political debate. The service we're offering is honest and straightforward."
If Ohlala does taste success, however mild it might be, it sure is onto something. Ohlala might bring about the removal of the middlemen from the escort business entirely. The app is bound to create waves and controversy when it expands internationally, but if it holds its own and comes out on top, it would give the women in the sex industry many more options, and not to mention the power to choose their clients and the fees that they'll be accepting. This is something that they don't have currently.
Summary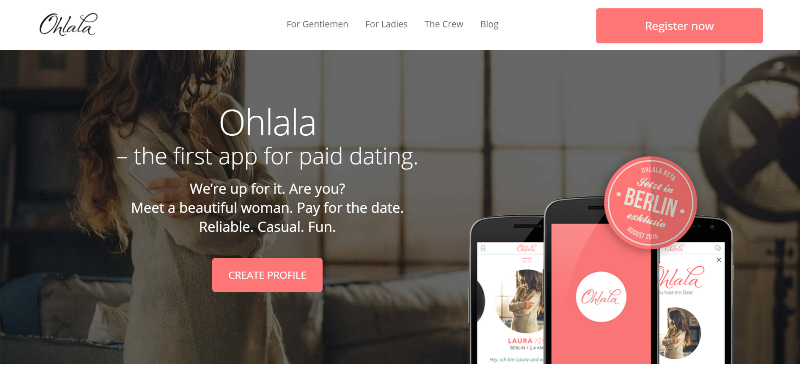 Article Name
Ohlala App, Dubbed 'Uber For Escorts,' Launches In Berlin
Author
Description
Ohlala is a newly launched app, which hopes to revolutionize the sex industry. It was launched in Berlin, Germany, a couple of weeks ago. Take a look.