India, for all its advances in almost every conceivable field out there, is still stuck in its medieval mindset when it comes to acknowledging homosexuality as 'normal,' and the rights of the LGBTQ community as a whole. But, recent events across the country are galvanizing hope for the long-neglected and long-sidelined LGBTQ community.
First, there was the Malayali same-sex wedding in California with families from both sides actively participating all the festivities, then came the Maharashtrian same-sex wedding, and the recent joyful news that made us quite happy was the appointment of Manabi Bandopadhyay as the first transgender principal in West Bengal. Oh, and not to forget the courageous introduction of Caitlyn Jenner, who was formerly known to the world as Bruce Jenner.
Image source: Youtube
Now, an ethnic kurta brand, Anouk, which is retailed on the e-commerce website Myntra, has come out with a three-minute lesbian ad, that is quietly making inroads in the normalization of a same-sex relationship. The ad is part of their Bold Is Beautiful series, and is titled, The Visit.
The ad shows two women getting ready for 'the visit,' which happens to be one of the pair's parents visiting and the impending introduction of the duo as a 'couple.' The three-minute lesbian ad shows the nervousness, the apprehension, that any couple feels before introducing their significant other to their parents. It isn't dramatic, it isn't over the top – it's just a couple getting ready to meet one set of parents.
---
Suggested read: India's national secret: Why gay men end up marrying women
---
The three-minute ad showcasing a lesbian couple has gone viral, taking homosexuality into the mainstream in a subtle way. The ad was conceptualized by ad biggie Ogilvy & Mather, Bangalore, and Avishek Ghosh, the co-partner of Hectic Content, the company that made the film, said,
"We tried to avoid the stereotypes associated with gay people. There was no one woman looking more masculine or feminine in the film. We tried to give it a candid feel like it is any other couple being apprehensive about meeting the parents."
Check out the ad here:
The lesbian ad sure does capture the feel that a lesbian couple is as 'normal' as any other, and that even they experience the same emotions, feelings, and apprehensions, when meeting the parents. But in reality, I'm guessing they experience a lot more of that than a 'normal' couple.
It's not the first time that homosexuality has been alluded to on national television via commercials. A couple years back, a Hindustan Times commercial addressed homophobia in its ad, and sometime later, Fastrack, part of Tata's Titan brand, showed a lesbian couple 'coming out of a closet' – literally as well as figuratively, and 'Move On' when things don't quite work out. This was part of their quirky and quite bold series of ads entitled, Move On.
Check out the Fastrack ad here:
The lesbian ad for Anouk kurtas naturally made twitter explode with praise from all quarters and its own hashtag #BoldIsBeautiful. Check out some of the tweets here:
India's First Ad Featuring A Lesbian Couple Is Here & It's Heartwarming. Hats off @myntra & ANOUK #BoldIsBeautiful https://t.co/5PqSZZFBha

— Mannu Singh (@mannusingh13) June 10, 2015
–@myntra's new ad on a lesbian couple is bold, beautiful & proves once more that storytelling is back in advertising https://t.co/C97XDvDu3E

— Sohini (@Mittermaniac) June 10, 2015
We just hope that such good initiatives are taken up more often, and the government along with the Supreme Court take note of the acceptance of homosexuals and transgenders in our society, and repeal the archaic and draconian law of criminalizing gay sex.
Let's all hope that that future is not too far off!
In the meantime, we couldn't be happier with this ad by Anouk. Bravo Anouk and Myntra!
Featured image source: Youtube
Summary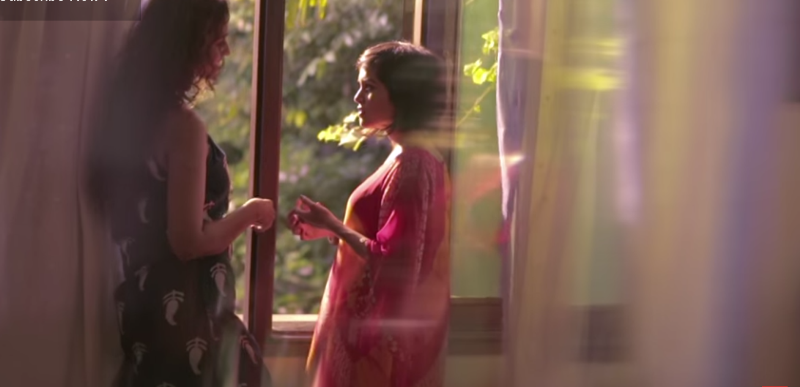 Article Name
Bold Is Beautiful: Lesbian Ad By Myntra Goes Viral
Author
Description
Anouk's Bold is Beautiful ad campaign shows you how same-sex couples are just as 'normal' as their straight counterparts. Check out the lesbian ad here.