While one half of the world's population is welcoming Caitlyn Jenner's move, Manabi Bandopadhyay's appointment, and several such celebratory moments for the transgender community in conjunction with the larger symbiotic cause of gender sensitization, it seems like the other half, the Tinder-esque population is busy slamming the doors on the Tinder-trans members' faces!
Tinder, the mega-hookup app, that has resulted in sweeping strokes of swiping to capture a large chunk of the global populace, is allegedly banning transgender people because its users are unfairly reporting them. The transgender users of the app have, in turn, taken to social media to express their disappointment and anger at having their accounts suspended for naught.
---
Suggested read: Bruce Jenner is now Caitlyn and we love her
---
It is claimed that the 'report' function on Tinder is being misused by transphobic Tinder users to report and unfairly remove transgenders from Tinder. Several liberal members on the app, as well as outside of the app, have taken to Twitter to express their frustration at having one of the most liberal apps and a conceivable giant of the dating app-scape take such unfair steps.
nothing like getting banned from tinder because dudes are reporting you for being transgender. #tinder pic.twitter.com/GP6vhDvhcU

— Molly McGlone (@mollymcglone11) April 28, 2015
Mediaite reported one transgender who spoke out to Business Insider:
One user interviewed in Business Insider, a trans woman named Sol Solomon, said that she could have been reported when a match saw that she included her pronouns in her profile. The transgender community provides this information so they can avoid awkward questions and mistakes, in case it isn't obvious how they identify. Solomon wasn't given the exact reason why she was banned, but the timing suggested that someone was matched with her, read her profile, then reported her, most likely using the "Other" option because the only specified reasons given to report someone on Tinder are "Inappropriate Behavior/Photos," "Bad Offline Behavior," and "Seems Like Spam."
Tinder, however, maintains that it has no policies that ban transgender people and does not believe in any sort of discrimination. In fact Maediaite reports the app's defense as:
The dating app says that it generally gives users reported to them three strikes before banning them outright, but some trans users are actually having the app taken off their phone, finding themselves kicked off without knowing why. Ironically, those users have reported receiving harassing messages from transphobic Tinder users, usually including claims that they are "misrepresenting themselves" in their profiles.
Tinder's official statement on the issue is openly dismissive of the claims and upholds its non-discriminating policy:
Everyone is welcome on Tinder. Each banned account is individually assessed. If we find that a user has been wrongfully banned, then we unban their account. This includes instances when transgender users are reported by others, but haven't violated any of our community standards.
The spokesperson for Tinder continued to emphasize upon Tinder's liberal outlook by adding,
Tinder recognises and believes in the importance of being inclusive of all gender identities and is working towards optimising the experience for everyone.
While we have no clue whether a guilty-until-proven-innocent strategy would work best for the situation at hand, we do believe that the banning of transgender accounts is rather alarming and totally uncalled for! We do not believe that Tinder's retroactive lifting of ban, post-the-unwarranted-suspension-of-account-without-inquiry is a good policy, nor do we understand why Tinder, despite all its assertions of being open to one and all, does not incorporate any safeguarding mechanism on its platform to avoid such unfair 'reporting' by its community members.
Having come from Facebook that lends more than fifty options for gender, it is rather odd that Tinder is still stuck with two and does not make its interface more expansive to accommodate 'everybody,' which it claims it IS for!
If only!
Stop these instances, Tinder, and perhaps also include a screening and safety mechanism that shall enable you and more so your 'narrow-minded' users to move beyond the gender binary they are stuck in! It's time! REALLY!
Featured image source: Twitter
Summary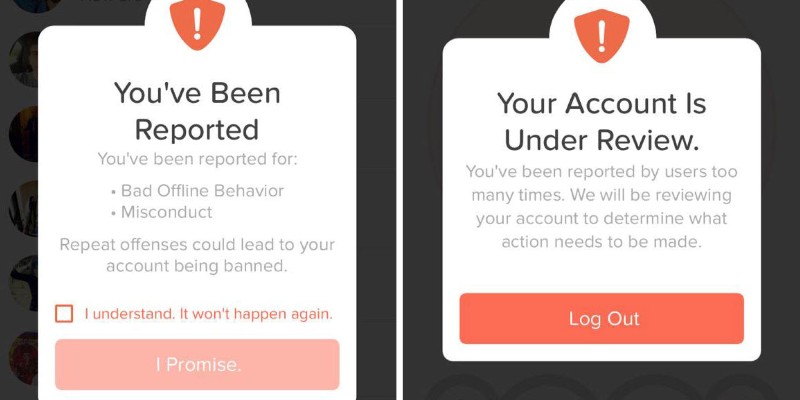 Article Name
Dating App Tinder Banning Transgenders?
Author
Description
Tinder is allegedly banning transgenders. Why is this happening? Read on to find out the real story.