Seems like a great time to be a woman. Three pieces of news have us jumping for joy – literally!
One – Dove Choose Beautiful video came out with the message: beauty is a choice that you need to make every day.
Two – Just last week, France made an announcement banning 'skinny' models on its catwalks. The French Parliament passed a law that makes it illegal to have a woman who is very thin to walk down the ramps of the haute couture world. A model is required to present a medical certificate with her BMI (body-mass index), which should be at least 18. In layman words, a woman who is 5'7 should weigh about 121 pounds. Failing to comply with this will be incur a fine of $ 8,100 or € 7,500. Not just that, but French magazines also need to make a disclosure if a model's photograph has been altered to make her look skinnier. And if they don't? They're made to cough up 30% of their ad revenue.
Last but not least, more exciting news!
Image source: Google, copyright-free image under Creative Commons License
Three – 'Plus size' women's clothing retail brand Lane Bryant, with its newest ad campaign, #ImNoAngel, wants to let the world know that sexiness comes in all sizes. That size has nothing to do with a woman being and feeling sexy. The name of the campaign, as one might guess, is the clothing brand making a not-so-subtle reference to lingerie giant Victoria's Secret. Because, you know, VS has 'angels' who are skinny with washboard stomachs and mile-long legs.
---
Suggested read: Why Victoria's Secret 'Perfect Body' campaign is not-so-perfect
---
The new campaign #ImNoAngel was unveiled on April 6th to promote Lane Bryant lingerie line, Cacique. It offers intimate apparel in the sizes 12 through 28. Not just lingerie, but a 'plus size' woman can find pretty much anything on the Lane Bryant catalog. The literature about the new line of lingerie reads:
The women who wear Cacique know that sexy comes in many shapes and sizes. They're no angels – and they own it. Join the women who are redefining sexy by posting your personal statement of confidence using the hashtag #ImNoAngel.
Image source: Google, copyright-free image under Creative Commons License
The CEO of Lane Bryant, Linda Heasley said in a statement,
"Our 'I'm No Angel' campaign is designed to empower ALL women to love every part of herself. Lane Bryant firmly believes that she is sexy and we want to encourage her to confidently show it, in her own way."
The new Cacique line of lingerie features fuller-figured models like Candice Huffine, Ashley Graham, and Marquita Pring. In a move towards removing the almost-offensive tag 'plus size,' Lane Bryant wants to position itself as championing 'real beauty,' as opposed to traditional standards of beauty dictated by the fashion industry.
Image source: Google, copyright-free image under Creative Commons License
Talking about the changing perceptions among women, Heasley said,
"The demographics are changing, and that is all the more reason to change perception and talk about it as 'her size,' not 'plus size.' I wouldn't want to call myself 'plus size.'"
Lane Bryant released the video of the commercial on Youtube on April 6th, with the message that '#ImNoAngel initiative celebrates women of all shapes and sizes by redefining society's traditional notion of sexy with a powerful core message: ALL women are sexy.'
Check out the video here:
The ad, which runs for about half a minute, has one of the models asking, 'How boring would it be if we were all the same?' Another one states, 'It's all about how YOU feel.' The commercial ends with every one of the models saying, 'I'm no angel,' followed by a quick, 'I'm all kinds of sexy.'
Lane Bryant's #ImNoAngel campaign is getting all kinds of positive responses on social media, with the company being extolled for its celebration of beauty no matter the size or shape. Check out some of the tweets here:
Trying to be perfect is a waste of time. #ImNoAngel and that's what I love about myself. @lanebryant @Refinery29 pic.twitter.com/4Zi7gshcdq

— Beck (@manfattan) April 7, 2015
Love that @LaneBryant is standing up for what is sexy!! #ad #ImNoAngel pic.twitter.com/Bcgo2GCh5M

— Amber Patrice Riley (@MsAmberPRiley) April 6, 2015
#ImNoAngel great campaign,it's all about being healthy n happy in your own skin.

— Fabiola Tudic (@FabbyTudic) April 7, 2015
Oh hell yeah Lane Bryant!! Truly SEXY – Thank You!! #LaneBryant #ImNoAngel #everyBODYissexy

— Jan McKenzie (@JanMcKenzieHa) April 7, 2015
I joined! #ImNoAngel#curvywomen is more #sexy Let's go ladies✌
The store, which boasts a whopping 750 outlets across the country, will all feature this latest ad campaign. Not to mention on TV, in print, and on billboards.
With all the rage of positive body image messages and ads running around in the Internet ether, Lane Bryant #ImNoAngel manages to pull off as being the celebrator and champion of 'real beauty,' while painting rival Victoria's Secret as misguided and outdated with its strict adherence to traditional beauty standards. Whatever may be its marketing strategy, Lane Bryant has hit a home run with this campaign for sure. And its message that ALL women are sexy, does shine through.
Kudos, Lane Bryant!
#ImNoAngel either J
Featured image source: Google, copyright-free image under Creative Commons License
Summary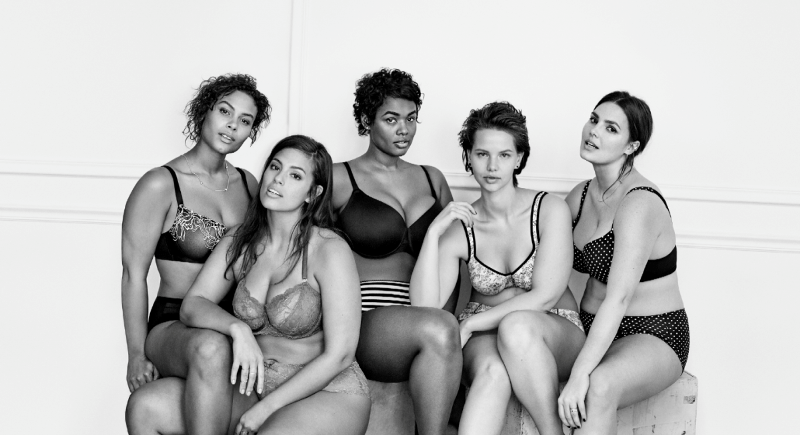 Article Name
Lane Bryant Lingerie's ImNoAngel Campaign Takes Potshots At Victoria's Secret
Author
Description
Lane Bryant lingerie Cacique's #ImNoAngel ad campaign makes a not-so-subtle dig at rival Victoria's Secret. Check out the commercial here.