If landing a mate with high net worth is your ultimate dream, then you have news to cheer! So what if Larry Page or Larry Ellison are off the billionaire bachelors' list? There's plenty of fish in the sea – and the online dating ocean offers you just the right rod or net to catch one or many! With plenty of millionaire matchmaking websites like MillionaireMatch.com, DateAMillionaire.com, or even the ludicrous and laughable Marry-An-Ugly-Millionaire-Online-Dating-Agency.com popping on the millionaire dating-scape, it is getting easier than ever to get your own custom access to deep pockets, yachts, a fleet of fast roadsters or whatever else 'twas that you'd wanted but couldn't get owing to a lack of … well … wads of green.
And it is toward the noble(?) aim of filling this lacuna that SeekingMillionaire.com is tirelessly working, and to good effect! Founded in 2007 by Brandon Wade, SeekingMillionaire.com has a simple mission- to cater to wealthy people who do not want to waste much time in finding who they want as a desirable mate with quality matches from amongst their pool of attractive members! As such, in a way, the site works on a simplistic model of matching up their choicest drivers on the two-way lanes of wealth and charm. The charming members can get matched up with a wealthy fish from the date-o-cean as long as the charmer's bait is alluring enough. Even more interesting is SeekingMillionaire.com's matching up the people driving on these two-way streets with li'l regard for the fact that neither the guy/girl with plenty of wads of green nor the one with undeniable charm have to have their shiny cab-light on. I mean, SeekingMillionaire.com matches up potential partners regardless of one's relationship/marital status. One may, as a rule of thumb, raise ethical concerns about the website's work- but all such qualms are quelled when Wade's sophisticated reputation, sharp business acumen and stress on a rigid screening and operative mechanism are combined to fuel the site's modus operandi. Wondering how? Let's take a look.
The fact that the site offers free membership is trumped by a comprehensive verification process (one-time fee of $25) and background check vis-à-vis the deployment of a popular screening company called TCLogiQ, which specializes in background checks. As such, you can be assured that all data and information displayed on profiles is accurate and authentic and you aren't being subject to a zilch return for your time and money investment. What you see is what you get- coz REAL ousts the FAKE here.
Secondly, the website clearly rules out sugar daddy relationships/escorts or people with malicious/unethical motives. There is an option for members to report such instances against members who have snuck past the initial verification and screening but are using the site to their own selfish ends, so as to enable SeekingMillionaire.com to look through and verify the abuse and ban the profile completely.
---
Suggested read: SeekingArrangement.com makes mutually beneficial arrangements, not relationships
---
As such, one can be very sure about safety and privacy when it comes to SeekingMillionaire.com. And also that it is an authentic and useful forum to meet potentially wealthy, attractive or successful singles!
As for the site's modus operandi, the sign-up process entails filling in basic details such as gender, what type of person you are interested in, birth-date, email address, and how you heard about the site. You are then directed to make a selection that makes it clear exactly who you are on the site. The choice between a 'wealthy member' or an 'attractive member' helps you take a stand on either side of the line, and it lets other members know exactly who you are. Moreover, as you fill out your profile, you will notice that there is a section to choose what you are looking for in terms of wealthy or attractive. The rest of the process includes filling in your location, the About You section and what you want in a relationship. Be careful to be honest and thorough as you fill out your relationship section because someone will be manually reviewing this to ensure that you are on the up and up.
The fact that SeekingMillionaire.com does not permit profiles without a profile photo to sign up and access features is a unique differentiation point from other players in the game and as such, revs up their quality insurance score. It also helps obliterate and wed out any instances of spam and harassment by faceless members who might be on the site for contrived reasons.
The manual review of photographs also bolsters safety and elimination of offensive content by several notches. All these steps ensure that SeekingMillionaire.com stays right at the top of its game. Until the relationship section and photo are approved, standard attractive members are not able to access their mailbox account. Approval should occur within one day of submission.
A down-side of the use of the website's services is that SeekingMillionaire.com is subject to differential pricing and offers separate fee and membership rates for males/females or wealthy/attractive members. It also offers separate membership rates for public access to payment statements and those who want to keep their information discreet and want to keep others from seeing what they have directed payment toward.
Also, the features of the website are tailor-made for wealthy and attractive members. Listed below are some of the features of the several packages:
Attractive standard members are able to (must have at least one picture up on profile):
Use basic search
Be seen as a standard member in searches.
Attractive premium members are able to:
Get featured status on the site (highlighted orange profile)
Keep photos private
Use advanced search features
Wealthy standard members are able to:
Receive winks and messages
Search with all filters
Search for certified members
Be seen as standard members in the search results
---
Suggested read: Carrot dating app lets you bribe your way through dates
---
Wealthy premium members are able to:
Send winks and messages
Obtain featured status on the site (profile is highlighted in orange)
Make photos private
Use more advanced features in search
Features that everyone can use include:
The ability to block other members.
The ability to see other members profile information, including the about me section, last time a member was online, and personal information.
The ability to search for members who have a background check, are platinum members, or are verified members.
The SeekingMillionaire blog is available to everyone to read. On the blog you will find posts related to millionaires, singles, relationships, and other topics that pertain to a millionaire dating site. You can also leave comments on the blog if you would like.
My final verdict in relation to SeekingMillionaire.com would be a green signal for all those who believe in the website's mission. For there is no harm in dreaming and if your dream, well, is to be with a successful or immensely attractive person- SeekingMillionaire.com, by all means, is your playground. It truly epitomizes the return on the time/money investment its members make to, in turn, make their dreams come true. After all, the consumerist culture couldn't have not trickled into the dating realm. And there seems, to me, little harm in making that investment count by chalking out a path you'd not have been able to create on your own, until SeekingMillionaire.com lent a hand!
At least, there's a positive reinforcement in all of this- the members are upfront about who they are and what they want from life and love. And getting seen for YOU and accepted for YOU is a rule, I think, the world needs to apply more of!
So, for this positive message, kudos! And for the safety and privacy measures, effective monetization on rendering people's vicarious lives alive and a highly successful modus operandi, congratulations SeekingMillionaire.com!
Keep growing!
Summary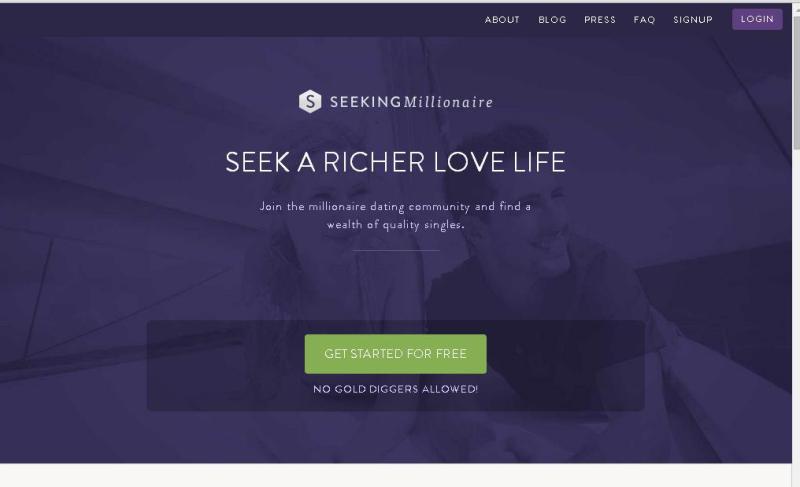 Article Name
SeekingMillionaire.com Offers A Different Take On Relationships
Author
Description
SeekingMillionaire.com has a new take on dating rich and successful people. Are you comfortable with consumerism seeping into REALLY PERSONAL investments?