For a site that positions itself as a sugar daddy website and unabashedly declares itself as the one-stop avenue for "mutually beneficial arrangements," SeekingArrangement.com prides itself on being the premium trend-setter in the game. Founded in 2005, the website has been making a major splash in cyberspace and media. The mission of SeekingArrangement.com is simple- to help aspiring Sugar Daddies and Sugar Mommies find Sugar Babies to pamper. SeekingArrangement.com prides itself on being a user-focused, easy-to-use forum to strike up these convenient and 'mutually beneficial arrangements.' This unidirectional focus reflects through in their profile criterion too. All profile questions are designed to gauge the user's purpose so as to be able to effectively match up a sugar baby with the sugar parent for a beneficial arrangement.
---
Suggested read: PlentyOfFish offers quite a lot of fish, but are they edible?
---
As for the modus operandi of SeekingArrangement.com, the process is quite simple. Getting started is easy and free for new members who need to read the membership agreement, fill out a basic profile and activate their account via e-mail confirmation. Members who fill out the one-page profile and upload at least one approved photograph can use the site's basic search features for free. Searches can be done by nickname, number, location, recent logins, newest members, and least viewed profiles. For premium paid members, more advanced searches are available. There is limited access to message functionality until a membership upgrade is sought. For Sugar Babies, that means a fee of $20 per month through SeekingArrangement or $29.95 via Multicards. For Sugar Daddies and Mommies, a 30-day membership through the site is $49.95 and $59.95 through Multicards. Users upgrading with Multicards also have the option of purchasing memberships for 90 or 180 days.
As for fixing the match or more appropriately, arrangement, the site narrows down profile criterion to location, age, height, weight, occupation, marital status, and smoking habits – while the real focus is kept on the terms of the arrangement itself. This is further exacted by matching the budget sugar daddies and moms list for sugar babies with the allowance sugar babies want to have. While the sugar daddies and mommies list their annual income, net worth and the amount they are willing to shell out for spoiling their sugar baby- the sugar babies list out any tangible benefits they may be seeking over and above their monthly allowance. Also, a detailed description of the kind of arrangement they seek helps in finalizing the mutually compatible arrangement-seekers and the terms of their arrangement.
---
Suggested read: Skout Dating App runs the risk of getting lost in the crowd. Find out why.
---
SeekingArrangement.com prides itself on taking care of its members' privacy. Knowing full well that they dabble in a sensitive realm, they take care not to sully their clientele's good name or have their footprints on the fertile ground of sugar daddy dating! Whilst they promise that SeekingArrangement.com shall never appear on a credit card statement, they also take care to screen user profiles and photographs for relevancy and authenticity so as to weed out instances of fake profiles, scammers and harassment.
While one may think that such a unidirectional focus and no-fuss-no-muss approach toward getting people who aren't afraid to ask for what they want to seek out and meet like-minded people who will give them what they want in return for companionship is a simple process, the truth is quite far and beyond.  And here's the naked truth-finding a 'friend with benefits' and 'finding a friend with benefits- and extra benefits' isn't necessarily the same thing when the latter is a binding contract. The terms of the arrangement can be tricky. And even after the arrangement tenure has elapsed, you are constantly on guard. Unlike real relationships, these are 'arrangements' that may have your conscience grappling with several questions during or even after the arrangement has worked out well.
While there are many who reason that social conditioning has led us to believe that mixing money and mating is inherently wrong and a fallacy based on our collective obsession with moralizing sex, there isn't an iota of doubt that SeekingArrangement.com is minting money off the ones who are either rationalizing the process or simply making use of it to fulfill desires (however controversial).
And while there isn't any dearth of articles and research that evince the backlash of such a dating schema, what with sugar babies and parents living in fear, leading double lives and also a strangely upsetting blend of psycho-social and socio-economic forces- I realize that any move toward either end of the debate shall inevitably have its flipside waiting to shoot a steady stream of invectives upon me.
Not that I am afraid- but I am, in all earnest, unsure of the side toward which I'd lean a li'l more. And while that is an unusual occurrence, I will part with my final verdict on SeekingArrangement.com– for those who are interested in mutually beneficial arrangements- well, SeekingArrangement.com is your ultimate site (parasite?) for finding this symbiotic arrangement. Not judging- but these aren't really relationships! They could be, though!
Summary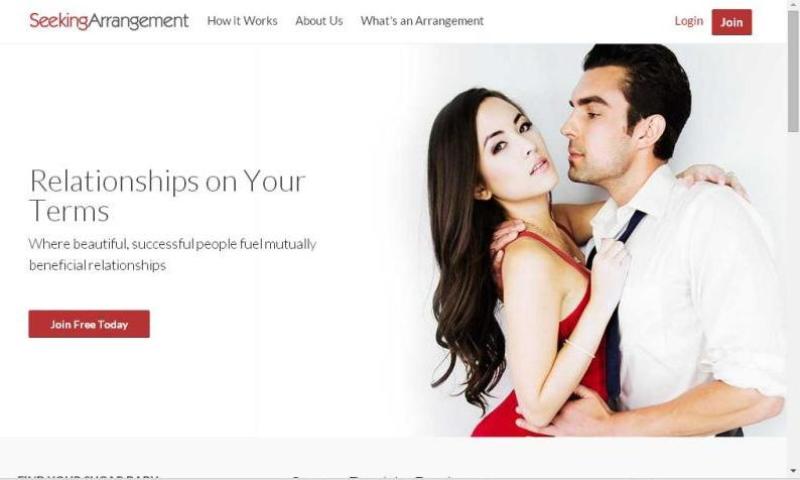 Article Name
SeekingArrangement.com makes mutually beneficial arrangements
Author
Description
SeekingArrangement.com is a place for mutually beneficial arrangements. A biggie in the growing populace of 'controversial dating services?' Find out.