Another player in the already overcrowded dating app-scape, Skout app is a location-aware social networking app for Android that allows users to find new friends or local singles who are ready to mingle.
Positioned as a dating app where you can connect with new friends as well as find dates, Skout app has an appealing Facebook-like user interface with a dual-pane layout that's accessed with swipe gestures, making it fast and easy to flip through local singles, check direct messages, and get notifications on who's checking you out. While the sharp circular icons used throughout the rubric of the interface seem like a distant cousin of Path, the main page is laced with a grid of profile pictures that you can alternatively choose to view in list format. Tapping a particular photo directs one to a detailed profile with their latest status update, photo album (with comment section), proximity, and other information.
---
Suggested read: Pure dating app promises pure pleasure
---
Skout app has limited its profile fields to age, ethnicity, height, and a free-form About Me field. One can choose to avail some more information whilst scouring through the profiles on the mobile app – like interests and body type – but these aren't a part of search criterion. This limits the choice pool and posits a serious threat for Skout, in relation to the other players in the game who are increasingly opting for specificity in their matchmaking algorithms and entering the minimalist niche dating service zone, rendering customized and personalized solutions to people who are too busy to do the winnowing themselves.
Whilst that will be a major turn-off for most looking for some serious results, that's the proud differentiating element that Skout flaunts. Boasting of a vibrant community of members who are always around to fuel your live photo stream called Buzz and make for exhilarating chats, this rather-fun app is a place of those casual conversations struck with a stranger on the subway or at a café! As for relationships too, Skout app aims to keep the 'work' bit minimal by allowing you to casually 'connect' with another single from anywhere around your locale. An interesting feature that makes this random-and-not-so-appealing feature of striking up conversations with people who haven't been filtered through a very 'careful' screening mechanism is the addictive shake-to-chat feature. This is a feature wherein shaking your device helps establish a connection with another shaker from the world, who you can chat with, after opting to screen his/her profile. Ingenious – yes! Fun – yes! Effective – not necessarily! Not all such randomly-forged connections may be engaging, and therefore, one may want to heed some caution before throwing all of it to the winds and choosing to mingle with singles, the shake-it way!
---
Suggested read: LoveFlutter is a dating service for 'quirky interesting' people
---
As such, the positives going for Skout app are merely its user-friendly interface and the shake-it dope you can get high on. However, the cons of using the Skout app counter these positives at large. The banner apps flood the screen and Skout charges a $3.99 fee to get rid of them. And while that may not seem much for people who'd really like to befriend some interesting people or pop out as potential matches on the dating scene, the app pushes further on in-app purchases. Almost every worthy feature is locked and needs to be purchased, and that is a major turn-off. The push seems so imposed and deliberate that you do not even want to give Skout app the benefit of doubt regarding most apps hinging on in-app purchases. As for the service, we have already pointed out the major drawback of the ineffective and poor search filtering owing to a rather-dumb lack of detailed and advanced search criterion. But the app has even more to boast on this end of the spectrum. Avatars aren't mandatory, so people can avail laid-back profiles, meaning you'd constantly run into anonymous profiles that have no photos. The app also has very poor location detection, and as such, may pop results that are irrelevant. You do not want to see a match on the other end of the continent, do you?
Given all of this, the only people I'd recommend Skout app to are numbskull teens or skeevy creeps who'd take any avenue for their 'ways!' I mean, who else needs an app whose only redeeming quality is a cool interface for chat and agreed, one novel shake-it feature! There are plenty of apps for 'cool' chatting and can pave the path for some real shakin'it up … if you know what I mean! 😉
Tough luck, Skout! Look all around – the world has progressed. So pull up your socks!
I can only give you a lousy star! That's maybe grace!
Summary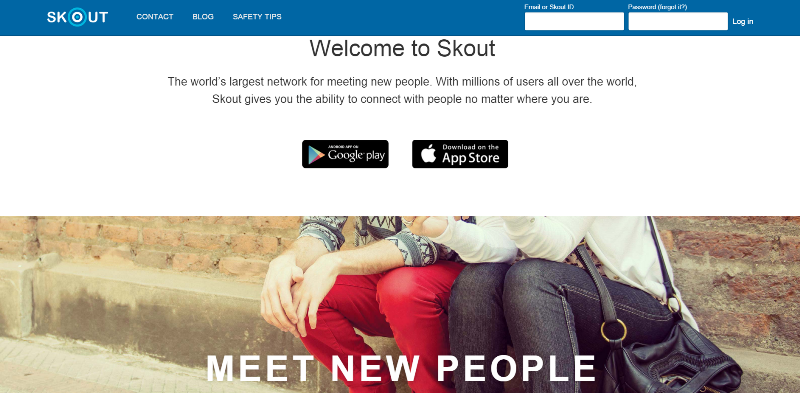 Article Name
Skout App - Would You 'Shake It' To Connect With Singles?
Author
Description
Yet another name in the overcrowded milieu of online dating - is Skout app worthy of standing apart? Or will it just get lost in the crowd? Find out.