'Don't sweat it,' is a popular refrain that many people use often. But do 'sweat it,' says a new dating app, Sweatt. Like, literally! Sweatt is the newest entrant into the super niche dating apps, which cater to a specific set of people; in this case, fitness fanatics.
The New York-based dating app, which launches with its iOS version this week, is the brain child of Dan Ilani, a fitness fanatic himself. Although the dating world is flooded with dating apps, Ilani thought that there was downward trend when it came to quality of the matches. Although most dating apps match users based on shared interests, Ilani feels that there's a lack of shared mindset that existing dating apps are missing. And Ilani opines that fitness is 'a culture,' not merely an interest. That's why he came up with the idea for Sweatt dating app, he said.
Image source: Sweatt
So how does Sweatt work?
While the registration on the app and other basic features are typical of any Tinder-esque dating app currently available, Sweatt emphasizes on a really clean aesthetic. Plus, the app asks its users to fill out questions like their two favorite workout routines – like Yoga, running, dance, CrossFit; their favorite part of the day to workout, and how many times a week they workout. All these data are used to get the user the best possible match.
Ilani is quick to point out that this is not an exact science – "it's not like people who work out three times a week should only meet people who work out three times a week. There will be all sorts of people they will find."
Talking about the pictures section of the dating app, Ilani said, "The big and noticeable difference to the user is a really strong emphasis on a really clean aesthetic. It feels more like Instagram – these big photos of people you've matched with."
Ilani explained that his rationale behind creating Sweatt dating app was because the current crop of dating apps lacked the filtering option to connect people with 'similar outlooks' on life.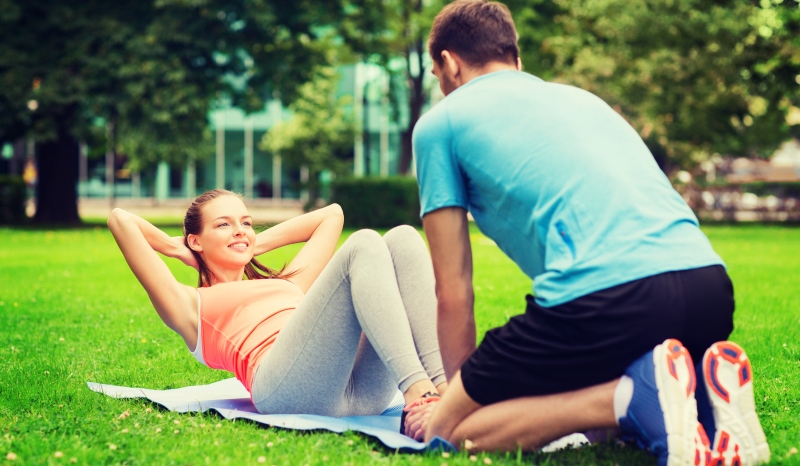 Image source: Shutterstock
He said,
"New dating apps are filling the marketplace, and most of them are variations on Tinder. What I realized was missing from the experience was not just finding people with shared interests, but really people with a shared mindset. That's an interesting filter that is harder to come by."
Ilani, 37, also gives users a few pointers about using Sweatt. He said that in order to increase your chances of scoring a workout date, it's best to take your date somewhere they've never been before. If you both like Yoga, you might try taking them out on a CrossFit date, is what Ilani suggests.
"It's fun to get a glimpse into someone else's community and world. I think somewhere where you can get a really good burn and sweat together, but also somewhere where you can have some interaction with each other," suggested Ilani.
So the idea is to at least get a workout off the date, even if you don't like your match. Win-win? Hard to say.
---
Suggested read: MeetMeOutside dating app hopes to connect fitness enthusiasts
---
Anyway, while Sweatt would really be useful to find fitness buddies to workout with, Ilani clarifies that it is a dating app for fitness fanatics, and not for friendships. At least, not right now; however, he doesn't rule out the possibility that it may evolve over time.
"I really believe that people will create amazing friendships around it, and that will be fantastic, but for right now, it really is a dating app for the fitness community," said Ilani.
Well, Sweatt is hoping to propagate that couples who work out together, stay together, I guess. Only time will tell how it will fare.
Good luck, Sweatt!
Featured image source: Sweatt
Summary
Article Name
Sweatt Dating App Hopes To Help Connect Fitness Fanatics
Author
Description
Sweatt dating app is the latest in a long line of super-specific dating apps, which aims to help you pick up someone while sweating it out.