Dealing with hair fall problems? Then you have come to the right place. Hair fall is by no means unnatural. It is a concern for both men and women, and they try to find any means to help them fight the loss of hair. On an average, a human being loses anywhere between 100 to 150 strands of hair without it being a cause of concern. However, once the number reaches 250, you may be experiencing premature loss of hair.
There may be several causes of falling hair starting with an unhealthy diet to excessive stress and tension. All of these factors prevent the hair follicles from receiving enough nutrients to keep holding onto the hair strands and make their livelier. Additionally, if your scalp is irritated, dry, oily or flaky, it can also create an unfavorable environment for your hair to grow and result in the loss of hair.
Many products in the market claim to regrow your lost hair, but is that possible? Can you restore the hair that you have lost or is it just a myth and ploy to get consumers to spend their money on fruitless items.
Experts say that unless the hair follicle has closed up or are scared, it can be stimulated to promote the growth of new and healthier hair strands. Thus, with the help of the right product, you can restore your hair to its original state.
---
Suggested read: Top 10 Hair Moisturizers To Invest In
---
How do hair products work?
When you are buying a hair care product, it is essential that you look at the ingredients that are in it. Some ingredients are known to have some effect on hair growth, while others do not. Once you have selected which type of product you want to use, that is, if you wish to use a serum/oil or shampoo, you can research more about which ingredients within those products help you in growing your hair.
Ingredients such as minoxidil have shown to have beneficial effects on hair growth. It helps condition your scalp and creates the most effective environment for the growth of new hair. Through research, it has been observed that this product helps make your hair strands thicker which can create an illusion of having more hair on your head. If your hair is thinning rapidly, then this may be an option to consider.
Finasteride is an ingredient which is especially useful for men experiencing pattern baldness or hair loss in general. This ingredient prevents testosterone from converting into DHT and thus prevents your hair from falling a helps maintain the hair that you will have.
For hair shampoos, some common and effective ingredients are ketoconazole and saw palmetto which have been scientifically proven to have a positive impact on hair loss. Other ingredients that you should look for when you are buying shampoo to prevent hair loss are pyrithione zinc and biotin. These have a positive impact on the growth of your hair and hence, may be beneficial additions to your hair care routine.
The ingredients as mentioned above and options are all synthetic. They do not help nourish your scalp in a natural way, and hence, in some cases, they may not be the best long-term solution to you or problem, for this reason, you should look at products with natural ingredients that provide your scalp with the nourishment it needs. Hair oils are a natural option for preventing hair loss, and components such as pumpkin seeds and rosemary are some things that you should look out for. It has been observed that over the course of six months, rosemary oil can have the same effects as monoxide.
Jovees Regrowth and Revitalizing Ready to Use Hair Pack
Image source: Flipkart.com 
This ready to use hair pack is one of the best hair regrowth products, and it promises to curb hair fall while also stimulating the growth of new hair. The hair pack also claims to hydrate your hair for a more lustrous and shiny look. Although when you start using this pack, you will find that it can take a while for you to wash it out completely and that it tends to get a little messy, but it does curb your hair fall as promised. It is easy to use and hydrates your hair to give it a healthy feel. It feels light-weight and does not pinch the wallet. The results usually last for a week.
Khadi Ayurvedic Hair Tonic Henna and Thyme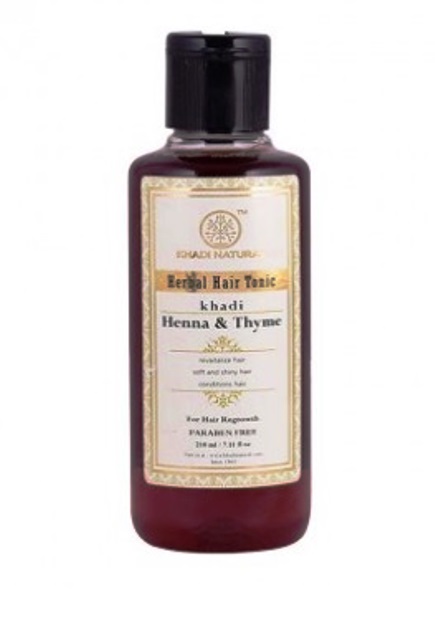 Image source: khadinatural.com
This company is known to have some of the best hair regrowth products. This hair tonic not only helps to curb hair fall, but it also helps soothe your scalp of dandruff and itching issues. This non-sticky hair oil helps you with premature greying as well as enables you to restore damaged and dull hair. The oil has a cooling effect on the scalp and help soothes it. Although it may take some time to show you the results, it is a budget-friendly option to help you restore your hair.
Khadi Tulsi Hair Oil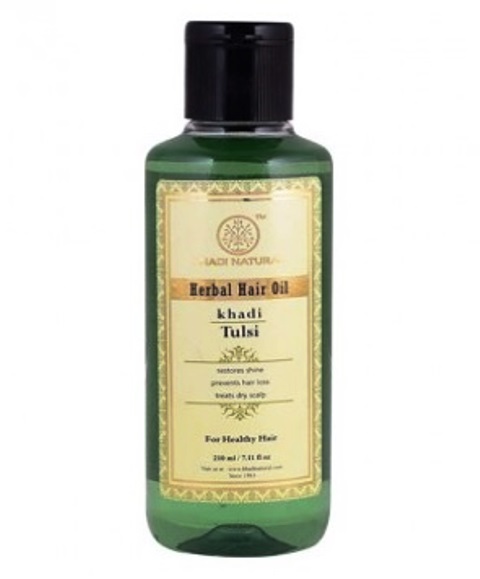 Image source: khadinatural.com
This hair oil supplies your hair with all of the essential nutrients that it needs. Thus, it helps soothe and restore your scalp to prevent hair loss and promote the growth of new hair. It improves blood circulation in the scalp which helps boost hair growth. Once you start using this oil, you will find that your hair is soft, manageable and hydrated. This oil has a strong fragrance which may not be a selling point for all, but it is easily available and a budget-friendly option.
OxyGlow Nature's Care Bhringraj Regrowth and Revitalizing Hair Oil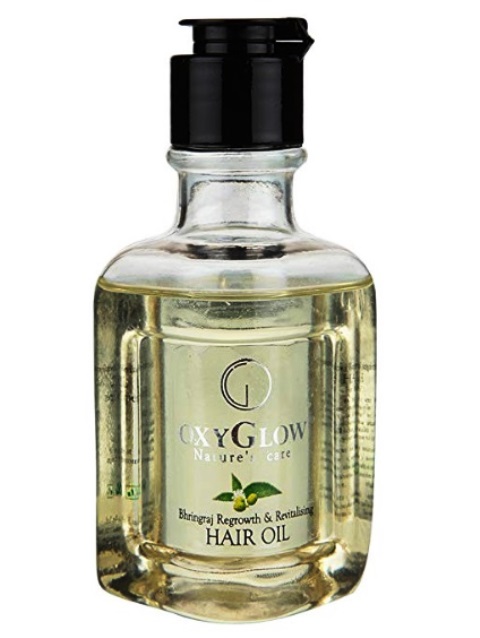 Image source: Amazon.com 
This is a blend of groundnut oil, coconut oil, and bhringraj oil. They help promote the growth of new hair as they nourish your hair follicles and soothe the scalp. It adds a healthy shine to the hair and is much more lightweight than other bhringraj oils. With the regular use of this product, you will find that your hair is healthier, softer and a lot more manageable. Although this product helps in preventing hair loss, it does take a while before you are able to see any results.
---
Suggested read: Hair Trends To Try This Summer!
---
Himalaya Herbals Anti-Hair fall Oil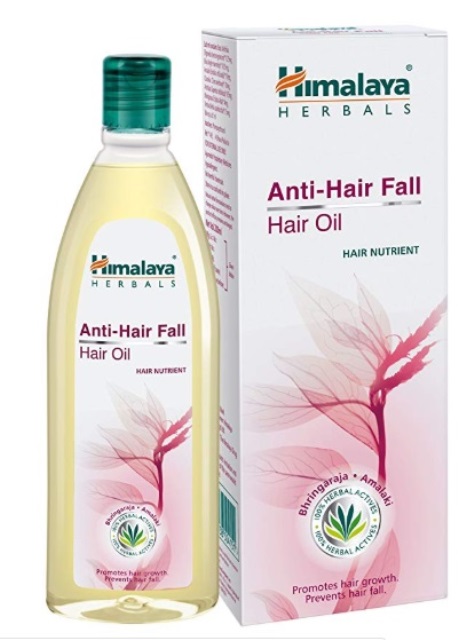 Image source: www.amazon.com
This oil s enriched with the goodness of amla and bhringraj which helps strengthen the root and shaft of your hair. As a result, it helps prevent hair fall as well as hair breakage. This product helps stimulate the growth of new hair and restores volume to the hair. It adds an attractive sheen to the hair and helps your hair feel smoother and softer.
Lotus Herbals' Kera-Veda Grow Herbal Oil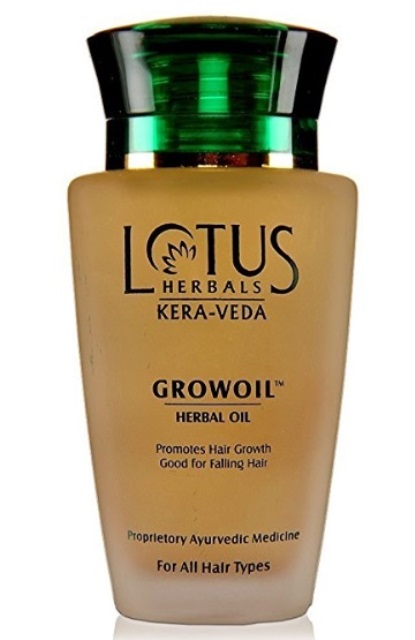 Image source: www.amazon.com
This hair oil tackles several problems at once. It not only helps prevent hair loss but prevents headaches and drowsiness as well. When you use this product regularly, you will be able to see results although it may take a while for them to manifest. This product is made using natural ingredients and pure herbal extracts. It helps restore health and regrow your hair. This is a budget-friendly option that is worth the try.
Biotique's Bio Mountain Ebony Vitalizing Serum for Falling Hair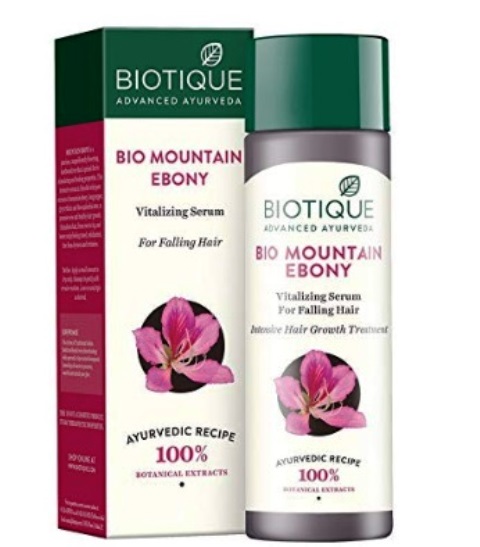 Image source: amazon.com
This product has been designed specially in order to promote the growth of new hair. This product is made using natural ingredients and contains ebony tree extracts which are known to have healing and growth stimulating properties. It helps strengthen your hair from the roots to the tips and dads a healthy sheen to them. The product is free of any preservatives, and hence, not harmful to the hair. Instead, the formulation of the product has therapeutic properties.  However, the product does not curb any, and it can take a while for you to be able to see the results of using the product on a regular basis.
Livon Hair Gain Tonic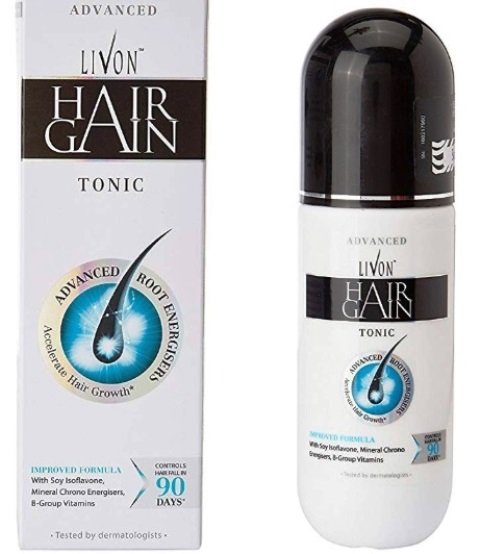 Image source: amazon.com
This lightweight product has been demagogically tested to show you results in 90 days. It is enriched with Active Root Energiser formula that helps it climb the ranks as one of the best hair regrowth products as it strengthens the hair and makes it feel healthier. It shows you quick results and is quite useful in curbing hair fall. The formulation of the product does not weigh the hair down and is quickly absorbed into the hair strands. It is not greasy, although it does have a strong smell it comes in a travel-friendly packaging so that you can take it with you wherever you go.
---
Suggested read: Best Homemade Conditioner For Frizzy Hair You Should Try Now
---
Although some hair fall on a daily basis is natural, once the amount seems a little excessive and causes the volume of your hair to thin out, it may be vexing to all. When you are dealing with hair loss, it can put a damper on your mood. It can be challenging to know which products are beneficial and which ones take a little more time than others to show you effective results. Along with these hair products, it is also advised that people eat food that is rich in biotin to prevent premature hair fall. By treating your hair with care, you will be able to maintain your luscious locks for a long time to come.
Summary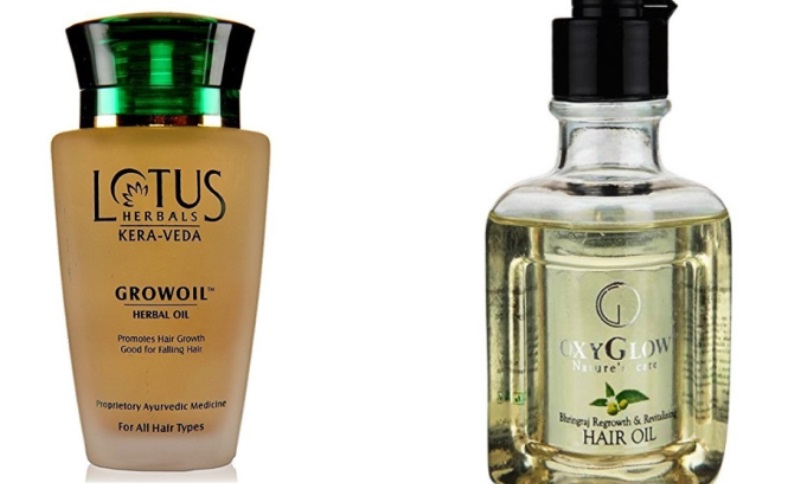 Article Name
The Best Hair Regrowth Products: Try Them Before Giving Up!
Author
Description
Before hair fall discourages you to the point of giving up totally, try the best hair regrowth products we have compiled for you.