As someone with naturally curly hair, I know how difficult it is to manage and maintain the health of those curls that everyone else thinks is so easy to tame. I've heard countless people tell me that they wish they had curls like mine. People with straight hair envy us because they can't seem to style their hair with luscious curls like we apparently can. Everyone loves curls; we love their playful bounce and how fun it is to style curly hair.
---
Suggested read: Bad Beauty Habits You Should Steer Clear Off
---
But with curly hair comes its evil cousins. Frizz. Tangled hair. Dull hair. And many others. As effortless as they might look, the real truth is that our curls are only as good as the products we use on them. But what works for one person may not necessarily work for someone else. Of course, there are certain basics that everyone ought to follow, like- deep conditioning, wrapping hair in a cotton t-shirt instead of a dry towel, etc. Haircare is a tricky affair and unless you first figure out the problems your hair faces, finding the right product will be nothing short of a nightmare. The market is full of a plethora of products promising you the perfect, tangle free, non- frizzy curls, but how many are actually able to fulfill them is an entirely different matter altogether.
Finding the best hair products for curly hair is not an easy task, and that's exactly what we're here for. So, without wasting any more time, we present to you the NLT approved list of of the best hair products for curly hair. The following products are guaranteed to tame those curls and make them healthier!
Ouai Curl Jelly
Image source: theouai.com
This hair gel-oil hybrid that was the winner of Glamour's 2018 beauty awards is a savior sent from heaven to fix your precious curls. We all know that frizz is the greatest enemy of curly hair and this jelly helps to completely destroy this nemesis of yours! Packed with silk proteins, absinthium and moringa oil blend, it makes your curls look full, soft and moisturized.
Vogue magazine described the Curl Jelly as "the new styling product every curly haired girl needs this summer." If you're looking for an effortless and bouncy curled hairstyle that is sported by the likes of Bella Hadid, then this is the right product for you!
Ouidad Mongongo Oil Multi-Use Curl Treatment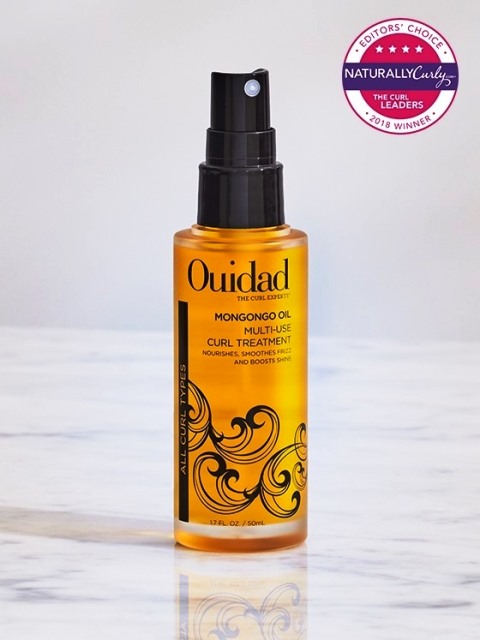 Image source: www.ouidad.com
In its native country, Zambia, the oil from Mongogo Nuts is called "hair food" because of its because it is packed with nutrition and nourishment for your hair. Containing a high amount of Vitamin E and Linolec acid, this product is a savior for your curls, no matter what kind they may be. It is also blended with several other wonderful ingredients, such as coconut, American palm seed oil and broccoli seed oil. This oil seals split ends, locks in moisture, prevents damage from UV rays and adds a shining lustre to dull hair. What more could we possibly want?
Sephora Collection Hair Sleeping Mask
Image source: m.sephora.com
With the sheet mask regime taking over skincare markets across the world (thanks to Korean skincare), it is no surprise that this trend has seeped into the domain of haircare too. Sephora launched a series of hair sleeping masks last year and we cannot seem to get enough of them. It comes in four different main ingredients, each tackling a specific issue. The rose one is perfect for anti- frizz treatment and is packed with moisturizing agents that will work their magic on your curly hair overnight. It deep conditions hair and restores moisture, leaving your hair soft and luscious in the morning after. The Shea mask is also a great product and helps tackle breakage and smooths split ends. At $5 apiece, these sleeping masks are perfect companions for a lazy day at home when all you want to do is take naps.
Curlsmith Curl Defining Styling Souffle
Image source: curlsmith.com
Hair souffles usually tend to leave a sticky and crunchy after effect but not this one! This curl defining souffle is packed with nourishing ingredients like Irish Moss, Babassu oil, flax seed infusion, wild rosemary and sage, and organic avocado. The babassu oil adds moisture to hair, while the flax seed infusion makes curls look defined and full. This super creamy souffle is perfect for wash-and-go hairstyles, braids and twist outs. The best part? It's completely free of paraben and sulfates!
Vernon Francois Pure- Fro Hold and Shine Serum
Image source: m.sephora.com
Possibly the best hair serum for those with curly hair, this product is made with a combination of six natural oils. Together, they work to make hair grow stronger and healthier. This serum is perfect for finishing off all kinds of kinky and coily hairstyles. Unlike most other serums this is 100% non greasy The velvet smooth feel gives an added sheen to hair, and also moisturizes it in the process. It is made with Daikon seed extract (naturally derived from radish) that makes hair feel delicate and soft. The apricot kernel oil and baobab oil are both packed with essential vitamins and fatty acids that help to lock in moisture. Also included are Tamanu oil, linseed oil and rosemary leaf extracts. What's more is that this serum is free of parabens, sulphates and pthalates; and is also completely vegan and cruelty free. It honestly doesn't get any better than this!
---
Suggested read: The A-Z Guide On Hair Care For Healthy, Strong, And Manageable Tresses
---
OGX Argan Oil of Morocco Defining Cream
Image source: www.ogxbeauty.com
This luxurious cream is perfect for adding a defined look for those unruly curls. It helps in sculpting and refining your curls and the non-greasy gel- like texture adds a smooth touch to hair that remains otherwise frizzy. This product is perfect for taming those flyaway curls and even adds a bounce to curly hair. Add this product to your hair care routine for silky, smooth and perfectly shaped curls.
Shea Moisture Coconut &amp
Image source: shop.naturallycurly.com
Hibiscus Curl Enhancing Smoothie: Enriched with silk proteins and neem oil, this product is godsent for those with curly hair. This hair smoothie fights off those unwanted frizz, adds moisture to dull hair and adds a brilliant shine to your locks. It also contains coconut oil that keeps hair hydrated and also prevents breakage issues. The nutrient rich vegetable butters help in conditioning hair, and makes curls bouncy and healthy. This product is also free of any toxic chemicals, cruelty free, color safe, gluten free and completely organic.
Adwoa Beauty Baomint Oil Blend
Image source: www.adwoabeauty.com
This is a 100% naturally made hair superfood and scalp oil that works wonders for tangled hair. It contains an eclectic mix of essential oils, like baobab, spearmint, wintermill and pomegranate. This oil blend also contains sweet almond oil that treats hair loss and damaged hair, rosemary helps to speed up hair growth, and lemongrass makes hair follicles stronger. It is great for revitalizing dull and dry hair; it protects from environmental damage and pollution. It penetrates from the inside out, and is perfect for added conditioning or finishing off hairstyles.
Klorane Ultra Nourishing Shampoo Cream with Abyssinia Oil
Image source: m.sephora.com
Abyssinia oil is scientifically proven to have nourishing and lipid replenishing properties which is perfect for coarse, coily, frizzy, and chemically relaxed hair. This conditioning cleanser with restorative properties repairs damaged and brittle hair. It protects hair from dehydration, external aggressors and makes hair softened for easier detangling and styling. This product contains 15% plant oils, is rich in moisture and is completely paraben free. It is also cruelty free and 100% vegan.
Briogeo Scalp Revival Charcoal + Tea Tree Treatment
Image source: briogeohair.com
This scalp treatment detoxifies scalp and removes buildups. The healing and antiseptic properties of tea tree oil help to soothe scalp irritation, itchiness, dryness, flakiness and inflammation of the scalp. It keeps scalp hydrated and ensures optimum scalp health. The Binchotan charcoal draws out impurities. This is blended with spearmint and peppermint oils that provide a cooling effect on the scalp. It also contains the super- vitamin Biotin that nourishes hair follicles with essential nutrients for healthy growth of hair. In case you're still not convinced, this scalp treatment is also the recipient of the Best of Beauty award from Allure in 2017.
---
Suggested read: Ancient Hair Care Secrets Unveiled!
---
So, there you have it! A full list of the best hair products for curly hair! We have covered everything from scalp treatments, cleansers, souffles and even a jelly! We are sure these products will bring new life into that luscious mane of yours, but one that you can easily control. They're all super easy to apply, easily available and won't burn that big a hole in your pockets if you consider them as long term investments for the health of your hair. Now you can style your curls anyway you want them without worrying about the consequences!
Summary
Article Name
Here Is The NLT Approved List Of The Best Hair Products For Curly Hair
Author
Description
We present to you the NLT approved list of of the best hair products for curly hair. These products are guaranteed to tame those curls and make them healthier!