Summer hair colors that trend have usually been on the warmer side of the tone scale. But this year, fashionistas are defying the rules. The cold tones, usually sought in autumn and winter, are being picked as summer hair colors 2018. Surprising, eh? Well, the times they are a-changing!
---
Suggested read: 8 Rainbow Hair Color Trends An Expert Colorist Expects You To Know!
---
Now that clear sky shines bright on us, it is time we choose our favorite hair colors for the season.
The Best Summer Hair Colors 2018 
Bright but not blinding
This season is going to be all about jewel colors, dark pinks, heavy reds and plums. If you haven't seen Kim K's dark blue hair yet, then we think you should, immediately, because that color like K herself will be reigning the fashion scene this summer.
If blue is too bold for your taste, then rose golds might come to your rescue. Not sure about that too? Then light mauve tones are your best bet.
Chestnut with a hint of cinnamon
This is one hair trend that never gets old. My Granma sported this hair color in her 20s, my mom did it too, and it goes without saying that I am planning to give it a try this season. I guess a few things are so good that they should not be messed with.
The chestnut with a tinge of cinnamon is really warm, and has an added benefit that most hair colors don't: it works for almost all skin tones. The versatility of the hair trend is what makes everyone try it at least once in their lives.
To up the oomph factor of the hair color you can use it as an ombré accent on a dark base.
---
Suggested read: Top 12 2018 Hair Color Trends That You Cannot Miss Out On
---
Honey
Both blondes and brunettes are loving this shade. The best thing about the honey hair color is that you cannot really go wrong with it. However, it is a pretty regular shade, and you cannot really hope to make a splash with it. But who said that you cannot up the ante a little, right? To make it more dynamic and hot, try a darker shade of honey. The warmer tone of this hair color works great for blondes, while the brunettes can use the shade to accentuate their base color or natural hair color.
The strawberry shortcake
Again, this shade works on blondes as well as redheads. In case you want something warmer for your natural blonde, then try the earthy and warm streaks of auburn. Buttery highlights can change your look and increase your style game by several notches if you are a redhead. Also, the highlights will create an illusion of volume, which is never a bad thing.
Copper tones
I love copper, whether bright, deep or crazy red, give them all to me! The option is both bold and gorgeous, and suits most people. Also, the shade is anything but boring. If you work the contrast well (stick to a professional hair stylist in this case), then this is a head turner of a color. It works wonders for those whose skin tone leans to the warmer side.
If going bolder isn't a problem for you, then why not take the plunge and dive directly into orange!?
Blonde like never before
The full-bodied pale blonde has had quite a response this summer. Though the trend is not looking like it will leave any time soon, expert hair stylists predict the darker blondes to take over the popularity chart by the end of July.
Platinum blonde
Ombré is slowly turning stale, according to stylists from all over the world who follow hair trends like people follow the share market! Folks on the street are preferring solid shades to accents, and one color that they are loving the most is platinum. So if you have not tried the icy blonde yet, then do it before it is too late.
Golden copper
Remember the sun-in shade that rocked our teens?! Well, the golden copper is a cousin that went abroad and now has a fake accent that people cannot stop talking about. To achieve the color, go for a solid base and then add a hint of a mauve tinge to make it more accentuated. Our favorite celebrity in golden copper? Emma Stone, obviously!
Brunette kissed by the sun
Emmy Rossum tells Elle,
"To achieve this, I usually start with a solid color but then add some very subtle variations of highlights. Get it on with a color gloss or add some high streaks around your ponytail, like the hairline and nape, to feel the vibes of summer."
Did you like this post on summer hair colors 2018? Would you recommend it to your friends? Let us know in the comment section!
You can get beauty tips, tricks and tutorials on our Facebook page. We hope you will like us there too!
You can also sign up for our daily newsletter to receive these posts in your mailbox.
Featured image source: Instagram
Summary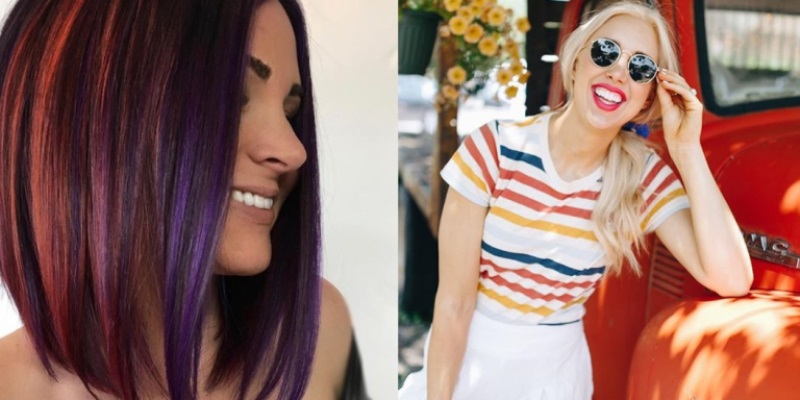 Article Name
You Cannot Go Wrong With This Guide On Summer Hair Colors 2018
Author
Description
The guide to the summer hair colors 2018 is here. Have you checked it out yet?