American humorist Josh Billings famously said, 'A dog is the only thing on earth that loves you more than he loves himself.' He could not have been more apt when he said that. And this is vouched for by all the dog owners I have come across over the years. From calling them 'my baby,' to knitting them sweaters and hats and paw socks/boots, to carrying them around like an actual baby, pooches are their constant companions, just as books are mine 😛
When these adorable creatures form such a big part of your life, it's only natural to expect your life partner to love them as much as you do, if not more. Right? But where to find such fellow pooch-loving humans, who also like the owner as much as they do the dog?! You could go to a dog park, but what are the chances of finding a dog owner you're attracted to? The odds are not that great, my friend. So what to do?
Enter Tindog, the new app that aims to help pet owners find and connect with other pet owners, for both friendship and/or dating.
Similar to Tinder, which is the inspiration for Tindog, it is a location-based app which coughs up nearby matches into your feed for your approval. Also similar to Tinder, you need to swipe right to approve someone and left to decline. However, instead of your picture dominating your profile, it's your pooch that takes the cake, with a small inset of your mug. With the pooches' adorable, playing-with-tissue-roll pictures dominating the profile, there's a possibility that more right swipes happen than left! If both of you swipe right, then it's a match, leading to conversations, and eventual in-person meet ups and doggie playdates.
---
Suggested read: Breakup app Binder helps you dump your partner!
---
With the tagline, 'the first application that both dogs and dog owners love equally,' Tindog asks you to build a profile for you and your pooch. Along with the pooch's picture, you also need to enter its vital stats like age and personality traits. Then, your dog can also describe what you're hoping to get out of the Tindog app – friendship or something more – in its 'own' words: "My owner needs a man who's down to watch marathon episodes of Friends while giving me belly rubs," for example.
Available in both Android and iOS versions, Tindog was created by London-based Holidog, a company that arranges for petsitting and pet visits across the UK, Australia, New Zealand, US, France, and some other countries as well.
Once you sign up for Tindog, you have to choose a set of criteria on who you want to meet along with the pictures of your pooch and a small one of you as well. But in truth, you're creating a profile for your dog.
Tindog has a few nifty features which allow you to see if you have any friends in common, post and share pictures, and even find local dog groups.
Speaking about what Tindog is all about, founder and CEO of Holidog, Julien Muller, said,
"Dogs bring so much joy and love, that they really have the power to connect us. That's why we wanted to make it easy for dog lovers to meet new people around them who feel the same way."
Further, he went on to explain:
"Whether it's building new friendships or even making a love connection, Tindog is a great way to expand your social circle with others who love man's best friend just as much as you do."
Meanwhile, this is what Dave McClure, CEO of 500 Startups, which is the parent company to the Tindog app, said in a press release:
"Most dating apps focus solely on appearances, which often leads nowhere. Matching with someone who already shares your love for dogs only increases the chance for a real connection – plus everyone knows that dogs make the best wingmen."
---
Suggested read: Lulu dating app lets women to secretly rate men they've dated
---
Of course, if you do go on and sign up for Tindog, you may end up liking the pooch more than its owner. But what are you to do – the heart wants what the heart wants, right?
Good luck trying your luck on Tindog! Tell us your doggie playdate stories in the comments below!
Summary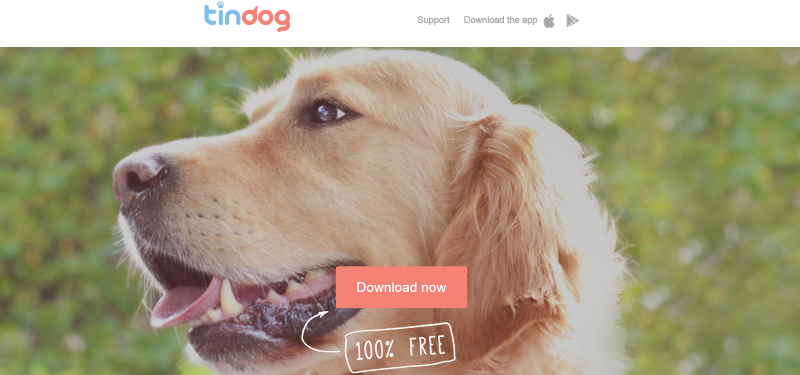 Article Name
Dating App Tindog Is Tinder For Dog Lovers
Author
Description
New dating app Tindog is the Tinder for dog lovers. If you're looking for a suitable person who'd not only love you, but your pooch too, try Tindog!