"I don't believe in astrology; I'm a Sagittarius and we're skeptical." – Arthur C Clarke
Have you been swiping right on Tinder and finding no success on the dating front? Have you been 'Happn'ing all over the city, yet, you have no tangible results to show for it? Is FuzzyBanter making your brain fuzzy? Have you been contemplating going to see a psychic if everything is alright … up there … in the planetary alignment?
If you believe that astrology has a say in how your life is going, then this newly launched Los Angeles-based iPhone dating app, Align, is just the thing for you. You should thank your lucky stars because someone (or actually two someones) thought up this app and made it a reality!
Align dating app is the brainchild of two best friends, Helen Grossman and Aliza Faragher. The two women explain how, while 'commiserating over shared disappointments in the LA dating scene' and quite a bit of research later, found that 'everyone was asking versions of the question "What's Your Sign?" to understand romantic compatibility.' Enter Align dating app.
"One of the experiences that compelled us to create Align was continually feeling like we needed a translator every time we looked up astrological compatibility," Helen Grossman told iDigitalTimes. "The language of astrology hasn't been updated in decades, and in creating Align, we wanted to bring astrology into the twenty first century. We aggregated the information that is available both online and in seminal astrology texts and modernized it to reflect millennial attitudes."
Here's how it works.
After you download the app from the iTunes App Store, you sign up using your Facebook account. The app pulls your most recent profile picture to make it your Align profile picture. Then, you enter your birthdate and zip code. Since the app was released only in LA, it might not take in any other zip codes.
---
Suggested read: Carrot dating app lets you bribe your way through dates
---
Based on the birthdate you enter, Align dating app figures out your sign and then prompts you to choose about six related adjectives and emojis that suit your personality traits. All 12 signs have different adjectives and emojis based on the inherent personality traits of that sign. These signs that you choose will be displayed on your Align profile too, so choose wisely. You can also select who you want to date – men or women or both, and then adjust the age range to suit your preference. Once you're done with this, you're set.
Align dating app will send you five unique matches every day, based on your astrological compatibility. These matches are presented to you on a pretty image of a galaxy, with your picture in the middle, acting as the sun, and your matches displayed as planets in tiny profile pictures around you. The size and proximity of a match varies based on your compatibility with them. That is, your match is closer to you if the compatibility is higher, farther away if the compatibility is lower.
Based on your personalities, Align app also sends you a 'love meter,' along with a compatibility report to help you in your choice. If you and your suggested match agree with the compatibility reports, then you both get notifications about the same. Then, you and your match can start chatting via the app's in-app private messaging system.
One other cool feature of the new astrology-based dating app is the color of a user's profile. Profiles can be of four colors – red which represent fire, blue which represents water, green representing earth, and yellow, which represents air.
Aries, Leo, Sagittarius – have red profiles – Fire signs
Cancer, Scorpio, Pisces – have blue profiles – Water signs
Taurus, Virgo, Capricorn – have green profiles – Earth signs
Gemini, Libra, Aquarius – have yellow profiles – Air signs
Talking about the effort gone into the research behind the app, Grossman said,
"We did the dirty work of doing all the research and rewriting it in a voice that's relatable and fun for users of Align. We distilled information about each sign into lists of traits and emojis for users to select as their bios. We also wrote compatibility descriptions for every possible sign pairing, which are shot paragraphs describing how the two signs relate and would get along in a relationship."
We hope planetary alignment helps out the new dating app, Align, in its journey to success. Good luck, you both!
Summary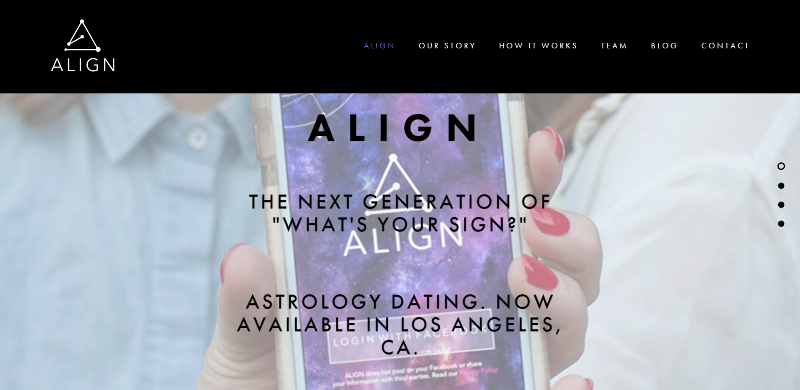 Article Name
Align Dating App Finds Matches Based On Your Astrological Sign
Author
Description
Align dating app is a new astrology-based app, the brainchild of two best friends, based in Los Angeles. Check out how the new dating app works.