Hermione Granger
Sherlock Holmes
7. LIBRA (September 23rd – October 22nd)
Libras are thoughtful, careful and compassionate creatures. They are cautious, and don't like to be in the spotlight too much by being flamboyant. However, what they do excel at is making a statement without trying too hard. Planning for the right Halloween costume for a Libra can be quite difficult. You can go for something magical or channel your headstrong and powerful nature by dressing up as someone important from history. Here are some ideas we like.
Beyoncé
The Powerpuff Girls
8. SCORPIO (October 23rd – November 21st)
Bold, driven and passionate. These are the words anyone would use to describe a true-blue Scorpio, and there is nothing that could get in their way to stop them from getting what they want. They can get hella creative with their costumes. Or keep it understated, but are going to become the center of attention wherever they go. They will play their characters with so much uncanny resemblance that it is safe to say that no other zodiac sign takes their Halloween costume more seriously than Scorpios. Here are some costumes which would totally be perfect for them.
Pocahontas
Corpse Bride
9. SAGITTARIUS (November 22nd – December 21st)
Sagittarius people are power houses of creativity and positivity. They affect everyone who speaks to them, and their optimism and energy is infectious. Despite their happy nature, they are restless and are constantly on the go, making it difficult to hold their attention for too long. However, the combination of creativity, energy and optimism can come together to create some of the most brilliant Halloween costumes because tbh, there is no better way to channel your energy. Here is what we would love to see on a Sagittarius.
Daenerys from Game of Thrones
Pennywise from It
10. CAPRICORN (December 22nd – January 19th)
Capricorns are some of the most ambitious and driven people out there. They focus all their concentration and energy on the task on hand, and are more about living in the moment, rather than looking ahead to the future. They have excellent work ethics and their perseverance makes them dependable friends and professionals. As for your Halloween costume, you could channel your natural element, which is earth, and dress up as creatures from nature. Here are some things we suggest:
Catwoman
Zombie
11. AQUARIUS (January 20th – February 18th)
When it comes to creativity, no one surpasses the nature of Aquarius. They are as fluid and in motion as their element- which is water, and have creative, dynamic minds. They are usually visionaries and are more inclined towards the arts, than logic and practical theories. If you are born under the Aquarius sign, then channel your inner artist, and dress up as some of the greatest artists and visionaries that history has produced. Even though most of them are rather un-costume worthy, there have been a fair share of eccentric people you can become for Halloween.
Frida Kahlo
Princess Elsa from Frozen
---
Suggested read: 20 Of The Creepiest Halloween Makeup Ideas That Will Scare The Bejesus Out Of You
---
12. PISCES (February 19th – March 20th) 
Pisces people are the romantic and daydreaming type. They love stories and fantasies, which makes Halloween their favorite holiday ever. They are also very self-aware, and know what suits them and what doesn't. Even though choosing a Halloween costume isn't very difficult for a Pisces person, they still might have some confusion trying to pick the one which looks absolutely perfect on them. Piscean people makes friends really easily because of their candid nature, and like to channel their creativity to ensure that everyone has a positive impression of them. Here are costume ideas for you, if you were born under the Pisces sign.
Marilyn Monroe
Velma Dinkley
Your zodiac sign can tell more about you and your personality than you might think, and when you are choosing your Halloween costume, people often don't think about their personalities. They are constantly thinking about what would suit them and what wouldn't, except, the fact of the matter is that if you know what kind of costume would suit your personality, it would automatically look good on you.
The eternal dilemma of what to be for Halloween can be solved once and for all when you look to the stars, and once you get the hang of choosing your costume according to astrology, you can be sure to win a couple of those coveted costume competitions this season!
Featured image source: Instagram

Summary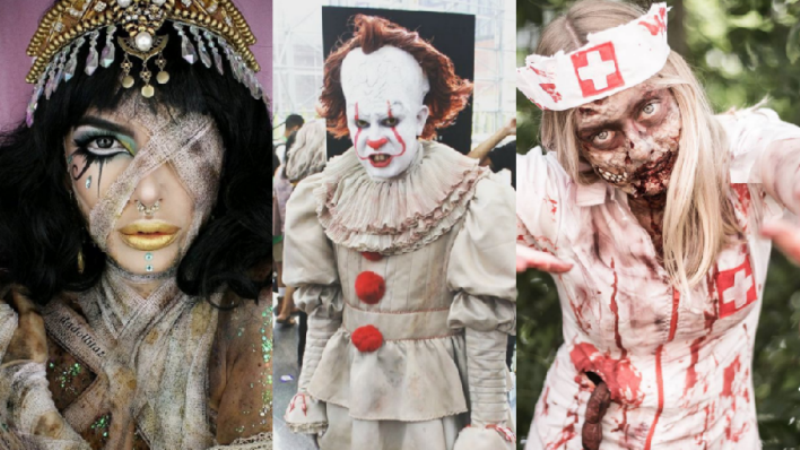 Article Name
What To Be For Halloween According To Your Zodiac Sign
Author
Description
If you are confused about what to be for Halloween, worry no more! Look to the stars and let your zodiac signs decide.