There's nothing cooler than having fashion freaks with their creative crazy on – you can even turn your typically traditional Indian wear into outfits that are flawlessly and immaculately western in spirit. So, what I've got for you is an amazing list of the most stylish ideas to give the clothes hanging in the 'Indian' section of your closet a free pass to the 'Western' one. And all it's going to take is a little effort, a lot of heart, and the open wardrobe door on your part. Just get your 'I want to look the best' mode on and enjoy this stylish journey from Indian wear to western zone!
1. Cut – Crop – Stitch and your lehenga choli is now a matchless party dress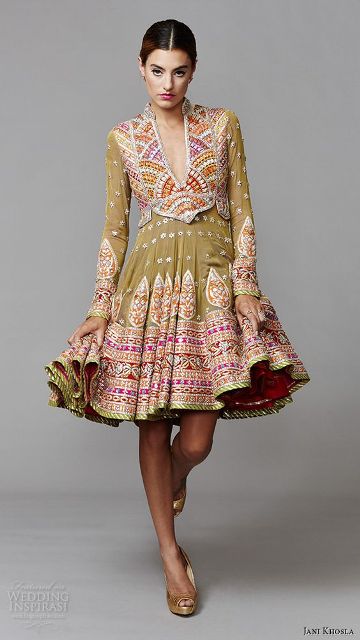 Image source: Pinterest
It is exciting, engaging, and (how can we forget) super effective in the results. Just bring out the lehenga you couldn't figure out how to wear and now you'll know how!
2. Wear your best suit (and wear JUST the suit!)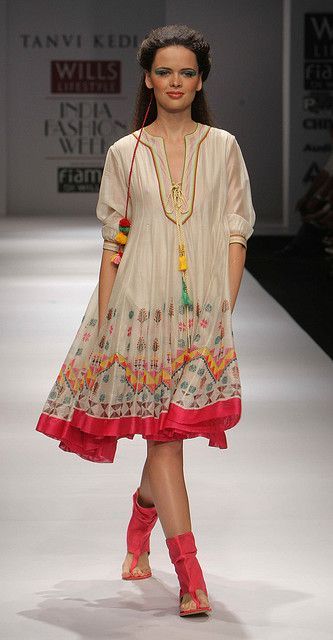 Image source: Pinterest
An idea that never gets old – all it takes is forgetting your pants and flaunting your cool suit with a trendy confidence and a superb hairstyle, of course (the length of your legs does the magic!)
3. Pull your ethnic skirt up, cinch it  over the waist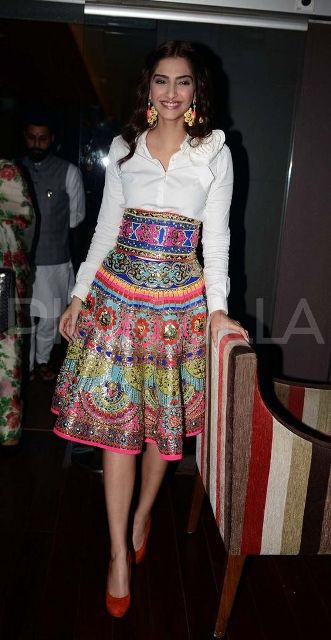 Image source: Pinterest
A placement trick – but what a wonderful one. Wearing your regular Indian skirt high-waist with a choice like a classic white button down gives you a complete western look.
4. Drape your saree dhoti-style and ditch the blouse for a  jacket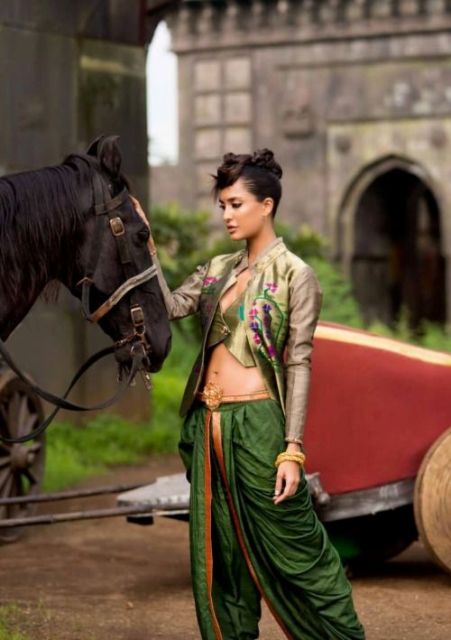 Image source: Pinterest
Sure to blow people's minds off, this crazy look is a must-try for you. A traditional drape, a cool hairdo, an even cooler jacket and your killer attitude render the recipe complete.
5. Wrap your dupatta as a skirt down a crop down (the new Indian!) 
Image source: Pinterest
As easy as it gets, this look is both modern and comfortable in its feel. Coming with a promise, never to fail in stealing the hearts for you, this college-girly bold look is perfect for your young personality.
---
Suggested read: 10 plus sized fashion tips you MUST be aware of
---
6. Cut and stitch your suit into a beach perfect short top and skirt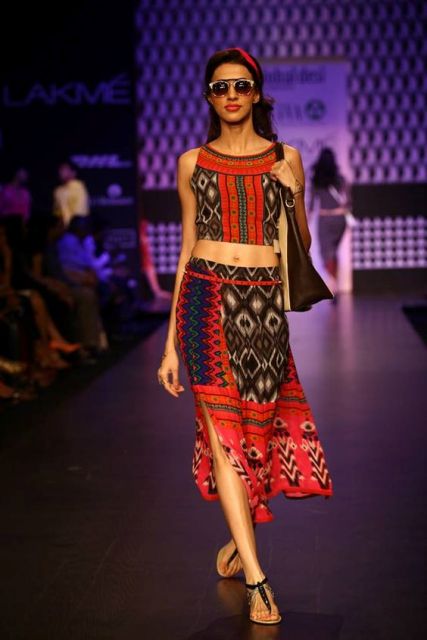 Image source: Pinterest
With the unbeatable slits on the side, this idea couldn't be more appropriate. It is easy to wear, stylish in look, and its breezy feel is sure to add confidence to your personality.
7. Lose the churidar and perfect your suit with a dupatta draped artistically #CocktailPerfect 

Image source: Pinterest
Sophisticated, elite, and as graceful as it gets, this is a look that nobody would be able to find that it was ever converted from an Indian wear – #Masterpiece
8. Make a gown – just some stitching will do the trick!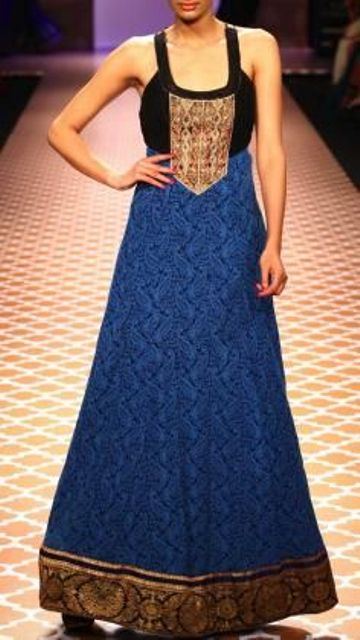 Image source: Pinterest
Yes, it's that easy and its delightful impact will give you a happy surprise. Indian in feel and western in look, you can flaunt this new look anywhere.
9. Flaunt your traditional jacket not on a ghagra but your shorts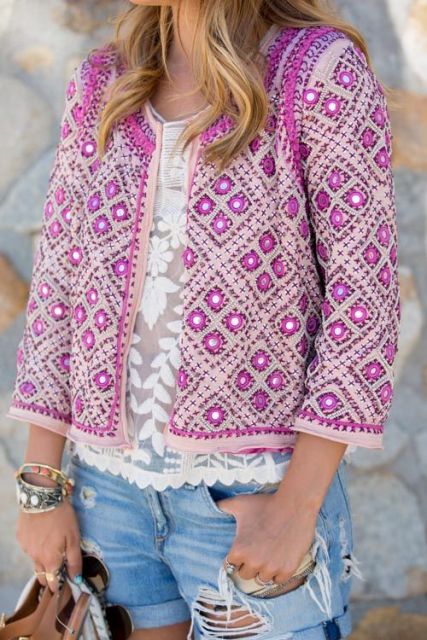 Image source: Pinterest
And it's going to make all the difference! No fuss, only perfect fusion!
10. Pair your long royal suit with a worn off timeless denim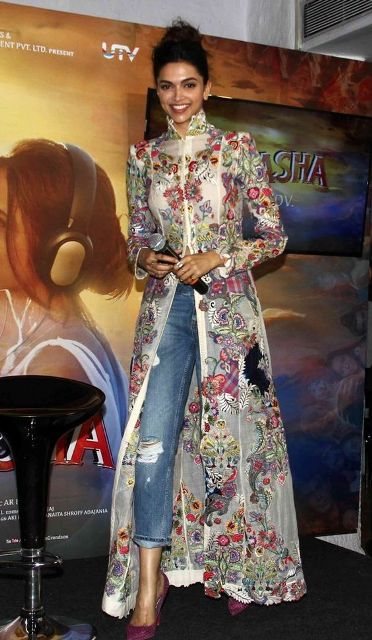 Image source: Pinterest
Yes, jeans work the western better than anything! With the huge popularity that the look enjoys, I'm pretty sure that you've tried this one already, so try flaunting it with a button down – front open ankle-length suit.
With ideas as effective and easy as these, giving your Indian wear a western makeover should become a piece of cake. Nail the look, look your most fabulous self, and don't you forget to share the ideas that pop-up in your mind as well.
Have a happy dress-up time, cheers!
Featured image source: Youtube
Summary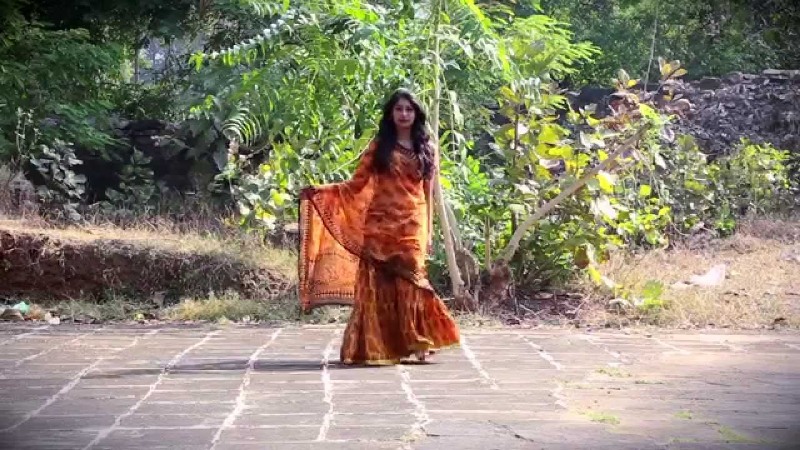 Article Name
10 Stylish Ways To Give Your Indian Wear A Western Makeover
Author
Description
Time to give your Indian wear a western makeover- enjoy fusion clothing!