Fashion is subject to taste and perception. However, just because we are all allowed to have a say, does not mean that we can pronounce something to be a bane just because it does not align with our set perceptions about fashion. The case of the plus size fashion dilemma begins here. Plus sized women have had a problem over the years to dress perfectly according to their body types. At least in India, there is a tendency to frame one mold for all cakes! However, this decade has seen more sensitivity and more acceptance of changing fashion perceptions. Thus, this has given way to plus size fashion to actually take center stage and make the most of its high noon.
In case you are looking for plus size fashion tips to plus size style tips, you have landed in the right place. These tips for those looking for a wardrobe revamp can help you pick the best while never wasting the bucks on things you would not wear!
---
Suggested read: 10 Goth looks perfect for the sultry Indian weather
---
It is spring as long as you want it to be. Clean up your existing wardrobe first. You have to understand that cleaning up your wardrobe is not as easy as it seems. You need to know if your wardrobe is actually cluttered with clothes and outfits that will not suit your body type or if it has too much stuff that is one-track. Look out for baggy clothes, extra loose cuts, and silhouettes that have excess flare. The most common perception to kill here is that plus sized ladies will never have to hide anything. Be proud of your body to make the most of fashion first.
Here are all the tips you need:
1. Invest in fitted kurtas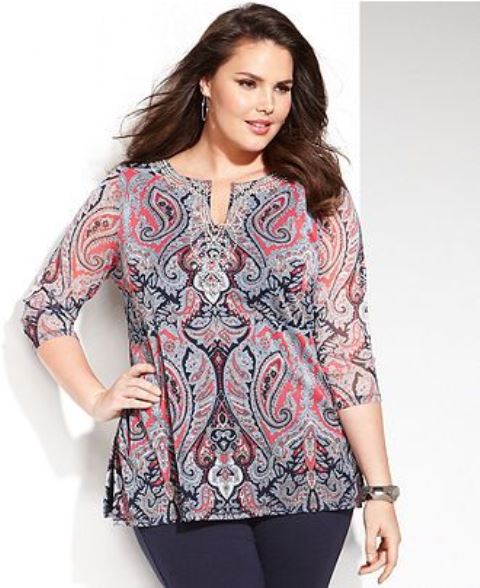 Image source: Pinterest
Some plus sized women tend to think that a kurta is almost like a cover-up. That it need not have any shape, and must actually be loose enough to hide the body contours. This is one thought that needs to be trashed right now. You must always invest in kurtas that come with fewer prints. More prints make you look ballooned out. It adds to your size. Go for monochromes and make sure you have a little jazz around the sleeves, the neckline or even the hemline. A kurta has to sit well on your B-line. The more loose a cut you pick, the worse it is going to be for you!
2. Lace as a fringe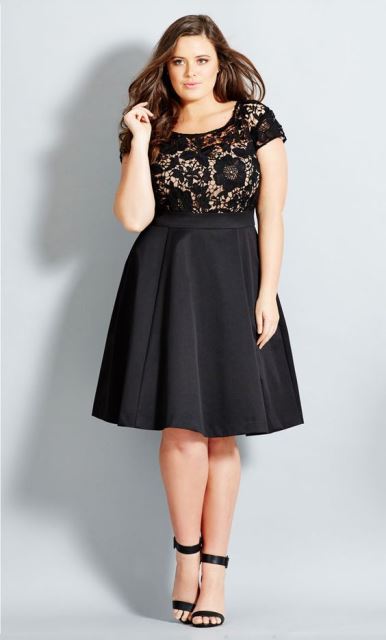 Image source: Pinterest
Lace is something most plus size fashion tips or books barely talk about. The key here is to understand that lace when used carefully can accentuate your best features. For plus sized women, lace has to be used as a fringe, on the shoulders, the sleeves and the like. Going for a full lace dress might not be attractive. However, you can go ahead and try incorporating lace in the best ways possible on your dress. The one thing you need to consider during your wardrobe revamp is that you have to get more daring than ever before.
3. Avoid flimsy stuff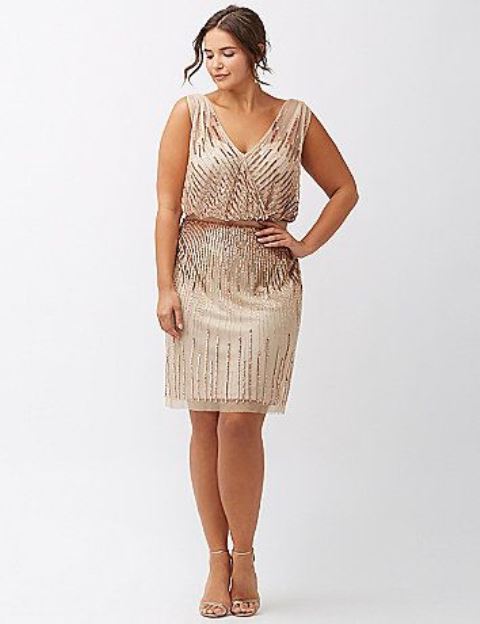 Image source: Pinterest
Be careful of what you wear when you are plus sized. Avoid body clinging fabrics. Lycra is cool for bottom wear but never when on the top. Also, make sure you opt for breathable fabrics. Avoid going for clingy viscose. These fabrics make you appear bulkier than you actually are.
4. Go for midi length outfits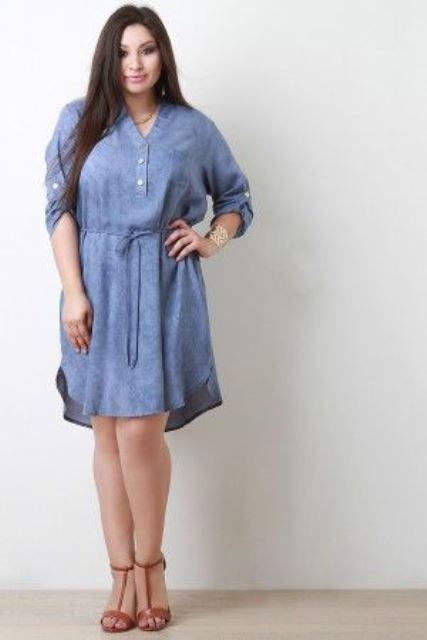 Image source: Pinterest
While a mini length dress might not be the best bet if you are conscious of your thighs, a midi length dress works wonders. Highlight your best body features. Opt for deeper backs. You can also go for intricately detailed dresses with a side zip.
5. Color block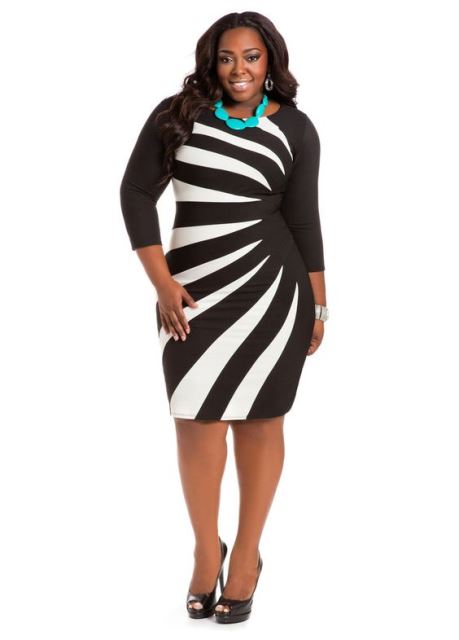 Image source: Pinterest
Color blocking is something you can use to advantage. Forget the typical black-to-make-you-look-slim formula. The idea in fashion for 2016 is that plus sizes need not hide behind black but to try interesting shades –from shockers like red to mellow aqua – and block them with black or grey. These hacks actually help you find a great dress for your revamped plus sized wardrobe.
6. Bodycon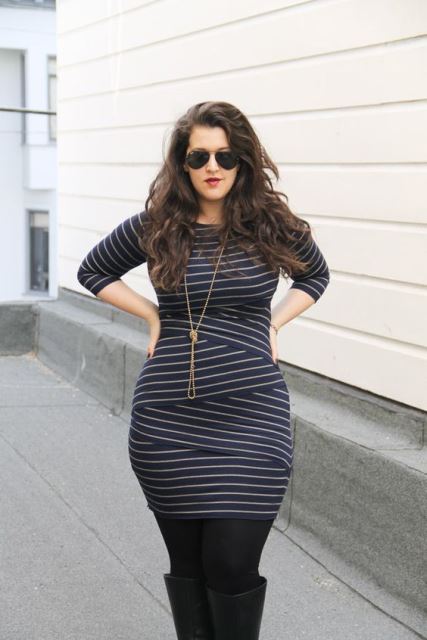 Image source: Pinterest
This is one trend you have to make the most of. Bandage dresses might not look good on you but get to highlight your curves by opting for bodycon dresses. Accessorize cleverly as well. Nothing too chunky works for plus sizes. You can flaunt one statement piece or completely go the classic ring and bracelet route.
7. Avoid excess layering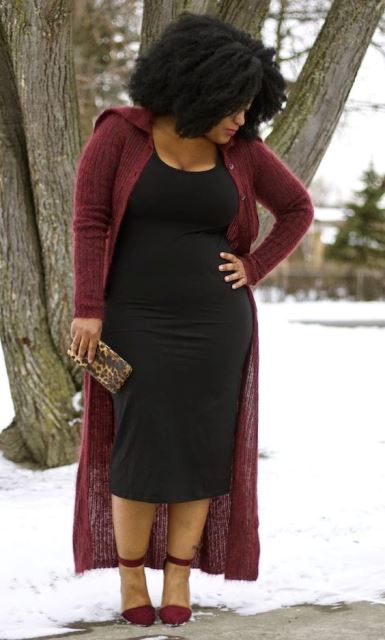 Image source: Pinterest
Layering is in but not to the point that you overdo it. Plus sized ladies have an advantage of looking resplendent even when they are less dressy. Therefore, you can add a single layer without risking an excess. Avoid stoles by opting for scarves. Avoid shirts, instead choosing shrugs. Keeping these tips handy will help you revamp your wardrobe perfectly.
8. Avoid covering the hips totally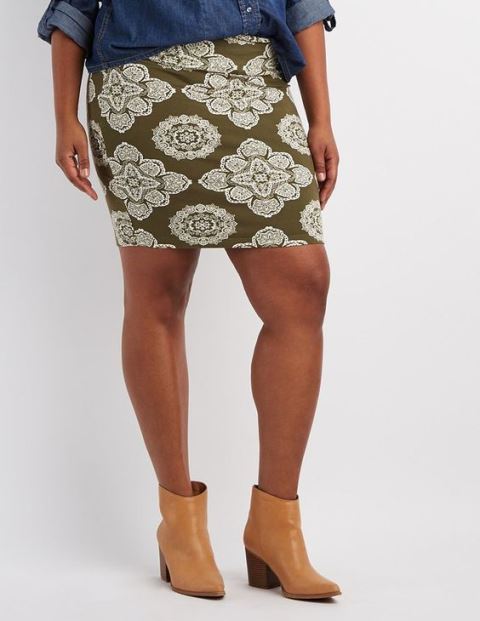 Image source: Pinterest
The greatest bane in shopping for plus sizes is that you tend to think a very long top is awesome. This idea has to be dumped – right NOW! Long tops are obviously welcome if you are hip heavy but only to the point that you show some butt at least. It is as simple as that. Covering the entire hip area instead of just the torso line, will make you look plump.
9. Go for darker colors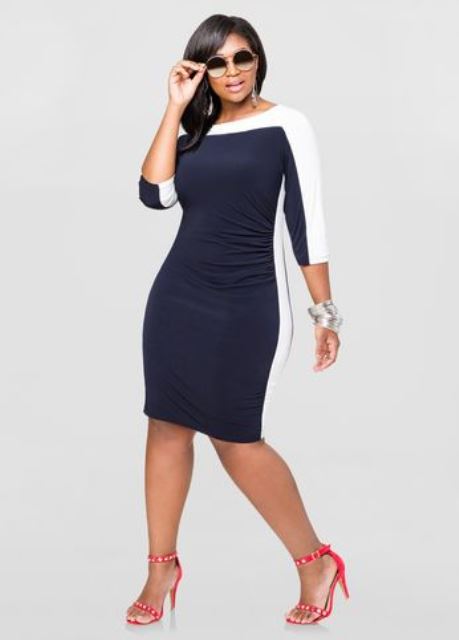 Image source: Pinterest
Navy blue and tangerine or even deep lavender are new-age shades for plus sized women. These are not as boring as just black. You can actually look toned and yet hold the best for your own curves.
---
Suggested read: 10 genius style tricks that will ace your fashion game
---
10. Avoid sheer fabrics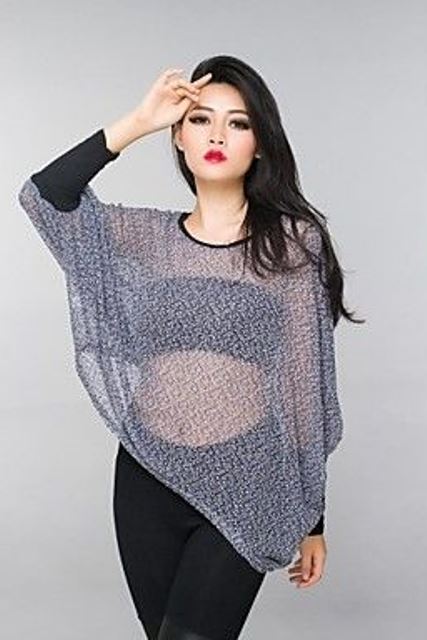 Image source: Pinterest
Sheer is something plus sizes need to steer clear of. There is no way these can do much to you except when styled with a saree. However, for Westerns, it is best that you avoid sheer fabrics since these make you look duller than you thought.
With a little bit of care and clever picking with these plus size fashion tips you can create a closet full of outfits you'd love to wear. Top it up with confidence and peppiness because these make you all the more prepped up for painting the town red!
Summary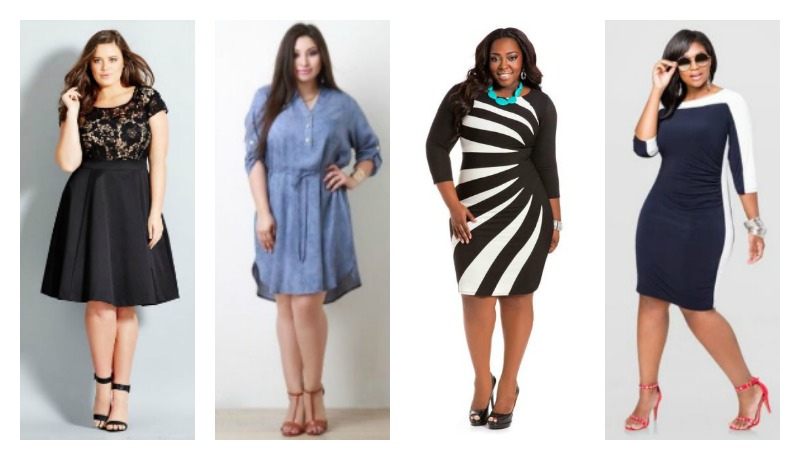 Article Name
10 Plus Size Fashion Tips You MUST Know
Author
Description
Whatever plus size fashion tips you've come across so far - ditch them! Here's everything you need to know about revamping your wardrobe! :)