"Forget what we became, focus on what we're capable of becoming."  ― Aniekee Tochukwu Ezekiel
They say an idle mind is a devil's workshop; it often leads to negative thinking, thus greatly affecting your mood. This is perhaps why depression patients are often overcome with a tendency to procrastinate: the feeling of "not wanting to do anything".
---
Suggested read: Common hobby classes a couple can enjoy together
---
Our 20s is a controversial period. This is when you're supposed to "become something", or "reach your goals", and you invariably end up putting yourself through way more pressure than the 20-something ladies in stereotypical chick-flicks promised you. In the hullabaloo of work and studies, we've forgotten how to sing of anything else, and it's driving most of us bat-shit crazy. So today, we have compiled a list of unconventional hobbies for women in their 20s, because we believe in the extraordinary within you.
1. Geo-caching
We have been fascinated with the concept of a treasure-hunt all our lives. From Stevenson's "Treasure Island", to Blyton's "Famous Five" and Depp's Jack Sparrow, we have longed to be on the other side of the story. Geo-caching is an ongoing international event where "hunters" log into the mobile app and travel to the Geo Caches around them, discovering things left there, deciphering clues, signing log books, and leaving new tips there. It operates on the two main principles: hide and seek. Go out there, unravel signs, conquer quests, and come home happier than before because you'll realize that all things ordinary might be hiding surprises.
2. Rock-climbing
Rock climbing is a safe option as there are harnesses involved and you're always under supervision. Bouldering, on the other hand, is more dangerous, without harnesses, and only adept climbers enroll for it.
"There's always gonna be another mountain, I'm always gonna want to make it move."
-Miley Cyrus, The Climb
Rock-climbing brings you strength, not only physically, but emotionally too, because the next time you stand starring at a giant mountain, it'll look less like an obstacle and more like a game you know you can ace.
3. Lego-building
We've been obsessed with Lego-bricks ever since we built our first watch-tower at 5 years of age. Recently, AstonishingStudios uploaded a YouTube video that demonstrated the building of a Starbucks hot coffee maker machine, from Lego sets. This opened up a wide array of ideas for using Lego bricks to make useful things; turning Play into Creation. Some ideas are: Lego phone holders, Lego necklace (locket), Lego bird houses, etc. All of these have tutorials available across the internet. Bring out the halo, it's time to play God.
4. Contortionism
Contortionism can be called an extreme form of yoga. It's an art where the performer (defies what seems like all laws of biology) showcases extreme physical flexibility. These are generally performed by circus artists, or acrobats.
During our 20s, we're pulled into the party-schedule and often, unconsciously, beat up our body so much that it breaks down as we grow old. Contortionism not only ensures a fit body, building a great back-up against arthritis, but it also allows you to pull off fantastically weird activities like lying on your stomach while clipping your toe nails!
5. Podcasts
If you're good at something, let the world know! I am absolutely hopeless when it comes to hairstyles, and if not for certain kind of YouTubers, you'd see crows nesting in my hair. Had it not been for CrashCourse, I'd probably take 10 years to graduate college. The best thing about YouTube is there's no restriction regarding your field of interest; if you can draw badass straight lines, make videos with guidelines (trust me, it takes talent), or know how to handle frizzy hair, etc. you need to put it up. It can be as weird, or as mainstream as you please, but somebody, somewhere will benefit from it. And that's, probably, the whole point of being talented.
---
Suggested read: 25 absolutely fun things to do by yourself
---
6. Gaming
The 20s can be a frustrating period. Gaming is universally accepted as "taking a break from life". You don't need to spend money on buying a console. Google Play and Xbox Live are pretty well equipped in that regard. When you're shooting people in Modern Combat Blackout, or racing through the fabric of time in NFS, life learns to take a backseat. So, at times, put the volume on full-blast, and zone out!
7. Go camping/hiking
In the movie 'Wild', the protagonist treks 1,100 miles alone, to gain clarity after a traumatic personal tragedy. In the age of communication, we've burnt more bridges than we've built, sometimes with others, but mostly, with ourselves. The crux of hobbies for women in their 20s lies in finding your way back to yourself; it's discovering the person you're going to spend your whole life with. And as Ayn Rand puts it,
"To say 'I love you', one must first know how to say the 'I'."
Trekking equipment might cost a little more than the other hobbies listed here, but it's pretty much a one-time investment, and definitely a worthwhile one. Step outside, and trek till you've found your way back home.
8. Learn martial arts
This is an absolute MUST among the hobbies for women in their 20s. This is the best time for you to hone your combat skills. As the body ages, it becomes less and less flexible or equipped to partake in new physical routines. As a woman, martial arts not only brings with it a sense of power and independence, but it's absolutely crucial in ensuring your safety. Some interesting forms are Krav Maga, Muay Thai, and Capoeira (which is a Bollywood favourite!). Make your 20s the age in your life when 'scared' turns into just another word in the dictionary.
9. Do-It-Yourself
DIY is the new crazy among the GenY, and rightfully so. In an age of surge-pricing, it lets you customize your belongings at a minimal cost. Going by internet trends and Rob's YouTube channel: Mad Stuff With Rob, DIY has absolutely no boundaries. You can customize wrapping paper, t-shirts, cell phone covers, wall-art, lamps, etc, or build each one of them from scratch. Unleash the creative spirit within you, and become a brand unto yourself.
10. Baking
You pass by bakery shops, your noses ever alert, deciphering ingredients even before your eyes have registered the sight. Why let the outrageous phenomenon called the "Closing Time" deprive you of your desires. Start your bakery at home, and you'll realize how liberating cooking can be. Also, it makes a perfectionist out of the messiest of us. The greatest part about this hobby is, once you've established yourself as the Cake Lady, you can also poison it to kill people you don't like. (Yes, I wrote this whole point for the one joke!)
11. Go Karting
Life IS a race. The faster you go, the more you achieve. Just as in Go Kart. You get to choose your vehicle, team up or go solo, and just race, sometimes even without a competitor. The rush of the wind gets your mind to calm down, and the steering wheel lets every part of your brain know who the boss really is.
12. Partake in a group activity
My father keeps telling me that as you grow older, your circle of 'real friends' grows smaller by the month. People grow busier, and have less time to invest in relationships. Your 20s are a goldmine in that aspect. Partaking in group activities not only ensures a crazy amount of fun, but who knows, it may also give you a squad for life! Indulge in volunteer work, street graffiti events, go camping in a team, join a dance class where you know nobody. It's liberating to be weird together!
13. Scrapbooking
Memories are precious. And, while time seems permanent, it never is. Hold your memories close and tight in scrapbooks. The Digital Age allows you to do that online as well, through several applications. However, coming from a time before that, I can vouch for the fact that doing it all physically – putting the papers together, cutting the edges, gluing pictures, decorating the cover, collecting hand-written notes, and the smell of times that was long passed by – is therapeutic, to say the least!
14. Dance meditation
Meditating is a necessity in this 21st century chaos. It helps your core to not combust spontaneously, and hold on to whatever little sanity you will. As a person who finds it extremely difficult to sit still, I failed at meditating for years until I chanced upon the beauty of Dance Meditation. The session is preceded by a small round of sitting still, then you play a track suited for DM, and dance to your heart's content. In meditation halls, there are several thousands of people dancing together, to the same track, each lost in a world of their own. Nobody cares about how well or poorly you dance. It's a pool of unsynchronized dancing, and it's one of the most peaceful scenes I have ever witnessed. Open your heart to the sound of the universe, and let go.
15. Make a bucket list
Lilly Singh aka Superwoman, said she always slept with a vision-board suspended from the top of her bed frame. It enlisted all the things she wanted to achieve in life. Having traveled from benumbing depression to a happy '10-million-subs' Youtuber, she believes that setting goals is extremely important to move ahead in life. Even as kids, we loved ticking things off our to-do lists, because it always brought home a sense of satisfaction. Start building your bucket list focusing on all the things you want from life, then go out there and get them all.
---
Suggested read: Things to do in your 20s: 10 trips to go on for each year in your twenties
---
Your hobbies go a very long way in shaping who you are. This list of hobbies for the womenfolk in their 20s lets you explore beyond the conventional avenues and helps you find the real 'you'.
"Tired of lying in the sunshine,
staying home to watch the rain,
You are young and life is long,
There is time to kill today.
And then one day you find,
Ten years have gone behind you.
No one told you when to run,
You missed the starting gun."
-Pink Floyd, Time
This, right here, is what the starting gun sounds like. There's a world of magic, waiting to crown you queen. When a single step frightens you, push two steps ahead. There isn't a mountain you cannot scale, a road you cannot take, a part of life you cannot conquer, if only you try hard enough.
Happy 20-ing! Let's make the best of adulthood.
Featured image source: Pixabay, under Creative Commons License
Summary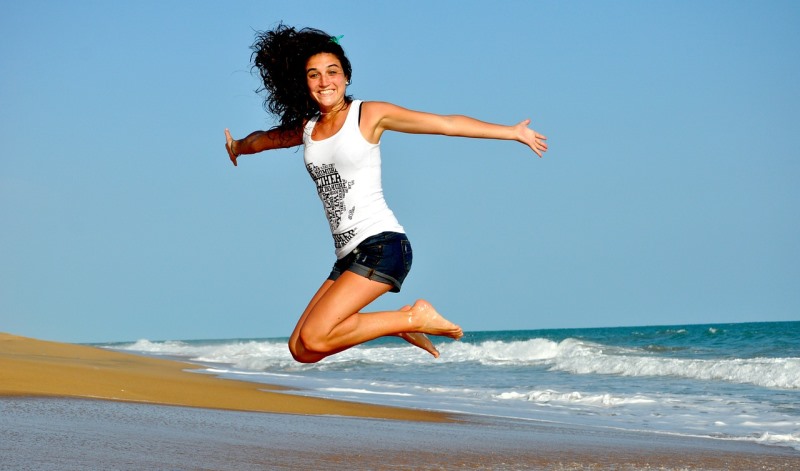 Article Name
15 Awesome Hobbies For Women In Their 20s
Author
Description
Here's a list of 15 unconventional hobbies for women in their 20s. Remember, we believe in the extraordinary within you!