Let's be honest, makeup is SO EXPENSIVE. And we are so so so grateful for brands like E.L.F and Wet & Wild for creating products that are affordable yet AMAZING.
We're always looking for reasonably priced dupes for products and life-changing drugstore makeup. We always say, price doesn't always reflect quality. But we've gotta be honest. Every once in a while, the expensive products are worth the price they charge.
---
Suggested read: Find Out Which Is The Best Powder Foundation For Sensitive Skin
---
Skincare is something we never suggest you experiment with, especially with cheap skincare. Foundations are like the conversion point between skincare and proper makeup. That's probably why we have SO many options when it comes to foundations. There are tons of affordable foundations which are pretty freaking awesome. But there are some high end foundations that do make the price we're paying for it pretty worth it. Since foundations are in a way, a type of skincare, it is very important to take note of their composition and potential benefits.
So, we put together a list of some of the best high end foundation products that do give you a bang for your buck. Read on!
1. La Mer The Soft Fluid Longwear Foundation
This crazy expensive foundation comes from one of the most luxurious skincare lines in the world. La Mer skincare is legendary for its anti-wrinkle properties and luxurious ingredients. This foundation matches up to the name, and is currently one of the best high end foundation products in the market.
The La Mer Soft Fluid Longwear foundation is a hydrating foundation with anti-wrinkle and anti-blemish properties. It creates a natural, but velvety finish on your skin that hides your blemishes and makes it look plump and hydrated. It is also easily buildable and you can increase the coverage, and also wear other makeup on top of this foundation.
Price – $110
Coverage – low to medium
SPF – 20
Shade range – 20 (not very inclusive)
2. La Prairie Skin Caviar Concealer + Foundation
This foundation is bomb dot com. No joke. It has actual caviar in it (no, not entire fish eggs; the essence of caviar). Caviar has some pretty amazing skin benefits. It hydrates your skin and locks in the moisture, and prevents dullness. Also, with the help of the many minerals and vitamins, especially amino acids, caviar can even out your skin tone and improve your skin texture. While this foundation covers your blemishes and makes you look like a dewy forest nymph, it is also secretly helping your skin. It is easily buildable, AND you can also use it as a concealer (whaaaaat).
Price – $230
Coverage – medium
SPF – 15
Shade range – 12 (not inclusive at all) (sigh!)
3. Giorgio Armani Luminous Silk Foundation
This foundation is a celebrity favorite, and for good reason too. Even though it has been around for a while, its rise to fame was after Kim Kardashian called it her Holy Grail foundation.
This foundation legit makes your skin look and feel like silk. It melts into your skin BEAUTIFULLY, and gives a natural, radiant finish. You can build up the coverage by applying a second layer after letting the first layer of foundation dry down.
Price – $64
Coverage – medium
SPF – 25 (flash photography may not be your best friend)
Shade range – 24 (not very inclusive)
4. Huda Beauty #FauxFilter Foundation
If you've taken even the slightest bit of interest in the beauty community this past decade, you've probably heard of Huda Kattan, one of the most popular beauty bloggers ever. She recently launched her own cosmetic line called Huda beauty, which, as expected, have some INCREDIBLE products.
The #FauxFilter foundation is quite possibly the best high coverage foundation there is in the market. And when we say high-coverage, we mean HIGH-coverage. It will conceal any blemish or scar on your face, nooo problem. It is pretty matte and dries down to a long-lasting powdery finish.
Price – $40
Coverage – high
Shade range – 30 (inclusive)
---
Suggested read: Essential Tips For Finding The Best Foundation For Sensitive Skin
---
5. Yves Saint Laurent All Hours Full Coverage Matte Foundation
There's not much to say. It's all there in the name itself. This foundation came as quite the surprise because luxury makeup brands like YSL very rarely create high coverage makeup. But this one lives up to its name. It does say that it lasts for up to 24 hours, but hey pls don't wear makeup for 24 hours at a stretch kay? Just pls.
The foundation contains black tea antioxidant complex, which in turn, contains anti-aging and anti-dullness properties, and also protects the skin from pollution. It covers blemishes, creates a comfortable matte finish, and it legit lasts all day. In short, we're obsessed.
Price – $58
Coverage – medium to high
Shade range – 22 (not really inclusive) (ugh.)
6. Estee Lauder Double-Wear Stay in Place Foundation
This foundation is probably the most famous foundation ever. We've aaaaalll heard of the magical properties of the Estee Lauder Double-Wear foundation. It is long-wearing, high coverage, mattifying and super lightweight. We don't think there's much we can say about it, except that IT'S AWESOME.
Price – $42
Coverage – medium to high
SPF – 10
Shade range – 42 (inclusive)
7. Dior Diorskin Forever Perfect Foundation
This foundation has won more awards than we ever will. It won the 2017 Allure Best of Beauty award. It provides just enough coverage for your skin to look flawless, yet natural. If you do not like looking like you're wearing makeup, aka, if you prefer the no-makeup-makeup trend, then this foundation is about to be your bff.
It creates a flawless, radiant matte finish that is long-wearing and contains broad spectrum SPF that protects your skin from the harmful rays of the sun.
Price – $52
Coverage – low to medium
SPF – 35 (stay away from flash photography)
Shade range – 24 (not very inclusive)
8. Chanel Sublimage Le Teint
Before we can tell you all the reasons why this foundation is so freaking awesome, let's just take a minute to obsess over how GORGOEUS that packaging is.
Chanel had fallen a bit behind in terms of makeup, considering all the groundbreaking beauty trends and technology that have been making waves in the beauty industry. But it looks like they're finally starting to catch up. This foundation contains diamond powder and essential oils that not only make your skin look radiant and ethereal AF, but also help moisturize and nourish your skin. Also, it is long-wearing, and easily buildable.
Price – $135
Coverage – low to medium
Shade range – 10 (not inclusive at all) (Dude. C'mon.)
9. Laura Mercier Flawless Fusion Ultra-Longwear Foundation
This foundation is for those of you who run around quite a bit, and need something super lightweight, but long-wearing. The Laura Mercier Flawless Fusion Ultra-Longwear Foundation is oil-free, water resistant, transfer resistant, and sweat and humidity resistant. Ergo, it's bae.
The foundation provides a flawless, comfortable matte finish, without making your skin look dry, flat or cakey. It melts into your skin beautifully and doesn't even feel like you're wearing makeup. Which, let's be honest, is pretty much all we want.
Price – $48
Coverage – medium to high
Shade range – 20 (not very inclusive)
---
Suggested read: #BeautyBae Want To Know About The Best Foundation For Dry Skin? Here Are Our Top Picks
---
10. Fenty Beauty Pro Filt'r Soft Matte Longwear Foundation
If you didn't know that our queen, Rihanna, launched the cosmetic line of the DECADE, then hun you've been living under a rock.
When Rihanna launched Fenty Beauty, it's safe to say, that poop hit the fan. This line is the stuff of dreams. And one thing she definitely delivered on is the foundation. With one the biggest shade ranges ever, the Pro Filt'r foundation is the stuff that makes you look like an Instagram beauty blogger. It is lightweight, full coverage, and with a soft matte finish. It makes your skin look smooth, pore-free, shine free, and most importantly, healthy.
Price – $34
Coverage – medium to high
Shade range – 40 (hella inclusive)
These were some of the best high end foundation products that are definitely worth the investment. Now, we know there are sooo many drugstore foundations that blow our minds every single day. But if you are looking for a good high end foundation, and want to do your research before putting in that much money, then we suggest you take a look at our list. Cuz we scoured the internet and read reviews, and tried out a few ourselves,  and watched more beauty tutorials and YouTube reviews than we care to admit, to find you the absolute best of the best.
We hope you enjoyed going through the list and found something worth investing in. Now we always say this, but we'll say it again, makeup is not something that you need to make yourself look beautiful. It is art, a form of self-expression. It simply helps you feel good about yourself, and feel more confident in your skin. So you go out there with as much or as little makeup as you like, cuz you're pretty effing gorgeous either way!
Featured image source: Instagram 
Summary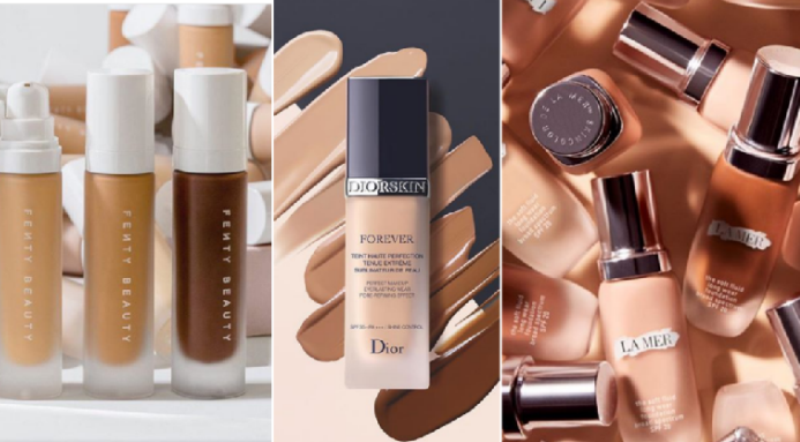 Article Name
10 Of The Best High End Foundation Products Ever
Author
Description
This is the year you finally take care of your skin with the best high end foundation products that we have collated for you!